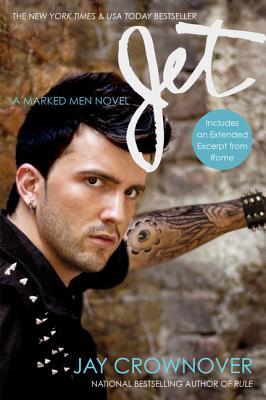 Jet by Jay Crownover
Series: Marked Men #2
Published by William Morrow
Publish Date: November 19, 2013
400 Pages
Source: Publisher
Find it here: Goodreads / Amazon / B&N


With his tight leather pants and a sharp edge that makes him dangerous, Jet Keller is every girl's rock and roll fantasy. But Ayden Cross is done walking on the wild side with bad boys. She doesn't want to give in to the heat she sees in Jet's dark, haunted eyes. She's afraid of getting burned from the sparks of their spontaneous combustion, even as his touch sets her on fire.

Jet can't resist the Southern Belle with mile-long legs in cowboy boots who defies his every expectation. Yet the closer he feels to Ayden, the less he seems to know her. While he's tempted to get under her skin and undo her in every way, he knows firsthand what happens to two people with very different ideas about relationships.Will the blaze burn into an enduring love. . . or will it consume their dreams and turn them to ashes? (from Goodreads)



Jet by Jay Crownover


My Thoughts: At the end of October of this year, I read Rule by Jay Crownover and absolutely fell in love with the title character from that book and all of his friends. The great thing about the first book in the Marked Men Series is that the author allowed us to get to know each of/the majority of the characters fully enough that I felt when I opened the next book, I would have a pretty good sense of who the characters were.



Was I right about that? YES. YES, absolutely.


When I began to read Jet, I felt like I already knew the rocker Jet and his love interest Ayden. AND OH MY GOSH, HOW REFRESHING THAT WAS. I didn't have to spend pages and chapters getting to know them – I just had to learn more about them. I kind of love author Jay Crownover for that. I can see this continuing throughout this series, at least for a while, and I'm all sorts of excited for it.



(You can read my thoughts on Rule by Jay Crownover HERE.)
***********************************************************
This book opens at one of Jet's shows – he plays in a local band called Enmity – and it's loud and crowded. Enmity has a great local following and ladies everywhere love the leading man. While Ayden doesn't particularly care for heavy metal music, she is in the circle of friends that includes Jet, so she does go to watch him play. PLUS she can't deny how unbelievably sexy he is up on that stage. I mean, HE OWNS the crowd when he's up there. He's definitely a rock star and she's more than attracted to him.
Ayden's friends Rule and Shaw (from the first book) are ready to leave before the show is over and despite their "leave no man behind" policy among friends, Ayden isn't really ready to leave yet – she wants to watch the rest of Jet's performance. She decides she'll just catch a ride home with Jet after the show, so the others leave. After the show, Ayden waits while Jet helps his bandmates pack up their equipment into their van, then he helps her into his supercool and sexy black Dodge Challenger. Ayden is admiring how nice the car is and wondering how someone like Jet can afford it on the salary of a mere local band – they talk a bit and Jet tells her that not only does he front Enmity, but he also writes songs for other bands to sing and he owns a recording studio, both of which basically support the band and allow them to do what they really love, which is perform.
When they arrive at the apartment Ayden shares with Shaw, she invites him up (since Shaw is spending the night with Rule) but he turns her down. Jet realizes that Ayden has had too much to drink earlier in the night, so there is the possibility that she may not be thinking clearly and could possibly regret whatever may happen PLUS he can't resist her Southern drawl (she's from Kentucky!) and he KNOWS what will happen if he goes inside. Humiliated at the rejection, Ayden runs inside without realizing that Jet actually likes her and respects her.
Ayden is now living with Cora (Rule's coworker and their mutual friend) and also Jet. The three are sharing the house and things are a little awkward. Ayden hasn't forgotten the night she was rejected, and it is especially evident EVERY TIME SHE LAYS EYES ON JET. Little does she know, Jet remembers too and he also feels the same way she does. Instead of talking through things, the two let their feelings stew and boil and simmer. Sure, they're able to be around each other and stay in the FRIEND-ZONE, but it's a place that neither of them want to be! Plus, Ayden rationalizes not having "the talk" with Jet because she wants stability and a man with a real future, and Jet and his rockstar lifestyle just…well, it isn't really that in her eyes…
In the meantime, ALL of their friends are annoyed miserable encouraging them to just talk to one another before they lose the opportunity of a lifetime because it is obvious that they're crazy about each other.
***********************************************************
Ok, so Ayden and Jet both come from less-than-desirable family backgrounds. Ayden is from Kentucky – she moved out to Colorado both to escape her past and to attend school. She's done a pretty great job of keeping her past in her past, but WOULDN'T YOU KNOW the past has a way of showing up at the worst time possible! And Jet is from their current area, so he can't really escape his past. Well, he technically could, but he has reasons for wanting/needing to stay close. Both Ayden and Jet probably don't want to admit it, but their pasts have a way of affecting who they both are in the present, and they are allowing their pasts to affect their relationship with one another. GUYS! Stop that. Y'all need to talk about these things because STUFF is happening and you can help one another!
Ayden – I have to admit – got on my nerves just a little bit in a few places. That doesn't surprise me very much given that she is a typical New Adult girl – despite this, I ended up liking her…particularly toward the end, when I found her to redeem some of what I felt were poor decisions and poor ways of thinking. It's true that Ayden is fiesty and sometimes snarky, and she knows what she wants out of life, but sometimes she allowed her end-goal to cloud what she had right in front of her WHICH WAS BASICALLY HER END GOAL. Ayden, I shook my head and fist at you a time or two, but you ended up okay, and for that – YAY.
Now Jet is an entirely different story. I realize that some people didn't like Jet as much as they liked Rule, and you know what? That's okay. However, I really loved his rockstar, covered-in-tattoos-and-piercings self. I loved that he appeared to be just a guy in a local band, going nowhere in life, but do you know what I thought he really was? A smart businessman that knew what he really wanted. Jet made some business decisions that baffled some people but he did it based on a lot of thinking, not only of himself but other people that were important to him, and I thought that was awesome. Plus I AM A SUCKER FOR A ROCKSTAR THAT KNOWS HOW TO TONE IT DOWN AND PLAY HIS GUITAR QUIETLY AND SING FOR THE LADY HE LOVES. Heavy metal to the masses/old-school country and Southern rock for his lady – because that is what she loves. Can this guy get any hotter? NO. He cannot. What I also loved about Jet is that he has vulnerabilities and he shows them.
As great as Ayden and Jet are, their group of friends are just as great. We met them in Rule, and they are at least as fantastic in Jet. Even when they were frustrated with Ayden and Jet individually for being stubborn, they were honest yet compassionate, and they provided wise counsel to both of their friends. Guys, it is hard when you are in a group of friends and you are kinda/sorta between two of the people in your group. These friends did it well. The same players that are mentioned in the first book are at play in this book, either actively or in conversation, and I'm thrilled to already know them enough to FEEL LIKE I KNOW THEM. It's like I have this window on what's going on in the lives of this group of people. Seriously, this is one of the best secondary casts in any series that I've read. I love them all so much and want to be a part of their group.
In case you want a breakdown of the characters or a list of these friends, I have one in THIS BLOG POST. Check it out. The only one that I don't have listed is Cora, who is roommate to Ayden and Jet. She also works with some of the guys at Uncle Phil's tattoo shop.
***********************************************************
Friends, I love this series. After this second book, I can say that I'm sold and hooked on the Marked Men and I'm invested and anxiously awaiting the next book in the series, Rome, which has a release date of early January 2014. I AM HAVING A FIT TO READ ABOUT ROME. I really loved him in the first book and he has just enough going on that I NEED TO KNOW WHAT'S UP WITH HIM!!! The sooner the better, too.
This series is a wonderful New Adult series. There are issues that I would consider real-life issues – not necessarily issues that I face personally – but I think these are things that are plausible and most likely there are people out there facing stuff like Rule and Shaw and Ayden and Jet and the others are. PLUS the romances are pretty great – there is wonderful tension that just leaps off of the page – they start off as friends but end up becoming more (my favorite kind of relationships!) and there is plenty of sizzle sizzle. Some of the characters are actual college students and some have jobs/careers. PLUS people in this age bracket are finding themselves and setting up homes, things like that, and these things are represented in these books. I think this author has done a fantastic job depicting what I would consider "real" New Adult people, and I enjoy the heck out of reading their stories and experiences. These are books that I would read and re-read.
I recommend Jet and the Marked Men Series to fans of New Adult Contemporary Romance with a few issues and fans of this age group that are actually DOING the things that people in this age bracket do – setting up house, starting relationships, finding themselves, going to college, finding jobs, managing careers. I honestly think this is one of the better series in the New Adult category and want to high five Jay Crownover for being realistic with her marked men!
**************************************************************
Jet will appeal to fans of:
NA Contemporary Romance
Romance: Slowly developing. No triangle.
Great Characterization
Great Friendships
Alternating POV
Tattoos
Musicians


Jet by Jay Crownover
is currently available for purchase.
A copy of this book was provided by the publisher for me to read and review on this blog. My thoughts and opinions are mine and mine alone, and I received no compensation for them! Thank you William Morrow!
**************************************************************
And now for the Giveaway!
I have two copies of JET by Jay Crownover up for grabs!
One copy will go to a US/Canada resident.
One copy will go to an International resident.
Contest ends 12/24/13.
Good Luck!