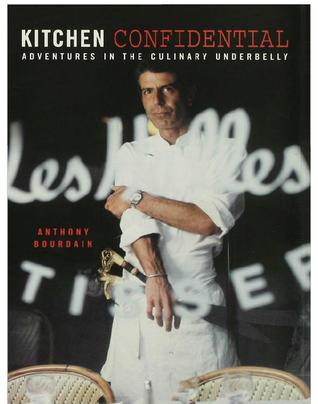 Kitchen Confidential: Adventures in the Culinary Underbelly by Anthony Bourdain
Published by Harper Perennial
Publish Date: January 9, 2007
(First published: May 22, 2000)
310 Pages
Source – Book: Borrowed from Amazon Prime for Kindle, Audiobook: Library Loan
Find it here: Goodreads / Amazon / B&N
When Chef Anthony Bourdain wrote "Don't Eat Before You Read This" in The New Yorker, he spared no one's appetite, revealing what goes on behind the kitchen door. In Kitchen Confidential, he expanded that appetizer into a deliciously funny, delectable shocking banquet that lays out his 25 years of sex, drugs, and haute cuisine.
From his first oyster in the Gironde to the kitchen of the Rainbow Room atop Rockefeller Center, from the restaurants of Tokyo to the drug dealers of the East Village, from the mobsters to the rats, Bourdain's brilliantly written, wild-but-true tales make the belly ache with laughter.
(from Goodreads)
Kitchen Confidential by Anthony Bourdain
My Thoughts: I'm not really sure what made me decide to borrow Anthony Bourdain's Kitchen Confidential when I did but let me assure you that it was one of my favorite bookish choices EVER.
I began this book by simply reading it and I was enjoying it a great deal. So, so often I loathe having seen movies before reading books because I feel like giving a face to the characters destroys the ones I've created in my head. In this case, you guys, it was completely opposite. Obviously Anthony Bourdain does not have movies – he has those incredible shows from Travel Channel and CNN. Because of these shows, one of the things that I love most about Mr. Bourdain is the fact that his voice is very recognizable to me. How does this relate to the book? I'll tell you.
As I was reading the book, I felt like I could HEAR Mr. Bourdain reading his story to me, which was very cool. As soon as I could get my hands on a copy of the audiobook from my library, I added it to the print and OH MY GOODNESS, this reading experience, you guys. I no longer had to imagine Mr. Bourdain's voice in my head as I remembered it – I heard it as he read it himself from the audiobook while I followed along in the book. Because Mr. Bourdain reads his own audiobook. Aaahhh, perfection.
**************************************************************
Kitchen Confidential by Anthony Bourdain is his own account of his life as a chef from his beginnings up until the point at which the book was published (I presume). Mr. Bourdain begins by telling how he began to love food, to truly love excellent food – because food is to be savored, enjoyed, relished. He goes on to talk about a few jobs he had before he went to school at the Culinary Institute of America – how he ended up there and how those jobs contributed to that education – and where he went from there. He recalls the details of each job, some of the people who worked along with him, some of his bosses, and his dreams for a bigger future in the culinary industry. He also remains honest about the details of his life while all of this is happening – the drugs and sex and pranks and hilarity – not all his own, although he does not throw anyone under the bus. Mr. Bourdain simply and honestly discusses the goings-on of the behind-the-scenes of the restaurant industry at various times in his life, from his own perspective. Throughout this book, almost every paragraph is filled with humor because either the story itself is funny or Mr. Bourdain is able to laugh at himself and his various crazy situations. I laughed out loud so many times.
One of my favorite parts of this book is reading about Mr. Bourdain's first memory of really loving food early in the book. This stood out to me because it made me aware that I DO NOT have a memory like that – of remembering the first time that I really loved food – but it made me remember that I grew up with a grandmother that really loved food – the art of it, the preparation of it, everything about it. And my grandmother was a fan of Mr. Bourdain, which was interesting: my grandmother was the epitome of a Southern lady while Mr. Bourdain (with all due respect) is completely the opposite.
I love the way that Mr. Bourdain mentions that on his days "off" he would rather NOT eat in restaurants – a sentiment so opposite many of us! He mentions that he would rather eat "anybody's" homecooking. Also interesting is that he noted that people often apologize to him before serving him.
Mr. Bourdain includes in this memoir a list of tools that he believes are helpful in the kitchen. I loved this. The list is too long to mention here but he mentioned that everyone needs a decent Chef's knife (I agree) and goes on to make fun of the two brands of Chef's knife that I own, which made me laugh. (I own these two brands because they were my grandmother's favorites and, as I knew it, nobody knew more about a kitchen than she did.) He also mentions how helpful plastic squeeze bottles are and recommends a few necessary types of pot/pan to have available. In addition, Mr. Bourdain talks about some important food additions to your kitchen: shallots, real butter, roasted garlic (he mentions that the misuse of garlic is a crime and to please treat garlic with respect – loved that), stock, and too many other things to list here. BUT! Please do not be overwhelmed by this foodie stuff – the book isn't entirely about food nor is it a how-to about food. Kitchen Confidential is a great memoir that includes this information because Mr. Bourdain wants to be helpful, and I found it really fun and indeed helpful. I loved it a ton.
Audiobook Notes: I told one of my friends that listening to Mr. Bourdain read this book reminded me of having one of his television shows on in the house and carrying on with my life while he talks. He did such a phenomenal job at reading his book that I knew immediately I wanted to listen to his other audiobooks. He reads with an ease; it's obvious that he is comfortable narrating and reading his story. When the story is funny, you can tell it in his voice and I love that. His inflection and tone is perfect – listening to Kitchen Confidential is like sitting across a table from Anthony Bourdain and listening to him talk: comfortable and all around lovely. I highly, highly recommend this book in audiobook format to anyone that is interested in reading it, PERIOD.
I have asked online for audiobook recommendations before. I have seen tweets before where others have asked for audiobook recommendations. More than once, I have seen that Anthony Bourdain's audiobooks have been listed – I can absolutely see why. Even for readers that are not huge fans of memoirs/non-fiction, this book is really fun. I recommend
Kitchen Confidential
by Anthony Bourdain to fans of memoirs, non-fiction that is not boring, food/cooking, humor, and audiobooks (especially audiobooks in which the author reads the book him/herself). I knew right away that I wanted to read more by this author, but I REALLY
wanted him to read it to me while I followed along with the print copy. I am excited to know that he narrates another of his books,
Medium Raw
, and when I read that one, it'll be audiobook + print for me.
Sidenote: I have to admit that after reading/listening to this book, I enjoy Anthony Bourdain on television even more. Like, way more.
**************************************************************
Kitchen Confidential will appeal to fans of:
Kitchen Confidential by Anthony Bourdain
is currently available for purchase.
**************************************************************
Have you read or listened to this book?
Did you enjoy it?
Is it on your to-read list?
Do you watch Anthony Bourdain's shows on TV?