Not so much for all the challenges & all that time-consuming stuff…
but because I usually have a million things I need to read
and
I lack the time and/or the motivation to get it all done
.
Friends
,
there is not much in this world better than
reading and knowing that your pals are reading right along with you
decided to pull together a little
Impromptu Readathon
,
I almost did a little dancey-dance.
Because I have so many great things I want to read
and
barely enough time to read them all.
BUT…
knowing that some of my
blogger pals
are
reading along with me
is the
best motivation out there
.
So, I'm totally playing along.
********************************************
Here's the deal:
The Readathon is running from 9/28 until 10/3.
No contests, challenges, or any of that stuff.
Just reading. Read hard. Read a lot.
Twitter hashtag (I think): #LMReadathon
I don't do well with lists.
So it wouldn't do me well to list out what I plan to read.
However, I'd like to get through these ARC's and books…
and about 100 of the galleys and books on my Kindle.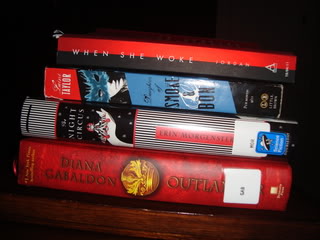 When She Woke by Hillary Jordan
Daughter of Smoke and Bone by Laini Taylor
The Night Circus by Erin Morgenstern
Outlander by Diana Gabaldon
(lots more on my Kindle, not pictured)
********************************************
Why don't we just do it like this:
I'll let y'all know later which ones I actually make it through.
I do know it'll be a combination of some pictured here and
some that aren't pictured here.
Thanks April!!
I'm so excited you decided to throw this together
at the LAST MINUTE!!!