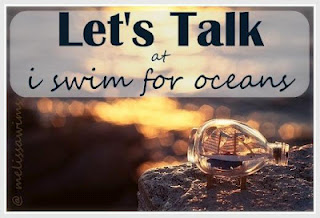 Click here to see Let's Talk!
I'm so excited that Melissa at i swim for oceans likes discussion posts because sometimes I get chatty and have things to say. What's up, Melissa?? Let's Talk.
This week's question:
Do you prefer 'real' books or
books on your e-reader? Why?
Melissa! Excellent question!
At first, I was a die-hard print book hold-out. One of those I PLEDGE TO READ THE PRINTED WORD types. We all know them! I didn't want an e-reader, didn't have any use for one, and wouldn't even learn the difference between the Nook, Kindle, or whatever else was out there. I didn't, at the time, get any print ARCs and didn't own that many books, either. So it was basically me and my library. Best buds. BFF.

Sometimes I can be so stubborn!
Last August, I got a Kindle for a gift.

AND OH BOY HOW IT CHANGED MY LIFE.
Let me tell you the ways:
NetGalley, Baby! ARCs on the go. ARCs for those that do not get print ARCs. ARCs like Christmas-time, seriously. Okay, I'm being melodramatic, but having an e-reader makes book blogging much easier if you are one of the bloggers that chooses to read advanced review copies. If you are not, this does not really apply to you, AND THAT IS OKAY. (Before my Kindle, I was reading NetGalley books on my laptop.)
No glare screen. This makes it easy as pie to read outside. I can read by the ocean without worrying about the wind blowing the pages or getting the cover of the book wet or sandy. (Sidenote: I Asheley-proof my Kindle and put it in a ziploc bag anywhere near the sand and water because I am the most accident prone person EVER. Works perfectly, I can still read through it, and still NO GLARE. I just look a little silly. Who cares.)
I can run on the treadmill & read one-handed. No turning the pages! It's totally safer! I don't have one of those awesome book/magazine shelf-things on my treadmill here at home. So whatever I read while I'm running, I have to HOLD IN MY HAND. I run with my Kindle in my left hand, click to turn the page with my left thumb, and run like the wind while holding on with my right hand. It's a beautiful thing, you guys. It really is. Changed my life.
My Kindle fits easily into whatever bag I'm carrying. If it doesn't, I have a nifty little Patagonia case with handles that I carry that thing around in like it's part of me. It's like another limb. It goes everywhere with me. I LOVE my Kindle.
Book delivery time: seconds. I don't spend that much money buying books on the Kindle, but when I want a book – either buying it, checking it out from the library, or by NetGalley – seriously, a few clicks and I have it a few seconds later. There is no getting in my car, spending money on gas, spending time, or anything like that. Talk about ease…
This is just a few reasons why my Kindle is my sidekick. My BFF. I love that thing. And I think he loves me.
HOWEVER…
There are a few things that I love INTENSELY
about a printed book.
Let me tell you a couple of them:
I am extremely visual. I love to look at the cover of the book. When I'm reading a beautiful book (like Erin Morgenstern's The Night Circus, Jodi Meadows' Incarnate, Lauren DeStefano's Wither or Fever) I will read a few pages, then close the book and look at the cover, feel it, then open the book and start reading again. This process repeats itself throughout the entire reading of the book. I want to see underneath the dust jacket if it has pretty pictures underneath it (like Beth Revis' Across the Universe). If there is texture like John Corey Whaley's Where Things Come Back, I want to feel that. An e-reader affords me none of those simple luxuries.
I want to feel the pages with my fingertips as I'm reading & turning them. I want to see my progress as my bookmark moves backward with each page that I read. With my Kindle, the progress bar and percentage is nice, but it holds nothing against a good old-fashioned page number and bookmark.
I want to share and trade my books with my in-real-life friends (that I actually trust – it's a very small circle). I pass books to two girls that I love with all of my heart. I can do that with print copies or print ARCs. They get as excited as I do when we can share a book, and really – isn't that half the fun of reading a book? Sharing it with someone else? An e-reader only allows lending if the publisher has allowed it, which is not-very-often in reality, and truthfully, not all of our friends have e-readers. This is the best thing to me about print copies and why I actually prefer them over ebooks if it is a book that I know my two best reading friends will enjoy.
To tell the truth, I have reasons – good reasons – to love both kinds of books. They're all valid, to me. Everyone is different. I love the books on my shelf and I love the books on my Kindle. I love them all for different reasons.
If I had my way and the world was perfect, I would choose to have print copies of all of the books I had, and I'd check out books from the library on my Kindle and use it also for NetGalley ARCs. There are plenty of books to read in that way. But it doesn't get a lot better than the happy, warm fuzzy feeling that I get when I sit down with my real bookish friends and we pass books back and forth, talk about them, and have coffee!
*****************************************
What about all of you?
Do you prefer print copies of books for reading?
Or do you prefer ebooks to read on a Kindle, Nook, etc?
Let's Talk about this!