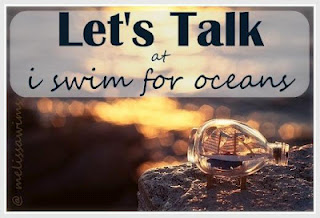 Click here to see Let's Talk!
I'm so excited that Melissa at i swim for oceans likes discussion posts because sometimes I get chatty and have things to say. Melissa has opened her Let's Talk event up to the rest of us and I'm excited to be a part of it. Thank you, Melissa!


This week's question:
What do you look for in a book review
and what makes it a good one?
1. First of all, I'd like to address the fact that I don't do real book reviews.
In fact, those words almost make me draw up into myself and feel all clinch-y. I am not trained in a literary way and am not literary-minded. Some of you awesome bloggers are, and I think that's supercool. Me – I just like to read, throw some thoughts up here, and I cannot believe people actually pay attention to my words. I really can't. So, there's that.
2. I want to see a bit of the blogger in their review.
When I'm reading other bloggers' reviews or thoughts or blog posts, what I want to see FIRST and before anything else is a little bit of that blogger's personality in what they're saying. If I'm reading your stuff and following you, I'm following YOU, and there's a reason for that. I can read a professional-sounding book synopsis in a ton of places, but YOU are the draw to your blog. Sometimes I follow blogs because I love the language of the blogger, sometimes I follow blogs because the blogger is funny, and sometimes I follow the blogger because they read like I read and they write like they talk (like me!). For whatever reason I read that blog, I want to see the personality of the blogger come through in the review. For ME, that is the most important thing. Is this normal? I don't know. I'm just being honest.
3. I want to know if you liked the book or not.
I'm also looking for the book element-stuff, of course.
Because I'm a book nerd.
I know which bloggers read similarly to me and which ones read a little differently. If I line all of my favorite bloggers up, I know exactly where I fit among them in terms of genre. So if you're a blogger that reads mostly paranormal and you didn't love my favorite fantasy series (or whatever), I won't hold it against you! I'll still read your blog. Just tell me if you liked the book or not, and then why. (Sidenote: Y'all really crack me up, bloggers, because some of you put it right at the beginning and some of you put it way down at the end – you know, whether or not you liked the book or not. Everybody is so different. I love it.)
For those bloggers that recommend to me, interact with me, read like me, etc. – I'm looking at what they say about world-building, setting, language, all that technical stuff. I want to know why they did or didn't like about a book. I want to know who they think will or will not like the book they're talking about, because based on this, it might or might not be a good match for me. (Sidenote: I read some blogs more seriously than others.)
4. I want to read more than two super short paragraphs.
Length is important to me, clearly. Because I'm wordy.
I've had a similar discussion recently with another blogger who is not wordy. But I'm cool with that and I'm assuming that if you come to my blog, you are too. You can either read my whole blog post or read the little thing I put in bold print at the bottom. Skim over it. Read only the stuff underlined or in bold – whatever floats your boat! For me, I tend not to read the blogs that are too short and skimpy on their blog posts. To me, this does not a good review make. Just my opinion, guys. I can read Twitter for "I really liked this book!" and if the review is a couple of short paragraphs with no meat, well…yeah. It doesn't matter how cute the blog is, it just won't work for me.
***************************************************
What about you guys?
What makes for a good book review?
What are y'all looking for?