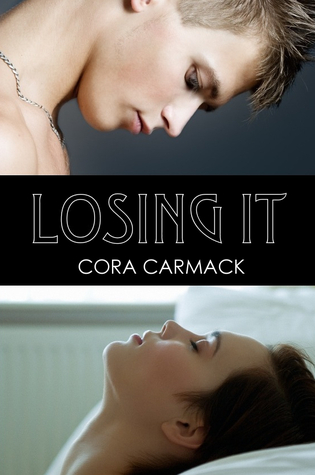 Losing It by Cora Carmack
Series: Losing It #1
Published by HarperCollins Publishers
Publish Date: October 12, 2012
(but first published January 1, 2012)
204 Pages
Source: Bought
Find it here: Goodreads / Amazon / B&N


Virginity.

Bliss Edwards is about to graduate from college and still has hers. Sick of being the only virgin among her friends, she decides the best way to deal with the problem is to lose it as quickly and simply as possible– a one-night stand. But her plan turns out to be anything but simple when she freaks out and leaves a gorgeous guy alone and naked in her bed with an excuse that no one with half-a-brain would ever believe. And as if if that weren't embarrassing enough, when she arrives for her first class of her last college semester, she recognizes her new theatre professor. She'd left him naked in her bed about 8 hours earlier.



Losing It by Cora Carmack


My Thoughts: By now it seems like so many people have read this book that it's almost pointless to share my thoughts, but I'm going to do that anyway. Losing It by Cora Carmack was a fun, quick read that left me chuckling at most parts and rolling my eyes at a few parts (like the parts about Hamlet the cat – why is that in there?).


Bliss Edwards is a college gal that is a virgin. No big deal to some people, but to Bliss – well, it seems to be all she can think about. When her friend takes her out to try and find someone to help her with this little problem, she's all nerves…but then she sees this super-handsome guy sitting along, reading Shakespeare. She loves Shakespeare! So she starts talking to him and GOOD GRACIOUS THE GUY HAS A BRITISH ACCENT. She was attracted already, but with a voice like that, she thinks she may have found the guy to help her "lose it." One thing leads to another and they're back at her place – things are going as she hoped, her mind racing the entire time…until she basically freezes up and starts some seriously crazy talk about how she needs to go to the vet to pick up her cat. The problem with this? It's the middle of the night, the vet is obviously not open, and she runs outside in basically no clothes just to flee the scene, leaving Garrick in her apartment alone to get dressed and let himself out.


I mean, the girl is so freaked out, she freezes up and runs out of her own apartment. Y'all…(Perhaps Bliss needs to re-think whether or not she's actually ready to be "losing it" but that's just my opinion. I digress.)


To make things worse, when she makes it to class later, guess who is her teacher? Mr. Garrick Taylor! OH NO! Talk about awkward, right? While Bliss tries to be an appropriate student and not stare at him constantly, and while he tries to do the same, the two can't help but feel the tension when they're around each other. All the time. (Did I mention that they live in the same apartment complex? Because they do.) They pretend like they're not interested in one another, but it's just a lie. Before long, they've fallen for one another and THEY JUST CAN'T STAND IT ANYMORE. They need each other.


So what will they do? Will they wait until it's appropriate to be together, when Garrick is no longer Bliss' teacher, or will they sneak around and hope they don't get caught?



***********************************************
That's Losing It by Cora Carmack in a nutshell, you guys. I mean, there's more to it, but that's the basic story – to begin with, anyway – between Garrick and Bliss. And it's fun. And it's a quick read. And it's filled with that oozy tension that we love to read about. But as the story progresses beyond the formulaic and somewhat predictable-but-fun parts, there is some real meat to this story that I really enjoyed – no spoilers here though.
Bliss is a big of a strange bird, I think. She is completely hung up on the strangest things that she comes off a bit neurotic at times and weirds me out a little more than once throughout the story. I'm not sure that I could personally handle being around her very much, but she has a great set of friends because they evidently didn't mind – including Cade. Cade is her best friend, that one guy friend that is just always there and always wonderful – that one guy friend that has feelings for her that she doesn't really notice until he's taken that one step that goes a little too far and then everything is all scrambled in the relationship/friendship, and it's too late to go back to just being friends. So while Cade is amazing – and he truly is – there is an awkwardness to their relationship for a large portion of the book that left me reeling. I absolutely thrive on guy-girl friendships in great stories, and this one sort of let me down with the way it was handled by these two. It broke my heart for a chunk of the story – in the end, there is some resolution, though, and for that I am grateful. I blame Bliss and her neurotic self for this in part because instead of just talking to Cade, she let things get out of control with her best friend. And to be fair, Cade didn't help matters – he acted a bit like a big baby about the whole thing. (People, you have to talk about your feelings and let one another know how you feel. Life is short! Be honest with one another.)
Garrick Taylor is sexy as heck. Good gracious, I could almost hear his accent as I read his dialogue. I could almost visualize exact the way he looked because it was described so well. He drove a doggone motorcycle, y'all. And he read books. He taught theater. And he was so cool about Bliss and all of her many hang-ups and strange ways. He even supported her relationship with Cade and wanted things to work out. I just loved him. I hope he makes appearances in the rest of this series – I REALLY DO.
The great thing about Losing It is that it was fun and quick, as I mentioned above. This is a must-read for fans of New Adult because it's easy and fun and fans will probably like it. The downside is that it is a bit formulaic, in my opinion, and a bit predictable. Does that bother me? Not so much. To me, sometimes I enjoy a really great indulgent read that I can use to escape and just love on for awhile and this was a perfect example of that. And after I was finished, I had found a new series to love and a set of characters to follow.
One thing that was a little bit wonky to me was the huge deal Bliss placed on losing her virginity and having sex which – I know – was basically what the book was based on. But still – it was literally almost everything she thought about, particularly in the beginning of the book. And to make the decision that she did (as the book opens) and go out scoping the clubs trying to find a random guy to "lose it" to – dude, so not smart these days! Or ever! But it made for a fun story and that's that, I suppose. She ended up finding Garrick (thankfully), and he was quite the catch.
Also, this cover kind of gives the impression that there is a lot of sex going on in this book – which is not so. It just doesn't happen that way. So I think the cover is misleading and would keep people who are a little hesitant to pick up New Adult from actually reading it. Just my opinion, though. Does anyone else feel that way?
I recommend Losing It to fans of New Adult Contemporary Romance that enjoy plenty of swoons and steams, because they're kind of everywhere in this one. Those readers that enjoy a college setting will love this one and GUESS WHAT ELSE? Readers that enjoy books that are heavy into theater will enjoy this one – these friends are all taking classes in theater, so there is a ton of talk about theater technique and theory and production and all of that (I don't know the lingo – I'm not a theater person). I'm absolutely continuing with
this series and in fact, I've already moved onto the next book – a novella featuring Garrick and Bliss again.
Sidenote: I am a little annoyed that the Garrick and Bliss on the Losing It and Keeping Her are not the same. They don't even try to look the same. Continuity, people! This is really not the hugest of deals, but I AM a cover person after all.
**************************************************************
Losing It will appeal to fans of:
Romance: Slowly developing. No triangle.
Setting: College
Theater
Issues: Losing Virginity
Losing It by Cora Carmack
is currently available for purchase.
**************************************************************
What were your thoughts on it?

I really want to know how others felt about this one.