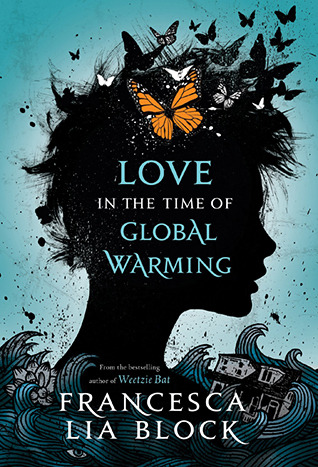 Love in the Time of the Global Warming
by Francesca Lia Block
Published by Henry Holt and Co.
Publish Date: August 27, 2013
240 Pages
Source: Publisher for Review
Find it here: Goodreads / Amazon / B&N
Seventeen-year-old Penelope (Pen) has lost everything—her home, her parents, and her ten-year-old brother. Like a female Odysseus in search of home, she navigates a dark world full of strange creatures, gathers companions and loses them, finds love and loses it, and faces her mortal enemy.

In her signature style, Francesca Lia Block has created a world that is beautiful in its destruction and as frightening as it is lovely. At the helm is Pen, a strong heroine who holds hope and love in her hands and refuses to be defeated.



Love in the Time of Global Warming
by Francesca Lia Block


My Thoughts: This is the first time I've ever read anything by Francesca Lia Block. I've been told that this book is very much her style, so there's that. And you know, I liked it. But it was purposefully slow reading for me because I wanted to gather it all up and soak it all in, if you will. There are no missed words or phrases in this short book – everything is deliberately placed, so I felt like I needed to read this one with care. Where I normally would have blown through a book of this size, I took just over one week to finish this one.



**************************************************************
Penelope Overland and her family live in Los Angeles and unfortunately for them all, as the book opens, an event that comes to be known as The Earth Shaker is occurring: the house begins to shake, the family runs outside to escape the shaking, beloved dog Argos runs back into the home. Fearful for the dog, Penelope (Pen) runs back into the house to rescue him just as a wall of water comes and swallows everything up – this is the last thing she remembers. Fast forward to several days later – Pen now lives alone in the house and is surviving on food and water rations that her father had prepared for such a time as this – she is using tiny amounts for bathing and eating because she doesn't know when someone will come to rescue her or even if there is anyone else left out there, outside of her house.
Outside of the house, there is nothing but darkness – dark water, dark skies filled with ash, debris covering the ground and the water. Nothing grows. The ground is barren.
After a few days, Pen hears voices outside and some men enter her home – she hears them mention her father by name so she realizes that they know her family. One of these men finds her in her hiding place and shows her mercy by giving her the key to their van – he tells her that she should leave and find her family and that that there is a map inside the van. Pen has no idea who that man is and whether or not she should trust him but she knows that staying where she is, in her home, will bring nothing good as the men are surely out to harm her. So she rushes out, running as fast as she can, takes the van, and drives. She stops and few places and picks up a few people here and there – they have many crazy adventures – but Pen's ultimate goal is to find her family as the man suggested. Along the way she learns a thing or two about herself in some unexpected places. She realizes that she is quite special and she even has power hidden within her.
**************************************************************
Love In The Time of Global Warming
by Francesca Lia Block is like a long, strange trip and I mean that in the best of ways. It is literally a series of adventures that Pen and her band of misfit friends go on while looking for Pen's family. It's a bit of a quest, you could say. The thing that makes it so unique and special – well…there are several, actually. First is the language and the unique way that Block writes. It is so very odd (in a good way) but also very flowy and lovely and unique and I just kind of loved it. That being said, it wasn't unusual for me to re-read passages more than once not just to visualize the images Block tried to create, but to visualize every single thing, even down to the fine detailing. I suppose what I'm trying to say is that for me, I was not content with just glossing over this book at all – I really wanted to digest every word to create perfect visual images of every scene in my head. It had to be that way; anything less wouldn't work for me. That brings me to another reason why this book is so special…
Love In The Time of Global Warming is like this wonderful re-telling of Homer's The Odyssey. It is imaginative enough to stand on its own, but there is so much of The Odyssey's influence in this small book, down to parts that I had practically forgotten about myself. A lover of Greek mythology and the classical story of Odysseus, I was almost squeally with how inclusive and generous Block was with this re-telling, all while keeping it her own story. From the main character being named Penelope to the inclusion of the Cyclops, Circe, the Sirens, the
Laestrygonian
cannibals, and the Lotus-Eaters, I loved it. It is also interesting and fun how Pen and her friends
are fully aware
that their own adventures have many parallels to
The Odyssey
as they carry a copy of the story around with them, reading passages to one another at different times throughout the book. Pen even thinks about these parallels to herself on more than on occasion.
For those that are not as "into" mythology as I am (I'm very nerdy about it.), Love In The Time of Global Warming should not present a problem in terms of being understood – the characters point out many of the parallels to the ancient story, or at least the ancient parts that are pertinent. Pen and her friends – Hex, Ez, and Ash – are struggling just to survive in the aftermath of The Earth Shaker – an earthquake and the resulting giant wall of water that wiped out the west coast. They found the map I mentioned earlier in the van and it points directly to Las Vegas – Pen believes that she can find her family there, so that is where they travel. Interestingly, Las Vegas has been renamed the Afterworld, and most of the adventures/trials they face on the way are filled with seemingly-magical and interesting creatures. As they travel and fight the beasts and survive the landscape, they ultimately learn who they are and become comfortable with themselves.
So what we have here, in addition to a pretty awesome re-imagining of The Odyssey, is a journey of self-discovery and friendship. Pen and each of her three pals have to wrestle with their own issues and inner thoughts and come out on the other side okay, and the wonderful thing is that reading this book is like a study in watching them do just that. As for the quest itself? Finding Pen's family? Well, there are no spoilers here, but I have to admit that I was both a little bit surprised by the ending and also not surprised. It ended quite perfectly, I think. I cannot imagine a better and more hopeful way for it to end.
I would recommend
Love In The Time of Global Warming
by Francesca Lia Block to fans of YA Apocalyptic stories with elements of Magical Realism. I would also recommend it to fans of classical Greek mythology as there is a ton of Homer's
The Odyssey
to be found in this story – it is like a mythology fan's paradise if you love that sort of thing.
**************************************************************
**If you're still on the fence about this one for whatever reason,
you can download Chapters 1-5 for FREE by using the following links:
*I am not affiliated with Amazon nor B&N.
These links do not support me nor do they support my blog in any way.
**************************************************************
Love in the Time of Global Warming will appeal to fans of:
YA Post-Apocalyptic with some Magical Realism
Mythology (in particular, The Odyssey)
Romance: Light romance. No triangles.
LGBT
Love in the Time of Global Warming
will be available for purchase on August 27, 2013.
I received a copy of this book from the publisher in exchange for sharing my honest thoughts on this blog. I received no compensation and these thoughts are my own. Thank you Henry Holt and Co!
**************************************************************
Has anyone read anything by this author before?
Do you have this book on your to-read list?
OR did you download the Chapters 1-5 sample to check it out?
Have you read THE ODYSSEY?