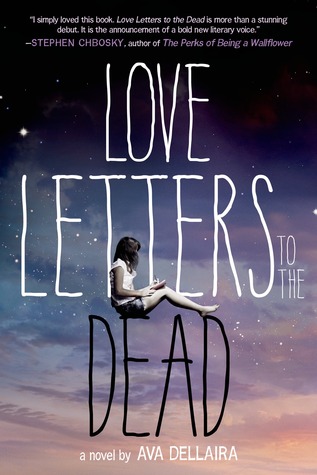 Love Letters To The Dead by Ava Dellaira
Published by Farrar, Straus and Giroux (BYR)
Publish Date: April 1, 2014
323 Pages
Source: Publisher
Find it here: Goodreads / Amazon / B&N


Read Chapters 1-5 FREE Here: Amazon / B&N


It begins as an assignment for English class: Write a letter to a dead person. Laurel chooses Kurt Cobain because her sister, May, loved him. And he died young, just like May did. Soon, Laurel has a notebook full of letters to people like Janis Joplin, Amy Winehouse, Amelia Earhart, Heath Ledger, and more; though she never gives a single one of them to her teacher. She writes about starting high school, navigating new friendships, falling in love for the first time, learning to live with her splintering family. And, finally, about the abuse she suffered while May was supposed to be looking out for her. Only then, once Laurel has written down the truth about what happened to herself, can she truly begin to accept what happened to May. And only when Laurel has begun to see her sister as the person she was; lovely and amazing and deeply flawed; can she begin to discover her own path. (from Goodreads)



Love Letters To The Dead by Ava Dellaira


My Thoughts: At first quick glance, I thought this book was maybe a paranormal-type book or something like that. I absolutely love the cover with the cool block-looking font and the girl just sitting there, but she has this black-and-white look to her that just looks…un-alive when you glance at it. I was surprised when I began reading because 1) I hadn't paid attention to the synopsis (normal for me) and 2) this book is very, very contemporary in style.


This cover is actually PERFECT for this book. And this book is absolutely brilliant. And my mere words will NOT do it justice. All I can really say is that is a really great book and you should make sure it is on your to-read and wishlists as soon as possible.



The first thing you need to know is this
:

Laurel has received an English assignment from Ms. Buster:
Write a letter to a dead person. Sounds simple, right?
Well, feeling like she couldn't easily write to someone 'important' like a former President or anyone like that, Laurel chooses to write to Kurt Cobain. In her letter, we learn that Laurel's sister May is "gone" and that Kurt Cobain was her favorite musician. We also learn that everything Laurel knows about high school, she learned from May. Without May, Laurel feels lost.
Laurel tells Kurt Cobain she wishes that he could tell her where he is now and why he left, as if understanding this could possibly help her understand where May is and also why May left. She mentions to Kurt some simple things, like how she wore the wrong outfit on the first day of school – May would never have done that, you see – and how she brought her lunch, which is not cool, instead of eating pizza and a Nutter Butter like everyone else. She tells Kurt other details about her first day of school, including how she ended up eating outside, which is where she saw this boy – Sky – who was wearing a leather jacket even though it was still warm outside.
She talks to Kurt as if he was sitting right there with her, like an old friend. She pours her heart out to him in this assignment. It is brutally honest and gut-wrenching and beautifully written.
Laurel does not turn her assignment in. But she does keep writing to dead people. All year, in fact.
The second thing you need to know is this:
May isn't the only person missing from Laurel's life.
When May died, Laurel's Mom left too.
Laurel lost her sister and best friend, which was devastating. But Laurel's parents lost their daughter, which was hard on their relationship. They split up and Laurel ended up going back and forth between them for a while, just like kids often do when parents split up. However, Laurel's mother couldn't handle it and eventually moved out of state, leaving her father to take care of her. Laurel's Aunt Amy stepped up and took her mom's place, which was pretty great because she lived far enough away so that Laurel could go to a different high school than May did. This is how Laurel was able to escape all of the questions, the stares, the comments and condolences from everyone, which was perfect because Laurel had no idea what to say to them anyway.
Laurel has some real issues with her mother and the reasons she left. After all, she isn't the only one that lost someone. They all loved May.
The third thing you need to know is this
:
And there are some friends – a big group of them, actually.
Laurel is fortunate that she ends up falling in with a group of people in school that care a great deal about her. It takes a while, but first there is one girl that shows her kindness, which leads to lunch together. And then there are two girls, and so on. Eventually there are a group of friends and they are inseparable – they are a colorful group of friends, a group of 'regular weird people' – and they love each other fiercely. While they spend a large amount of time together getting to know one another and doing all sorts of crazy things – smart and not-so-smart, legal and illegal, having the time of their lives in high school – there is this HUGE part of Laurel that she doesn't share with them. You know, the part where she used to have a sister but then she died…
And then there is Sky, the boy with the leather jacket in the schoolyard. Laurel likes Sky a lot and it seems like he likes her too. She can't imagine that he could even be interested in her, but he is. Their relationship is sweet and fun, but there is a shy almost-awkwardness to it that takes a while to figure out. It is obvious that Sky has growing affections for Laurel, and she feels the same, but there is just something there…
**********************************************************************
Oh. My. Goodness. Gracious.
I opened Love Letters To The Dead by Ava Dellaira, I read the first letter, and I was so overwhelmed with how much I loved it that I closed the book and couldn't read any further just then. It took almost a full day before I could open the book again and read another letter or two. And then another day before I was able to sit down and read a good chunk of the book.
That is how I had to read this book: in chunks. The entire book is written by Laurel, in the form of letters to famous dead people – all names that we would potentially know. We have letters to Kurt Cobain, Amy Winehouse, River Phoenix – several different people. She pours her heart and soul into these letters and I promise you that I poured my heart and soul into reading them. As a reader that tends to take down a few notes about the books I'm reading in order to remember for reviewing purposes, I WROTE DOWN THREE ENTIRE PAGES OF NOTES, FRONT AND BACK, EVERY SINGLE LINE AND MARGINS. I have never taken more than a page of notes before on even the best books. But there is so much stuff in these letters that I just couldn't let go of – I just had to write it down so I could get back to it quickly and easily, with page numbers so I could find it again in the book! You guys may think that is excessive and a little on the crazy side, but that should tell you how thoughtful and lovely and meaningful I believe this book to be, and how much it resonated with me.
**********************************************************************
Laurel is a young girl that has experienced loss – we know that early on – but we find some things out along the way that kind of stop us in our tracks and make us catch our breath a little bit. Do not feel or think that this book is too heavy to read, because it isn't – there is so many good times had by these friends and so much to chuckle at interspersed within the pages – but it quickly becomes clear that this assignment of writing one letter becomes more of a healing type of thing for Laurel as she begins to share more and more of the things that she keeps on the inside, and it soon becomes obvious that she has never told anyone some of the stuff we, the reader, are privy to. She is sharing her personal and private information, her hurts and pains, and her past events with the eyes of people that are no longer even alive to know this information. What a concept, really, and what a way for Laurel to confront these things about herself and inside of herself that are really and truly eating her alive and weighing her down.
The thing about Laurel is that she never tells anyone any of these things, some of them from long ago – only these 'dead people' and us, of course, by way of reading the book. Naturally, I was rooting for Laurel SO HARD even as I watched her make some dumb decisions and do some things that would normally make me cringe and shudder. I felt like I was giving her a tiny pass at some of her behavior because I knew what she was going through and experiencing on the inside. Don't get me wrong – Laurel is NOT unlikable or a delinquent or anything – she is a regular high school student and I liked her a lot – but I did want to shake some sense into her on multiple occasions. And I am not the only one – luckily she admits in her letters that there are others that are beginning to see some of her behaviors and…(no spoilers here, folks!)
Laurel's friends are great for her. I'm not sure that they would have been the friends that I would have been hanging around with back in high school, but for Laurel…they were just what she needed. They were accepting of her when she felt different and alone, and they encouraged her and built her up. She felt at home around them. They were all different and, as I mentioned above, colorful. I love the way they were all uniquely written and diverse. Never boring. Sky was also pretty great. In the beginning, he seems to be just a regular love interest, but as you read further into the book, more and more is revealed about Sky that makes him 'wild card' sort of intriguing, I think, because you have no idea where things are headed with him. This made me like him even more but I wonder if it will make other readers feel the same – some may like him more as I did, but some like him less. I am interested in seeing how everyone ends up feeling about this character – BUT HEY I LIKED HIM. I think that with everything Laurel has going on, Sky does the best he can and….(no spoilers here, folks!)
As far as Laurel's family goes, I don't think I can really comment too much on these people. Losing someone is never easy and we all have to cope the best way we know how. It was pretty crappy of Laurel's mom to leave her – yes – and it was obvious that it affected MUCH of Laurel's life for a long time as well as her decision-making processes. Laurel's father and Aunt Amy, while not perfect, did the best they could to step in and be a 'mother' to her when a mother is what she needed. That's about all I'll say about that and you'll just have to read to find out more.
The best part of this book BY FAR is the writing style. Epistolary style is one that is hit or miss with me, but this book absolutely knocks it out of the park. The choice to make Laurel start out by writing to Kurt Cobain and then write to other people that she can relate to in various ways is brilliant, in my opinion. I think it really worked so well. What I mean is that it seems that she chose Kurt for an obvious reason, but the reasons for the rest of the people she chose seemed kind of at random at times – like perhaps a memory popped into her head, so she chose the person closest to the memory (maybe a song or a movie?). Then, THEN, after telling that person why she chose to write to them, Laurel always would bring it back around and relate that memory to whatever situation she was currently facing – something going on with Sky, a fight with her friends, anger issues with her mom, things like that. I love the way it felt like Laurel was developing relationships with these people that are no longer living through her frequent writing to them. She even began to call some of them by their first names, which I loved. ALSO: The author was able to use such lovely turns of phrase and wording throughout these letters, even in such difficult situations with complex issues, and I found myself writing down so many quotes because even though they were really Laurel's thoughts about her own hardships, I feel like they could be my own thoughts about things going on in my life at the moment.
"You used your voice like glue to keep your family together. And then to keep yourself from coming undone."

page 9, ARC

"And maybe what growing up really means is knowing that you don't have to just be a character, going whichever way the story says. It's knowing you can be the author instead."

page 301, ARC


Love Letters To The Dead by Ava Dellaira is superb. I felt like it was a book that I would enjoy, but I had no idea I would connect to it on such an emotional level and be pulled into Laurel's head and heart in such a strong and raw way. I attribute that to the author and her use of evocative prose and the unique structure and concept behind this story. I fell hard for Laurel and her coming-of-age, her realistic issues, and her powerful emotions. Despite not having any of the same issues as Laurel, I couldn't help but also tie my own life into certain areas of this book where it fit. I chuckled at times and there were also times when I was nearly in tears. You guys, this book is one of the best I've read in a very, very long time and I predict fantastic things for its future.



Yes, this is an early review. It is early because I want people to know that they need to read it, preorder it, tell others about it, and enjoy the heck out of it. I love contemporary young adult fiction because of books like this one. This book made me FEEL THINGS. Oh my gosh, it made me feel things.


I recommend Love Letters To The Dead by Ava Dellaira to everyone. EVERY. ONE. This is contemporary YA at its best and I will absolutely be reading more from this author.
**********************************************************************
Love Letters To The Dead will appeal to fans of:


Young Adult Contemporary
with Realistic Fiction/Issues
Romance: No Triangle. Slowly Developing.
Love Letters To The Dead by Ava Dellaira
will be available for purchase on April 1, 2014.


**I received a review copy from the publisher in exchange for an honest opinion and review. I received no compensation for my thoughts and they are totally and completely my own! Thank you Farrar Straus and Giroux/Macmillan!
**********************************************************************
Don't forget you can download
Chapters 1-5 FREE Here: Amazon / B&N


**********************************************************************
YES this is another early review.
I want you all to know about this book.
RIGHT NOW.
THIS BOOK BELONGS ON PREORDER
or WISHLISTS or TO-READ lists.
This publisher is 2/2 for AMAZING 2014 books, you guys.