Low Country Hero
by
Lee Tobin McClain
Series:
Safe Haven #1
Published by
Harlequin
on February 26, 2019
Pages:
384
Source:
the publisher
Buy from Amazon
|
Buy from Barnes & Noble
|
Buy from Book Depository
Goodreads
Welcome to Safe Haven, where love--and a second chance--is just around the corner...

Sunny, carefree days splashing in the ocean--it's the life Anna George has always wanted for her five-year-old twins. And now that they've made it to Safe Haven, South Carolina, she won't let anyone stand in her way. Not the abusive ex she's just escaped and not the rugged contractor who caught her setting up house in the shuttered beachfront cabins he's refurbishing. When he offers Anna and her daughters a place to stay in exchange for her help with renovations, she's tempted. His gentle way with her girls makes her want to trust him, but she's been wrong before...

A family is the last thing contractor and former military man Sean O'Dwyer wants right now. But when he discovers Anna and her girls, he recognizes kindred spirits. They're survivors who've seen the worst of people, just like he has, and he'll do anything he can to help them. As he and Anna spend their days bringing the cottages back to life and their nights sharing kisses in the warm bayou breezes, Sean must choose between the life he always wanted and the family he can't live without.
I received this book for free from the publisher in exchange for an honest review. This does not affect my opinion of the book or the content of my review.
Review:
I picked Low Country Hero by Lee Tobin McClain because of the coastal South Carolina setting and the RaeAnne Thayne quote on one of the covers!
Low Country Hero takes place in the small, close-knit community of Safe Haven, SC where the neighbors always seem willing to pitch in and lend a hand to help one another. They also know a lot about each other, but that's almost always the case in small towns, and it actually helps this story flow along as at least one of these characters is looking to find out more about his/her past but is unable to remember. And there is one place in the story where a character makes a comment, something about how people seem to gravitate to Safe Haven because it is a great place to start their lives over–that is essentially where we find Anna.
Anna George is new to town with her two young twins after fleeing her abusive husband in Montana. She has happened upon a cabin in a secluded neighborhood near the coast, and since she doesn't have many resources, she decides to camp out in the cabin for a while and try to save money to start over with her girls. Sean O'Dwyer is nearby and finds her sneakily staying in one of the cabins in the neighborhood he is renovating. Sean has compassion for her and the children and works it out with the owner so she can stay in exchange for her help with the renovations. Over the course of the story, Anna and Sean grow closer, and Sean grows closer to the young girls. This is the romance aspect of the story.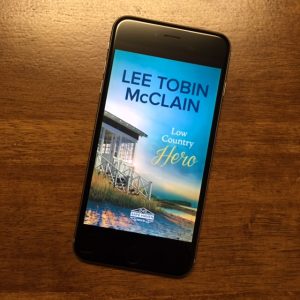 There is another large part of the story that is Sean's backstory, which includes foster families, a troubled past, the traumatic loss of his mother at a young age, and overcoming the odds to own his own business. Sean recognizes something in Anna that pulls at him from some dark places in his past. There is something about her desperation to flee her abusive husband and protect her girls at all costs that reminds him of his mother, way in the back of his memory. He really wants to help Anna.
I was pulled into this story not only because I liked Anna and Sean, but because there is a suspenseful element to it. Between not knowing what Anna's ex-husband is up to and if he'll find her to some of the secondary storylines to the more intense ending-these pages turned pretty fast for me. I also love the small-town aspect so much. Speaking of the secondary characters, there are a couple of smaller storylines involving one or two other characters that may end up being featured more heavily later in this series, and I'm excited to see where these characters' lives will take them. In the meantime, I love Sean's family and friends and the good community of Safe Haven, and I'm excited to learn more about all of them.
A sidenote: at first, I was surprised at how much page space the abuse and trauma-talk took up. It felt like it was so much, especially for a romance story. But as I read, I realized how central those themes were to this particular story and how essential they would be to understanding where these characters came from so I could fully appreciate where they would eventually end up.
I'm super glad that I decided to read this one. The end was more thrilling than I anticipated. The story probably wrapped up more neatly than real life would be, but that's okay and I'm excited for the next installment. I hope I can read it soon.