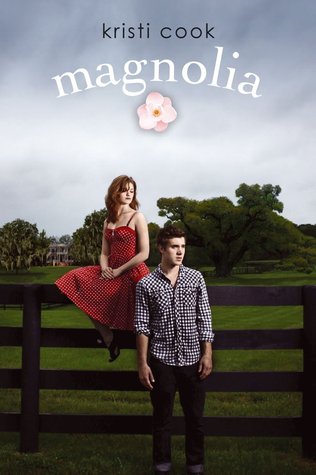 Magnolia by Kristi Cook
Published by Simon Pulse
Publish Date: August 5, 2014
336 Pages
Source: Publisher
Find It: Goodreads / Amazon / B&N

In Magnolia Branch, Mississippi, the Cafferty and Marsden families are southern royalty. Neighbors since the Civil War, the families have shared vacations, holidays, backyard barbecues, and the overwhelming desire to unite their two clans by marriage. So when a baby boy and girl were born to the families at the same time, the perfect opportunity seemed to have finally arrived.

Jemma Cafferty and Ryder Marsden have no intention of giving in to their parents' wishes. They're only seventeen, for goodness' sake, not to mention that one little problem: They hate each other! Jemma can't stand Ryder's nauseating golden-boy persona, and Ryder would like nothing better than to pretend stubborn Jemma doesn't exist.

But when a violent storm ravages Magnolia Branch, it unearths Jemma's and Ryder's true feelings for each other as the two discover that the line between love and hate may be thin enough to risk crossing over. (from Goodreads)


Magnolia by Kristi Cook

My Thoughts: I'm such a sucker for contemporary stories and for books set in the South that when I was introduced to this book by way of Lauren from Love is not a triangle, I knew right away that I wanted to read it.


Magnolia pulled me in with a cute cover and an even cuter romance between main character Jemma and her dreamy neighbor Ryder, the offspring of two sorority sister/BFF's that just KNEW their children would marry one day and make beautiful babies. Jemma and Ryder both come from very old Southern families, both steeped in tradition, and both starry-eyed with dreams and aspirations already in place for their children. Because of their parents's suffocating dreams – where they will go to college, what fraternities and sororities they will belong to, and OF COURSE their eventual marriage – the two merely tolerate each other.


The truth behind Jemma and Ryder is deeper than a superficial annoyance and dislike of one another, though. There are real, actual feelings behind why these two feel the way they do about one another AND I LOVED READING ABOUT THEM.


**********************************************************
If you know me at all, you can guess that I really liked the Southern vibe to this book. I liked the little things that made me laugh about the South: the author wastes no time in the beginning of the book lightheartedly mentioning the church-to-fast-food-restaurant ratio (high, which is often true, and this made me laugh loud and hard because my current "town" has several churches and ZERO fast food restaurants, no kidding). There was some Southern phrasing that I loved (this also made me chuckle because I sometimes say these things but they look funny when I read them). The old tradition in the families was familiar despite the fact that I am not sitting in the Deep South, which is where this story was set. And oh yes! the hurricanes and The Weather Channel's Jim Cantore were also things that made this book feel comforting to me given my location near coastal North Carolina.
I think that the attraction to this book is simple, really: Jemma and Ryder have a long history together that comes from their families' friendships, which have spanned multiple generations. Their mothers want them to get together, so naturally the two rebel against this. They spend years acting cool around one another and by the time they are ready to talk about their real feelings, a giant hurricane comes and forces them to not only spend time together, but work together. Under the stress of the storm and facing danger, their true feelings come out. Naturally, along the way, there are other issues that pop up here and there that threaten the integrity of Jemma and Ryder, both in friendship form and in romantic form.
The hurricane scenes were a great way to twist and turn Jemma and Ryder into something more than neighbors-and-sometimes-friends. I love that their hand was forced and that they caved under pressure and some big truths came out. I also loved that the scenes were so doggone accurate and that they made my heart pound, what with the wind and the tornadoes and the debris and the fear.
Besides the hurricane, I loved the family and sibling relationships that were present in this book, even though they were tested and strained a little and manipulated. I thought this was a great middle-ground from the "fantastic family relationships" that we often see and the pretty awful family relationships that are a YA trope. These parents are present and great, but they are a little controlling and this story is basically how Jemma and Ryder overcame that. I like how the author presented this. There are plenty of families that aren't one extreme or the other, and these families are great examples.
Magnolia was a quick read. It was easy and fun to read. I think I actually visualized this story like a show that would play on the CW network or ABC Family, especially since it was pretty stereotypically Southern with the stereotypical young Southern girl and football and all. I would recommend Magnolia by Kristi Cook to readers that are looking for a young adult contemporary romance that has a great setting, readers that enjoy stories with natural disasters, and readers that enjoy light, quick romances.
**********************************************************
Magnolia will appeal to fans of:
Young Adult Contemporary Romance
Romance: No triangle.
Great setting: Mississippi
Standalone
is currently available for purchase.
**********************************************************
I think I would like to discuss this book with
someone that has read it!