Series: Dreams #1
Publish Date: November 13, 2013
Source: Author for Review – Thank you!
Find It: Goodreads / Amazon / B&N
Mia Murphy may be married to the man of her dreams. But the man in her dreams is the one that got away—her high school crush.

Mia's stuck in a rut, just like every other stay-at-home mom, and the only thing saving her from her monotonous routine is her perfect husband, Declan. He's gorgeous, he adores her, and the man stole her heart with his sexy singing voice. Mia feels like the luckiest girl in the world, until she discovers that Mr. Perfect is not Mr. Faithful. Mia is devastated. Everything she once believed about Declan and their marriage is now covered in a big cloud of doubt and regret. On impulse, she kicks the cheating bastard out, pushing them into a separation that could mean the end of the picture-perfect couple.

But when Mia receives an invitation to her high school reunion, she finds herself abandoning the present for the oh-so alluring pull of the past. Although her heart still belongs to her husband, inescapable thoughts of her crush, Noah, resurface. And ten years later, Noah isn't afraid to make his move. When the build-up of fantasies and 'what ifs' comes to a head, sparks fly and it's Mia's turn to question if her marriage is everything she wants out of life. Searching for answers, Mia dives head first into dating Noah, falling further away from her husband and closer to her old flame.


But Declan's not giving up so easily. Mia is his one and only and he's not about to let another man win her heart.
(from Goodreads)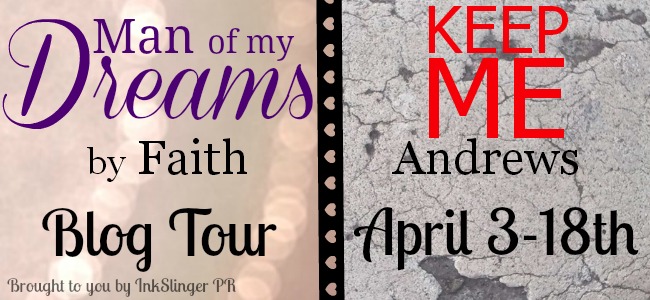 Man of My Dreams by Faith Andrews
My Thoughts: Okay, so wow! This book was a captivating little firecracker! I loved it!
Man of My Dreams by Faith Andrews is a very honest, very real character study, not of a character, but of a marriage. While the story actually takes place in the mid-2000's, it flip-flops in time to when this couple (mostly the female leading character) was in high school and college, and there is even a present-day glimpse in the epilogue. As you can pretty much grasp from the summary above, there is some serious everyday life in the book: stay-at-home mom vs. successful dad, married just long enough to have a bit of stagnancy in their marriage, and uh-oh, something happens! But WHAT EXACTLY HAPPENED? And what is the chain of events that is set off by this THING that happened?
*********************************************************************
Beautiful Mia has always dreamed of being noticed by the handsome and popular Noah, but it just never worked out during high school. It always seemed that her crush was one-sided and Mia ended up graduating with the unfulfilled dream of being Noah's girlfriend. She sees Noah here and there after graduation, but it is during college that she meets and begins to date the equally handsome Declan. Things become serious with Declan pretty quickly – they are dating exclusively soon after meeting – and Mia and Declan find themselves in love, engaged, and married young.
Their marriage is a happy one, for the most part. They have what are probably considered normal ups-and-downs – they have children young, but Declan's career builds enough that Mia can stop her teaching career to stay at home with their young children. Declan works long hours – he works hard for his family – and he finds himself away on business frequently. It's during one of these long trips away that Mia is particularly ready for him to return home – she's lonely with just the two young children to keep her company and she misses her husband. On the day of his supposed return, she makes a call to Declan to tell him how excited she is for his arrival home…but he informs her that he has to stay another night. Mia is a little weirded-out by this and asks if everyone else has to stay another night too – Declan assures her that everyone does – and even though she is disappointed at another night alone, Mia wishes him a good day before hanging up. Fast forward to a very awkward moment at a company party…that particular business trip comes up again along with that "extra day" – AND OUT COMES THE TRUTH: everyone else came home as scheduled! Frustrated, embarrassed, hurt, sad – Mia flees the party just knowing that Declan has had an affair and wants him OUT OUT OUT! Out of her life, out of her house! She never really gives him much of a chance to explain and, really, he doesn't deserve a chance now does he?
Life on her own with two young children isn't glamorous but Mia isn't about to let Declan think she can't handle it. She can handle it…she just doesn't really want to. She misses her family, she misses Declan. She feels betrayed. She invites him back home just as he tells her he is to take another business trip, this time for an entire month! Once again, Mia jumps to conclusions about Declan: is he going on this month-long trip for work because he is giving up on us for good? Does he really not want his family back? Instead of talking to Declan about how she is feeling – really talking to him – she spends about two days "reunited" with him and then off he goes. While he is gone, Mia does a lot of thinking…and attends her high school reunion. Guess who else is there?
Seeing Noah doesn't help anything at all. Because she finds out that Noah wishes he would have asked her out when he had the chance. Take the confusion of Mia's family life right now and add the confusion of Mia's biggest crush ever finally admitting that he wanted her back then and OH MY GOODNESS, Mia is a recipe for disaster…or even more confusion…or something. Either way, it isn't exactly pretty or easy.
And eventually, Mia decides to let Declan tell his side of the story…
*********************************************************************
Well, my thoughts and feelings were all over the place with this one! With Man of My Dreams by Faith Andrews, it was never an issue of OH MY GOSH I HATE CHEATING BOOKS! because I don't feel that way – I will read any kind of book as long as the story is good. The issue was that Mia was hurt, Mia reacted instead of acted, and it lead to a big hurricane of events that were just BAD BAD BAD. I wanted to reach into the book, gently take Mia by the shoulders, and say MIA! THINK AGAIN BEFORE YOU ___! TALK TO DECLAN, PLEASE! (Not that I knew what the real story was with Declan yet – but he was SO desperate for her to listen.) The truth is that I had already formed my opinion of Declan, and not necessarily because he had cheated. It was more that I felt really connected to Mia because she is kind of similar to me or maybe because I see a lot of myself in her. Ultimately, I realized that WOW I had misread a few characters and I even shook my head at myself for being so NOT open-minded to all of the characters in the book (ie, finding out the entire story before making judgments or better yet, not judging at all).
In my opinion, as I was reading, I felt like Declan gave off this impression of WORK WORK WORK and being more in love with his children more than his wife…but I think I really got that feeling from him because that's the feeling that Mia got from him. She felt lonely and LESS THAN as a stay-at-home-mom, so in hindsight I see that I also put that on him. I wonder if I read the book again, would I feel the same way about Declan? Mia had some reservations right away about her husband staying the extra night to work, but she trusted him so she brushed them aside…then was humiliated when she found out that he had lied to her. I began to see that some of the other characters were not judging him as harshly as I thought they should – they didn't feel as betrayed as Mia. So that almost hurt me, as a reader. Then, as the truth came out, I was like OHHHH OKAY I GET IT! Declan had the opportunity talk to these characters and share his side of the story – I'm not condoning his behavior, but perhaps he had worked things out with these characters to a degree. Really and truly, his side of the story isn't what you think – I'm not saying that it IS or ISN'T okay – just that WOW, maybe Mia's life would've been different from the beginning in some way or another if she would have thought and acted instead of reacted. (I haven't been in Mia's position, however, so I realize that I'm BIG TALKING HERE.) In the end, I personally forgave Declan because he felt remorseful and was sorry. And then I felt bad for judging him so harshly. (Yes, I realize this is a book and that Declan is not real.)
Then there is Noah – the high school crush turned "other man" Mia turned to. With Declan away and Mia's future up in the air, what better time to test out the waters with the now-very-interested Noah, right? Well, that's what Mia was thinking. I won't lie when I say that I liked Noah a lot. He was smooth-talking, very handsome, very sweet…and very available at just the right time. He made Mia feel things she felt like she had been missing out on for a long time. Noah was respectful of Mia and the fact that she was at-war over the "loss" of her family life. He was respectful of the fact that she was a mother. He was respectful of the fact that she was technically still married-but-separated. Sure, Mia could have done a better job of thinking things through before she began a relationship but I still liked him.
Noah's character played on my feelings for Declan's character very well.
I think in my heart of hearts, the problem with everything in the story was Mia and her emotions. She did not think rationally about anything, even when her best friend Grace (great friend, great character) tried to help her out. She acted rashly because of her pain. Noah was kind to her and Mia loved the opportunity to have a relationship with someone she had always wondered about in a "what-if" kind of way. Declan made a huge mistake but eventually Mia realized that he did not plan to give up without a fight…OH THIS STORY!
It was all very interesting to me how I found myself forming opinions about characters, then retracting them, then realizing (in at least one instance) that I had incorrectly judged based on things I had assumed. I LOVE THIS – not that I had judged someone, but that it was brought to my attention. This is not the first time this has happened to me but I always love this when I find it in a book and I always feel like I've grown a little bit after I read a book like this. I try so hard not to judge other people but MAN, I fail at this sometimes. What a great reminder! ALSO: this book is a great example of how we never really know what goes on within a family, within a relationship. Just because two people look one way by appearances – well, that doesn't really mean that is how things really and truly are – and I mean that in more than one way in the case of Mia and Declan. Their relationship and this entire book is very discussable! Love that.
In a situation like this, one of the guys has to lose and when that happened, my heart DID break because both of the guys seemed like they genuinely cared for Mia. I always feel bad for the one that ends up losing. The loser was what Mia needed for a time, but the guy that "won" at the end made the book a happy-ever-after and felt right for the story. I would love to hear from the guy that didn't win again in the future.
I recommend Man of My Dreams by Faith Andrews to fans of Contemporary Romance – this one has both adult and new adult parts given the flashbacks. There are a ton of pop culture references to the 90's, which I LOVED, and I loved the way the story kept me guessing until the last little bit. I think that there is a potential for people to be a little confused by the flashbacks, though, because they are not in sequential order – but ultimately it isn't hard to figure out what is going on and hooray for an HEA. I definitely want to read the next book in this series when it is released in just a few weeks! I love what Faith Andrews has started here.
*********************************************************************
Man of My Dreams will appeal to fans of:

Adult/New Adult Contemporary Romance
Romance: Love Triangle.
Great Secondary Characters
Alternating Time Periods/Flashbacks
HEA

Be smart, younger readers!
This book is for the older-YA and adult reading crowd!
Man of My Dreams
by Faith Andrews
is currently available for purchase.
*********************************************************************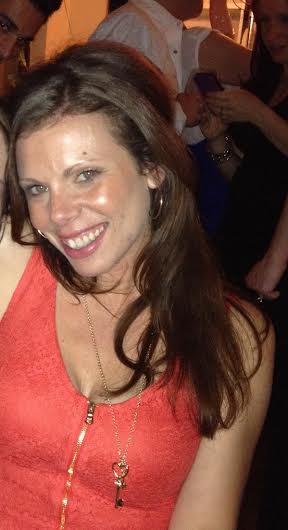 Faith Andrews lives in New York where she is happily married to her high school sweetheart. They have two beautiful daughters and a furry Yorkie son, Rocco. If she isn't listening to Mumford & Sons or busy being a Dance Mom, her nose is in a book or the laptop. She's a sucker for a happily ever after and believes her characters are out there living one somewhere.
*********************************************************************