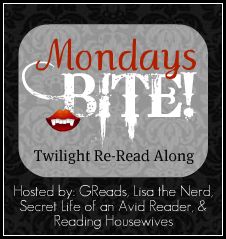 There's a fun little thing going on around the blogosphere with Stephanie Meyer's Twilight and I'm all excited about it. I always knew I wanted to re-read it, but I never really could block out enough time to do it…until now. There are a few bloggers who have made it easy for me by splitting up the chapters and making it almost like a discussion game! For the details, check out last week's post from here, courtesy of Ginger at GReads!
1. Have you ever had to start over in a new place, like Bella did in Forks? This new place could be a school, job, or town… just something with a new setting. How easy or difficult was this for you?
I'm not the youngest blogger out there, so I've had my share of "first days" in the past few years: first day of a new high school, first day of college, and my first day on a couple of new jobs. Each of these times was a new place for me, and none of them were really easy. I am not a person who likes change at all…I'm totally at home in habit and routine. But after starting over a few times, I have come to know how to deal with the jitters and nerves that go along with it. I don't know anybody who really likes 'change' or 'starting over' but it is one of life's necessary things sometimes and I guess I do okay. Not that I am eager for it to happen again any time soon or anything…
2. Do you picture the actors from the movie as the characters in the book while you are reading?
YES! I can't help it. That is why I never, ever, ever like to see a movie before I read a book. In some ways this is a bit annoying (ex: certain casting), but in some ways it is kinda fun (ex: certain casting). I'm going to try and block out the movie from my mind while I'm reading, but so far I am wildly unsuccessful.
3. What are your first thoughts on meeting Edward in Bella's Biology class? At first he was annoyed by her presence, but then after a week away he returns & finds him self very interested in her. Do you think this helped or hindered the storyline?
Edward's behavior in Biology class was a part of the storyline, so in my mind it didn't really help nor hinder it. It just was a part of it.


This is a case of where the movie made the book scenes fun for me. The Biology scenes in the movies were funny…the looks on Edward's face were what my mother calls a "something stinks" look. I remember being in the theater and laughing at him scooting farther from Bella and looking like he was trying not to throw up. When I first read the book, these parts weren't really funny to me because I just thought Edward was being mean until I read further and learned what was up with his strange behavior. But now, having seen the movie, I am chuckling at those parts because I can remember the looks on the actors faces when they were playing these scenes. In this case, the movie is enhancing the book for me. (I'm not saying that the movie was an awesome adaptation, I'm just saying that I liked the Biology scenes.)
4. Out of the secondary characters Bella meets at school, who is your favorite and why? (I am referring to the humans, not the vampires in this question)
I really like Eric. Bella meets Eric first and has a nice conversation with him. He walks her to class, and she notes that her walks her all the way to the door even though it is clearly marked.
I just find Eric a little bit nerdy but really nice. He seems very down-to-earth, and I think Bella really appreciates that. I realize that most people will probably really connect with Mike Newton, and I get that. But Eric is the one I like the most.
5. There is a lot of dialogue between Edward and Bella in these first few chapters that I feel played a major role in developing their relationship. What are some of your favorite quotes? or moments?
"I said it would be better if we weren't friends, not that I didn't want to be." -Edward


"Why don't you sit with me today?" he asked, smiling.
For sure, Edward is more swoon-worthy this time around. For next week: Chapters 6-10! Yay!