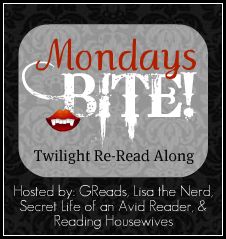 I have been having a great time with this Twilight Re-Read Along! Monday means another link-up and today it is hosted by the fun and fabulous Reading Housewives of Indiana! If you want to get in on the Twilight action, it isn't too late to join in on the fun! In the meantime, I'm just having a blast…
1. Because we have to talk about it sometime – are you Team Edward or Team Jacob? Does that impact how you re-read the book?


This question is certain to start wars among us. Oh my..


I'm always and forever Team Edward. He sparkles. I was Team Edward before I saw the movies, y'all. It has nothing to do with RPattz, although he is hot. It DOES affect how I read the book (and watch the movie). I don't like Jacob. He's an animal; a dog. He sheds and probably has dog breath. I can feel myself judging him based on the fact that I don't do animals. Ugh. But seriously…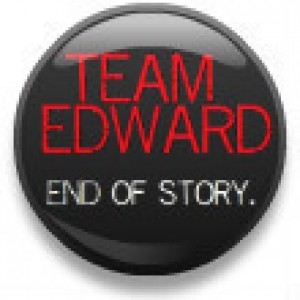 I also don't like the way he is such a sore loser. I just always felt like where Edward always was overprotective but it was swoonworthy because he loved Bella, Jacob was overprotective because he wanted her and didn't have her. And that really turned me off.
2. Bella spends a lot of her time by herself in her room when she's not at school. What do you think this says about her as a character? Can you relate to her introverted nature?
I can completely relate to Bella in this way. She is much more complex than the other kids at school, and she places value on just being quiet. (Based on this alone, she and I would get along just fine. Why do people always want to talk and be loud?) Being around Mike and Jessica and their friends would be exhausting, in my opinion, just because they are so doggone loud all the time. Fun, yes….and so Bella does hang out with them and have fun. But she values her space and privacy…and she spends time by herself in her bedroom.
I'm suddenly realizing that Bella is just like I was in high school. Except without the vampire boyfriend.
3. Probably my favorite chapter of the entire book, chapter eight brings us dress shopping, nearly getting assaulted, and then wraps up nicely with a quaint dinner and confession time. In this we see the blend of typical teenage existence starting to get tainted by the paranormal world. If given the choice right then, would you push to know more about the paranormal, or bury your head in the sand and live the teenage dream?
Were it me, and I had those butterflies in my tummy like Bella no-doubt does, I'd push to know more too. If the hottest guy in school-also the most mysterious-randomly seems to like me but none of the other girls, some of whom might be prettier, I'd have to stick around. Right?
This was an excellent part in the book.
Since Twilight, I think finding someone like Edward-vampire or not-has kind of become a teenage dream…
4. Already, it's pretty clear that Bella is falling for Edward. Is this happening too quickly to be plausible, or is it totally reasonable to you? What about Edward do you find to be swoon-worthy at this point?
I think it is very realistic that Bella is falling for Edward. I fell hard and fast for a guy when I was young too (and then married him!). Young girls DO fall in love fast. I think particularly girls who have self-esteem or confidence issues like Bella clearly does when she moves to Forks.
That being said, I totally understand why. Jessica makes it sound like all of the other girls have crushed on him before and then given up because he didn't reciprocate. Edward is good-looking and mysterious, which is crush-worthy. In the beginning, while his behavior is BAD, he makes up for it with showing that he is a very cultured gentleman. I get how someone could fall in love with a guy like that. If it were me in high school with Edward, I might have done the same thing.
5. Jessica has to forcibly remove all of the details on what's going on from Bella, but through that we learn more about how she's feeling and how she's falling for Edward already. If you were in Jessica's shoes, what would you say to Bella?
Girl! You're soooo lucky!
…looking more like a Greek god than anyone had a right to…