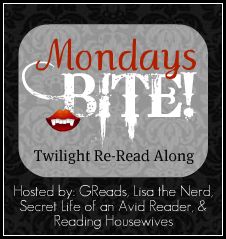 Monday means another Twilight link-up and today it is hosted over at The Secret Life of an Avid Reader! If you want to get in on the action, join in! This week we are discussing Chapters 11-15 and wow!…I had forgotten how much I love this book.
By the way, I'm still Team Edward all the way…
1. Do you think the name "Twilight" for this book is fitting with the story? Do you think a better name could have been chosen? What about the series and the names as a whole?

Twilight works fine to me. I am the least creative person ever, so I cannot judge the choice of title. I also have never given thought to whether or not I like it. HOWEVER…

I am having a HUGE A-HA moment right here in meh chair as I have never realized that all four novel names go together. Twilight, New Moon, Eclipse, Breaking Dawn…Hmmm. Right this second, as this is the first time I have realized THIS thought, it seems GENIUS. Stephanie Meyer has pulled one over on me, and it has taken the Twilight Re-Read to expose it. Had I not participated in this big ball of fun, I never would've figured out the theme of the titles.
Yani, you might just be my hero right now…for helping me to enlighten myself further into the ways of Twilight…
2. On this re-read, what's your favorite part of the book? Is it the vampires, setting, plot, characters, Edward, or something else?

I like pretty much the whole thing. That is all.


You rock my world, Charlie.
3. Edward shows his stalkerish/controlling tendencies during these chapters for the first time (at least Bella is aware), did this bother you the first time you read Twilight? Does it bother you now that you're re-reading it? Should Bella be more worried about it?



I don't think the author's intentions were for it to bother us; I think she intended it to be sweet and loving. It has only occurred to me that it is stalkerish as other people have pointed it out. In real life, people should definitely be more worried about crazy weird stalker guys…but those warning signs should have gone up way earlier in the book were this not a paranormal book and were it real life. (If I was gonna worry about the stalking, Edward following me to another town earlier in the book might have been the time to start worrying…)


For whatever reason, Bella-the-Fiercely-Independent seems to genuinely love being Bella-the-Stalked-and-Taken-Care-of-By-Edward. So I'm all for Bella letting him surround her and take care of her. This may not be the popular answer, but this is the make-believe world of a paranormal book. And believe me, if Edward wanted to sit in my room every night while I slept…he certainly could. Stalkerish or not. 🙂

4. Do you find yourself, during or after reading another paranormal/supernatural book, comparing it to Twilight? If you do, why do you think that is? Is it because it's popular or because it's just a book that makes an impact?



I think this is where Twilight gets unfairly treated. Twilight shouldn't be the standard by which all other paranormal/supernatural books are judged. It's just Stephanie Meyer's books. They're great books, but they're just her version of her own stories.


I believe people compare to Twilight because it has been so popular and done so well…people who haven't read the books have no business making comparisons. Period. Of course, this isn't helped by the much older Twihard women acting foolish over the much-younger actors, which is creepy to the nth degree. And I've even seen older men acting foolish over Bella. Also creepy! I will have to stop myself here because I tend to "go off" a bit on this. And this is supposed to be fun, not Asheley getting all fussy about the ways of the world…


But seriously…a perfect example of this is the whole Harry Potter vs. Twilight thing that seems to be going on right now. What's up with that? Why compare the two? Who needs to judge Twilight OR Harry Potter, for that matter? Both are pure awesome. Twilight isn't even similar to Harry Potter, so why the comparison? Hmmmmm??? alsjdflsajdfljsad f;sajd f;lsadf!!!


Why must the world pick on Twilight? Why can't we all just get along?

5. Bella is introduced to the Cullen Family in Chapter 15. Who is your favorite Cullen and why?


This is like asking me to pick my favorite child!! Just can't do it!


The Cullens.
Everyone here needs a new hairdo.
By everyone, I mean Rosalie and Jasper.