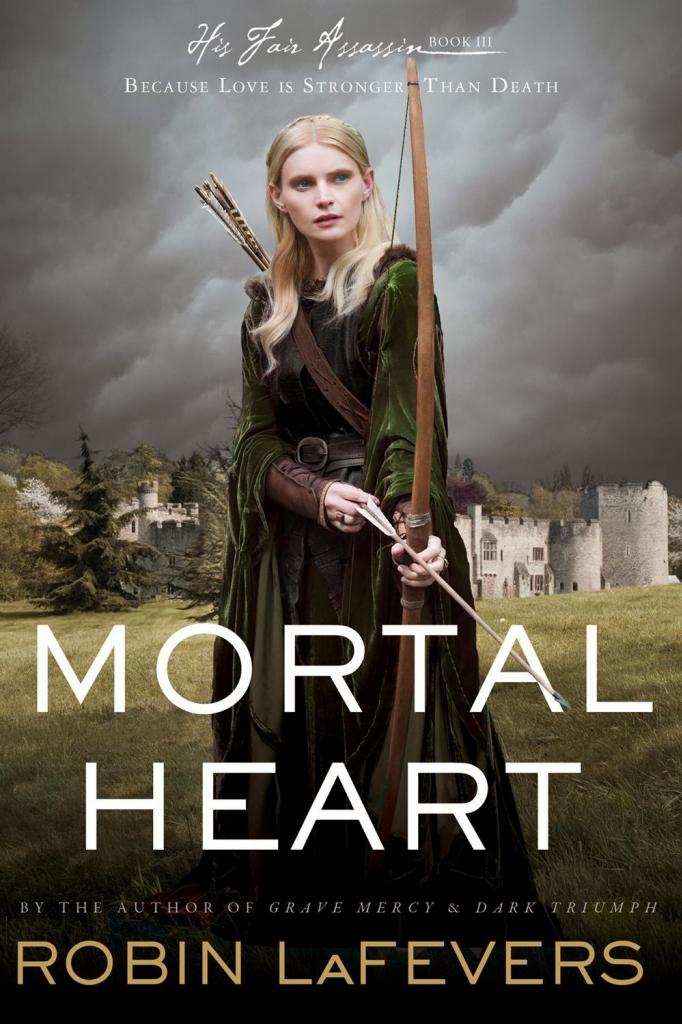 Mortal Heart by Robin LaFevers
Series: His Fair Assassin #3
Published by Houghton Mifflin Books for Children
Publish Date: November 4, 2014
464 Pages
Source: Borrowed
Find It: Goodreads / Amazon / B&N

Annith has watched her gifted sisters at the convent come and go, carrying out their dark dealings in the name of St. Mortain, patiently awaiting her own turn to serve Death. But her worst fears are realized when she discovers she is being groomed by the abbess as a Seeress, to be forever sequestered in the rock and stone womb of the convent. Feeling sorely betrayed, Annith decides to strike out on her own.

She has spent her whole life training to be an assassin. Just because the convent has changed its mind doesn't mean she has… -(excerpt from Goodreads)


Mortal Heart by Robin LaFevers

My Thoughts: Like pretty much all of my reading friends, I have been anticipating the release of Mortal Heart for-what-feels-like-ever because I simply cannot get enough of the political intrigue and the nun assassinry and the surprise that seems to wait with every turn of the page in this series. I read this book practically holding my breath and when it was finished, I felt a huge sense of WELL DONE directed at this author. I have thoroughly enjoyed this series, every single word.
*************************************************************
A few things about Mortal Heart:
1. This is Annith's story. We've read the previous two books, featuring Ismae and Sybella, and along the way we have met and loved Annith – but we haven't learned her story…until now. Annith's story is so compelling and so full of twists and turns, full of mysteries and unknowns – while I was reading, I felt so many things for this girl. I felt heartbreak and respect and awe, and I had many oh-my-goodness! moments throughout the book while I tried to figure things out on my own.
2. Annith learns her story along with us. This is what makes this book so unputdownable. There are SO MANY parts to this girl's story that she has no clue about – she is fierce in her determination to seek out the truth. Even when she learns pieces of her story that knock her down and devastate her, she continues to embrace who she is and she remains strong.
3. Annith is strong, yes, but she has some vulnerabilities. Okay, so I use the word vulnerabilities for lack of a better one – Annith chooses to make some decisions that are questionable, that aren't the right-est (according to the rules of the day); she also has some weaknesses and fears at times. STILL she is kick-butt awesome. I think it is her weaknesses and her choices that make me love her all the more. I LOVE when a main character/heroine is not afraid to admit things about herself that others would consider a flaw or a weak point.
4. Well, yes, there is a romance! This romance is a little different than what we have seen in the previous two books – I'm afraid that I liked it enough to spoil it if I keep talking about it!
Speaking of spoilery, I don't want to discuss to much about this book at all because there is too much about Annith that will ruin the story, in my opinion, if it is told. She is so unique and so wonderful, as is her story, that I think it is best found out completely by reading this book. I think that readers of the previous two books will trust the author enough to not try to seek out too much information and just enjoy the story as it flows. It is really wonderful.
*************************************************************
I love to let my inner fangirl out and I love to talk about books, but I find myself really ill-equipped to say much of anything that will do this series justice without spoiling it. This is a fine finale for a fine series. I have so much respect for this author for helping me love an entire new category of books because that is really something special. When an author can take a story and make so many people so wildly excited because basically everything contained in her story is amazing…well, I really don't know what more to say than that. I'm just thrilled at the privilege of reading these books and sharing my excitement about them with everyone. I want everyone that hasn't read them yet to pick them up and I want to reread and discuss them again.
Hats off to Robin LaFevers for taking real history, putting her spin on it, and turning it into this series, for giving us similar-yet-very-different heroines and love interests, and for making them all kick-butt. This was my VERY FIRST experience with historical fiction, and it has changed my reading life. Mortal Heart was MORE than I thought it would be but at the same time, it was exactly what I expected from this author.
*************************************************************
Mortal Heart will appeal to fans of:


YA Historical Fiction & Romance
with Paranormal/Supernatural/Fantasy
Romance: Slow Burn, No Love Triangle
High Court Politics, Intrigue, Treason
Plot Twists, Secrets, Mystery
Nun Assassins

Mortal Heart by Robin LaFevers