A few days ago, I was alerted by a great blogging friend that my blog content had been stolen when she tweeted me a link to this blog post:
Auntie Spinelli Reads – Plagiarism Sucks
I clicked over, read the post, and found that my thoughts on Exiled by M.R. Merrick had been plagiarized.
At the same time I realized this, I immediately had two thoughts.
1) Oh, great. Another stupid book blogger scandal. DRAMA!
2) WAIT, WHAT? MY THOUGHTS? Why would somebody take my thoughts? Who in the world thinks like me anyway? My blog posts are all over the place. They're weird and funky and WHO WOULD TAKE MY THOUGHTS?
You guys, over the past couple of days, I've had all sorts of emotions about this issue. Perhaps that is dumb and stupid and slightly melodramatic, but I have. I've ranged from sadness and anger to back to sadness again. And confusion.
See, I do this blog as a hobby – like you all do. (insert smiley face here) Like you all, it takes a ton of time. Some money. But I do it happily. I LOVE THIS THING. I take a ton of pride in it. It is my thing. My joy! I read to escape the craziness of life and at the end of the day, I look at the fun I have and the community we have and the thing that I do and I think AAAH THIS IS GOOD. There is nothing better than talking books with other people, y'all. And the blog drives that for me – it helps me develop those relationships that go beyond the blog, and those that stay on the blog, and so on. This blog and everything on it are mine mine mine. My heart goes into it, silly as it seems.

In the past, when this same issue has happened, it was always someone else's problem with me having my own little opinion about it. I've stayed out of the drama but I've certainly seen the effects of it. This time, though, it has involved me whether I wanted it to or not, and the stolen thoughts are M-I-N-E, mine.

The content taken was not plentiful in quantity.
But we can all agree that that is not the point.

**************************************************

Today – without getting any deeper in this dumb drama – I'm going to share a couple of thoughts with you:
1. I would have NEVER EVER KNOWN about this had my friend not seen the blog post from the other blog that I linked up above. Also, my friend could have just read it and gone on about her day, but she did not. She chose to ask me had *I* seen it, and then forward it to me. Thank you friend! Seriously. I appreciate it. You are awesome.
The truth is that we can never know who is stealing our content. I randomly check for stolen content often, but I missed this – I suspect because it was fairly recent. We can put the Copyrights on our blogs. But we still can never really know.
In this case, when I looked at the cached blog post from the other blogger, it took me a while to pick out the words that were mine. In fact, I had to compare it to my original post to be sure. Of course, the other blogger had changed it so it looked different (I had an underlined sentence) – but the words were still the same. It looked different to the eye, but the words were still mine. It was a direct copy-and-paste, except she removed the underline. (You should see the look on my face right now. It FEELS smarmy. I can't imagine how it looks.)


You guys, I wouldn't always know when my content shows up on another blog. It might sound similar, but I wouldn't necessarily know. NOW, if they used some of my melodramatic-crazy ALLCAPS, bold-faces, and italics, I might would know. But then again, using ANY part of another person's content is stupid. Period.
Also, every person does not follow every blog. What are the chances that you'd know if you're being ripped off?
2. The so-called controversy (which I missed, as always) – I presume – stems from how the co-bloggers handled the situation once they were called out. All of this happened before I found out about it, outside of my knowledge. I am unconcerned with petty drama. BUT BUT BUT I have since read published emails exchanged between involved parties, and it is quite enraging how the guilty party and the co-blogger handled the situation, but like I said – it was handled outside of my involvement in the situation.
*I have tried contacting a couple of people that were involved in this directly, in-real-time to find out more information. Not one soul has responded to me. No one.
What I mean is this: I HAVE NOT RECEIVED ANY TYPE OF APOLOGY, NO CONTACT, NO EMAIL, NO INFORMATION, ANYTHING. So, basically, as I mentioned above, this entire thing could have been swept under the rug and I would have never known about it.

At this point – it's okay, really. I don't want any apologies or contact at this point since I apparently am not going to receive any anyway. I just want them to not bother me. At all. And I want for them to stay off of my blog and my Goodreads profile. Serious, fun readers are welcome, of course. I'd love to discuss books with everyone, but I encourage everyone to have their own thoughts about them.
3. Bloggers/Goodreads reviewers: Use your own thoughts. Write your own stuff before you read the thoughts of anyone else. And for everything that is holy, don't cut and paste unless you plan to credit the hell out of your source. If you think for a second you may have been inspired by someone else's thoughts or ideas – credit that person as well. It's super simple. It prevents problems later. Hurt feelings. Twitter drama. Controversy. Stupidity. All that jazz.



**************************************************
So, then, Asheley – WHAT EXACTLY IS YOUR POINT? You've made this blog post and thrown it up here for the world to see! Plagiarism is stupid and no one wants to hear about it anymore. Bloggers get plagiarized – get over it! Right? RIGHT? Well, yeah, that's kind of my thought. Except I'm not over it. I get pissed every time it happens. Because it is dumb.

Here's what I'm thinking. I didn't choose to be in this idiotic mess. I am not a child and I don't like acting like one. I don't like book blogger drama. It is a privilege to me to be able to be a part of this community that I love and adore and cherish so much. It is a privilege to be able to interact with authors that I respect and admire so much for their creativity and their imaginations and their hard work.
SO…I can't help that I was brought into something so dumb. But I can twist it and spin it my way. I can make it end up – FOR ME – the way I want it to.

My blog post on M.R. Merrick's awesome book Exiled was plagiarized. It wasn't a ton of content – only a teeny tiny little bit. I'm just dropping the name of the book here again because I hope to shed a little more light on this series, because it is a winner. What was meant for bad, I'm gonna use for good. That's it. I'm ending my thoughts on a positive note.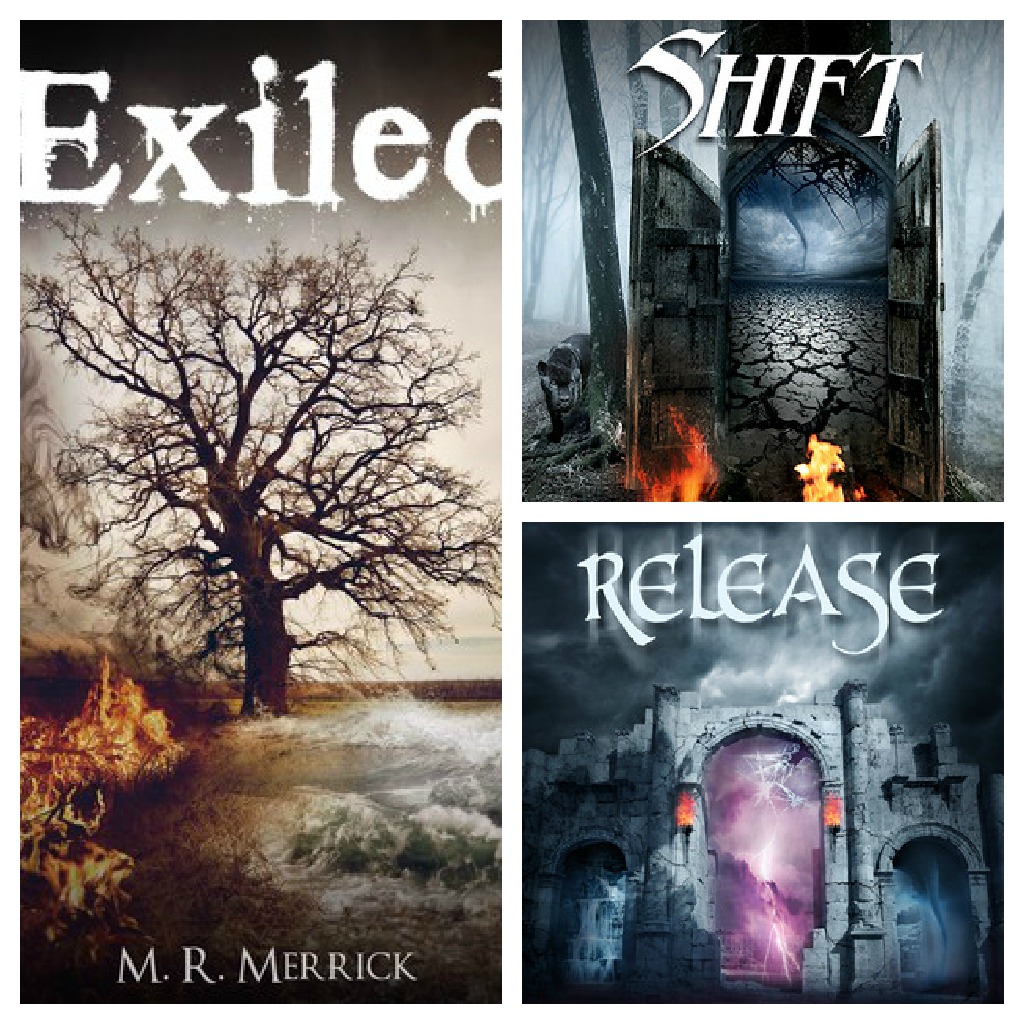 The Protector Series by M.R. Merrick
Exiled, Shift, Release
**************************************************
There is no POSITIVE to PLAGIARISM.
However…at least the thief chose a book that I loved
and I am very happy to highlight on my blog today.
THAT is how I choose to spin this story.
I don't want any stupid drama.
I want out of it.