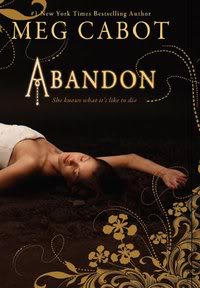 Abandon by Meg Cabot
Published by Point
Publish Date: January 1, 2011
304 Pages
My Source: Borrowed/Library
Abandon by Meg Cabot
Though she tries returning to the life she knew before the accident, Pierce can't help but feel at once a part of this world, and apart from it. Yet she's never alone . . . because someone is always watching her. Escape from the realm of the dead is impossible when someone there wants you back.
But now she's moved to a new town. Maybe at her new school, she can start fresh. Maybe she can stop feeling so afraid.
Only she can't. Because even here, he finds her. That's how desperately he wants her back. She knows he's no guardian angel, and his dark world isn't exactly heaven, yet she can't stay away . . . especially since he always appears when she least expects it, but exactly when she needs him most.
But if she lets herself fall any further, she may just find herself back in the one place she most fears: the Underworld.

-(taken from Goodreads.com summary)
My Thoughts: Abandon is a milestone of sorts for me because it is my first Meg Cabot book. I picked it up for two reasons: the cover is absolutely luscious and the book is supposedly a mythology re-telling. You can give me a story about mythology and a cup of coffee and I'm good for the rest of the day…which is almost exactly what happened here.


Abandon had a little bit of the Persephone and Hades myth mixed in, and that is one of my favorites. Let me share my thoughts:


1. The Characters.
Pierce Olivieri. Died, then was resuscitated. While she was dead, she visited the Underworld and met John, who completely threw her for a loop when he told her she had to stay with him for eternity. She escaped, but when she made it back to life, she was a little different…more cautious, paranoid, something. Now she and her mom have moved to Isla Huesos to start a new life – a normal life – but life is anything but normal.
John Hayden. Tall, dark, and handsome. John has a certain role in the Underworld, but he often pops up when Pierce is in trouble to protect her

or

to visit her

or

to watch over her, sigh sigh sigh! He has super strength. He can disappear in the blink of an eye. He can do mysterious things. Pierce can't figure out exactly who and what John is, why is interested in her, and why he won't leave her alone.
Pierce is fairly developed. She gets an incredible amount of face-time in this book, and most of it is spent sad or lonely or mopey. I kind of feel sorry for her because she just doesn't really feel like she fits in anywhere, and the truth is that she doesn't. John, in my opinion, doesn't get enough face-time in this book. I have all ideas that he is indeed a fully fleshed out and developed character but as we haven't spent that much time with him in Abandon, we really don't know. Hopefully this remains to be seen in the next book, Underworld.

(fingers crossed)
There are several supporting characters that are really only there as fluff. One or two add depth to the story: Pierce's grandmother, for example, and the cemetery sexton, Richard. Other than that, I felt like they were entertaining filler – which is totally okay.
2. The Setting. Isla Huesos, the Isle of Bones. The island was almost a character itself, and if it were it would be totally three-dimensional. There was a great deal of description to it and to its history. I loved it! I loved the description of the vegetation, the climate, the layout of the island, and why the cemetery used the above-ground crypts instead of underground burial plots. The author did a great job setting the stage for this story and despite never having been to Florida, I feel like I can imagine this area well after reading this. Plus the creepy factor for this gateway to the Underworld was spectacularly present. Well done.
3. The Conflict. In the beginning of the story, the conflict is Pierce trying to fit in. And the story drags. Pierce's inner struggles, Pierce trying to find friends, Pierce blah blah blah. I was struggling to stay focused. But toward the end, there is a REAL conflict that works its way out that had apparently slipped right by me unnoticed. AND I LOVED IT. One word: Furies. Y'all, I love The Furies. They are bad news. They are troublemakers, every time. And they make for excellent stories.
4. The Mythology. I love mythology like a kid loves cake and candy, honestly. The Persephone and Hades myth is one of my favorites. So I was thrilled to dive into this one. It took forever in the book for the mythology to really start coming through, and it was probably closer to the last third before the mythology really started to shine. While I enjoyed it, I would probably hesitate to call this a mythology re-telling; I would actually call it a book that is based on a myth. I realize that might be grounds for some serious discussion or disagreement, and that is okay. But I read a lot of mythology and I feel pretty confident in what I'm saying.
In this case, I have to wonder about the people who aren't familiar with the mythology and the names: Persephone, Hades, the Furies, the river Styx, etc. — would all of the name-throwing at the end be confusing? The book doesn't give much background, to my recollection. I'm curious.
5. Romance. There is a romance, and it's wildly interesting. It is clear that John is so in love with Pierce…well, it is clear to everyone but Pierce. She thinks John hates her, so she hates him, or at least she tells herself she does. But she isn't fooling any of us! It finally clicks and comes together at one point near the end for a few pages. (swoon, sigh, swoon) I want to see this romance develop in a big, bad way.
6. The Cover. This is one of my favorite covers on a book, ever. It is stunning as a full wraparound. The inside pages are pretty as well, with embellishments on the chapter headers and a gorgeous title page. Excellent work by the design team.
I really am not sure what to make of this book. I was on the wait list forever at the library and I had such high hopes for it. The cover is so utterly stunning and I kept closing the book just to look at it. But there are areas in which it fell a little bit flat.
It took a little while for me to get into it, first of all. It wasn't Pierce's fault, with her mopey, sad self – because that's her character and I understand that's how her life was at that point in time. I just felt like all of the extraneous stuff about the school and the school friends was unnecessary to the story of Pierce and John, which is what I THOUGHT the main theme was supposed to be.
Did anyone else feel the same way?
Or am I alone in this thought?
I almost DNF'd this book, but I'm really glad that I stuck with it because the payoff at the end was spectacular. Not only was the mythology there, but the romance came to a head and there were some big twists thrown into the picture. Not one twist, but a few twists.
I am happy to say that I will eagerly pick up Underworld when I can get my hands on it. I'm hoping that it will center more on the mythology of the story than Abandon did, because I still believe that this story is supposed to be based on a myth. Also, I am hoping to find a fully fleshed John and that his presence is astoundingly greater in this second book. I want a romance and I don't mind if it is a slightly tortured romance, as long as it is there.
I am sure that die-hard fans of Meg Cabot will find this book great, because she seems to have an army of her own, and that is awesome. If you're in the Cabot army and haven't read Abandon, pick it up! If you love mythology, give Abandon a try – but be warned, you need to stick with it to see the myth come to fruition.