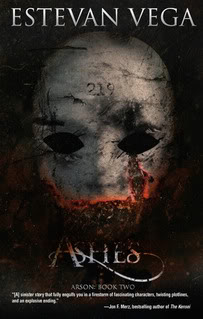 Ashes (Arson #2) by Estevan Vega
Published by StoneHouse Ink
Publish Date: September 2011
My Source: review copy from the author
More than three months have passed since Arson and Emery were taken. Taken and then separated.

And experimented on.

Salvation Asylum is more like a prison than a psychiatric facility. Unknowingly, Arson has become a vital instrument in a campaign set to genetically alter mankind. Enraged, confused, trapped, and unable to fully manifest his abilities, he wonders if he will ever see Emery again. His new existence is one crawling with questions. Is Grandma alive? Where does the fire come from? Can he become more than a monster?

In Ashes, book two of the ARSON series, nightmare and reality collide as Arson must embrace what he is and the haunting realization that there may be others out there, others like him. -(summary from Goodreads.com)


Ashes by Estevan Vega


My Thoughts: Before we even get started, you need to know this:
I ABSOLUTELY LOVED the first book in this series,

Arson

, (read my thoughts

HERE

)

I am an absolute fan of this author,

Estevan Vega

.


Now all of that is out of the way, I'm going to tell you my thoughts about Ashes, the second book in this series…but I want to warn you that it may end up being a gush-fest because I think this book is brilliant and I could really just leave it at that.


I am having a fit to tell you about Ashes.
Let's get started:
1.
The Characters
. I thought the characters were excellent in Arson, and they really were. But they are amazing in Ashes. Arson and Emery are back, as are some of the others from the first book, but GOOD GRACIOUS there are some new characters. And WOW they are so great to read…and I mean that in the craziest way possible.
Arson. If you'll remember, Arson can start fires with his mind, but doesn't understand how or why he can do this. He always felt like a freak. Because of this rare ability, Arson now finds himself locked up and being studied. He doesn't really understand why he's being studied; all he knows is that he has to find Emery. He hasn't seen her since the events at the end of the first book, and he is not only worried about her but he misses her like crazy…well, as much as he can in his drug-induced stupor. Arson keeps trying to access his fire-starting abilities to break himself out of the Salvation Asylum, which is like a prison for him, but somehow these crazy "doctors" that are studying him have him subdued enough that he can't get a grip on his fire. If he can just wake up a little and get a handle on himself, he could find Emery…
Emery. If you'll remember, Emery moved with her parents into a vacant house near Arson. A bit of a freak herself, Emery always wore a mask to cover some facial burns. Emery's life was a bit crumbly before – not only because of her own past but because of her parents failing careers and marriage – but when she found Arson, things took an amazing turn for the better. Their friendship turned into a slow sort-of romance, and after the events of the last book, Emery also found herself locked up and being studied. Emery, however, isn't being kept drugged up (like Arson) and is very aware of her awful surroundings. After escaping the Salvation Asylum, she has an adventure-of-sorts with the boy who helped her escape, Adam…
Adam. Adam has also been locked up in the Salvation Asylum and studied…for years. He is the one that breaks Emery out – he saves her, he says – and then takes her on a crazy adventure. I mean, C-R-A-Z-Y. Emery is such a good sport, of course, but eventually she begins to wonder if she's ever going to see Arson again…and then so are we, the readers. Adam starts telling us HIS story, and there are more twists, turns, and corners than in a funhouse, you guys. This kid – can we trust him? I just don't know. But he makes for one heck of a story. I LOVED THIS CHARACTER.
We also meet the staff of the Salvation Asylum. Friends, these people are…they're crazy. But WOW, they're fun to read. They're detailed and wonderful and just…some of them will leave your mouth hanging wide open.
Emery's parents, Joel and Aimee, are also back. In the first book, these two had a really tough time with a marriage that was falling apart very fast. In Ashes, these two parents start out on opposite sides but quickly realize that they need to work together to get back Emery. I LOVE what the author did with these two. Reading about the demise of their marriage was tough in the first book, but if you can hang on until Ashes, there just may be good things in store for this couple…if they can make it through some twists and turns of their own.
You guys, I'm not joking. Ashes is characterization for the masses. These characters all so well done. Brilliant, even.
2.
Backstory
. Hooray for backstory, Estevan Vega! In the first book, we really don't know much about Arson's past. Guys, we're getting some backstory here in the form of EXACTLY WHAT HAPPENED WITH ARSON'S PARENTS. And let me tell you, I read that part more than once…because I could hardly believe it. Nail-biting and heart-pounding, folks. And there's more, really. We find out even more about Arson's history and more about Emery. And all about Adam's past.
3.
Genre
. Thriller. Maybe horror. Also, this book has more paranormal elements in it than Arson did, and they are creepy and thrilling and fun and a teensy bit disturbing at times. Loved it.
4.
The Structure
. Like Arson, Ashes has Alternating POV. Several people are telling this story and it is INCREDIBLE…because there are a ton of things happening and you WANT to know what is going on at all times. The way Estevan wrote this story was the only way it could be written and he did it perfectly. I was never confused about who was talking because each of his characters is so obvious. The pacing and timing are perfect – I never felt a lull in the action at all. In fact, I fought with myself not to read too fast so I wouldn't miss any details.
5.
Romance
. By the end of Arson, I had fallen head-over-heels for Arson and Emery and their sweet relationship. Ashes begins three months after the end of Arson, which means they've been separated for three months already. They miss each other terribly, and it is tough to read about those emotions in this book because they feel so isolated and lonely. Throughout the book, we're inside their minds as they constantly wonder and worry about the other one – wonder if they'll ever see each other again, wonder if the other one is alive and okay…I wish that I could've seen them together more in this book, but the story was perfect the way it was. Basically, the romance that happened in Arson wasn't really a true 'romance' in Ashes – it was two people who were missing and wanting each other desperately because they were separated. They spend a ton of time trying to figure out how to get back to one another.
6.
The End
. WOW oh WOW. I don't even know what to say about the ending of this one…I will say that it is wide open for another another book and I hope with every fiber of my being that Estevan is going to write one. But who knows?…b
ecause it also would be the perfect thriller if it was left as is.
7.
The Cover
…Matches the cover of Arson perfectly. It also matches the book perfectly. I love them SO MUCH. I hope people will not be put-off or scared by the covers of these books because this genre is thriller/horror and guys, these covers are cohesive to these plots. They're PERFECT.
********************************************************


If you follow my Twitter closely and you remember when I was reading this book fairly recently, you may remember my tweets about it – filled with CAPSLOCK and !!!!! and I think at one point there were just random letters… y'all know THAT's what we do when we love a book, right? Well I love this book. I love Arson, but I LOVE Ashes. I'm having a fit for you guys to read it so we can talk about it.


I'm absolutely amazed by this plot. It has so many different things going on at one time, but they all converge and make sense and I was never confused. And all of the OMG!!! moments weren't saved for the ending of the book…they were spread throughout – which was AWESOME. It felt like there were surprises around every corner. I don't read a ton of thrillers, but when I do, this is how I want them – exactly this way. Also, Ashes is a second book that is even better than the first book – meaning no sophomore slump in this series: read Arson, love it, and it's still uphill from there, you guys.


Basically, Arson and Ashes are two of my favorite books. That is all. That's what you need to take away from this blog post. Estevan Vega is an instant-read for me, and it is because of great work like this. These books are crazy-good, and it is because they are nail-biting, edge-of-your-seat, heart-pounding thrilling and creepy and disturbing. They are a good time. THESE are books you read and then sit and think about. Or tweet your friends about. Or push on your friends (I pushed them on one of my friends at Starbucks last week. Forced them. She will love them – I know it.)


Estevan, are you a mad man or a brilliant mind? I suppose a little of both?
Because I am still speechless after Ashes.
These words I have typed out – no justice to the book, in my opinion.
I really want a third book, but then again I don't. No…I really do.


***ALSO, people, if you read these books (DO IT!) get on twitter and let Estevan (@EstevanVega) know you loved them. He'll probably respond to you. He's really good about that stuff. Tell him his characters are awesome and crazy and WHAT ON EARTH??? and stuff like that.
Ashes will appeal to fans of:
Fire
Nail-Biting, Heart-Pounding, Edge-Of-Your-Seat Stories
Thriller/Mystery Stories with some Creepy in there
Alternating POV
Fantastic pacing with Multiple Subplots
Character and Action Driven Stories
Suitable for all-ages YA as well as Adult Readers
Ashes by Estevan Vega is currently available for purchase
.


Go get 'em, you guys!
They're favorites of mine!
NOTE: I am neither an Amazon Affiliate nor a B&N Affiliate.
**I received a review copy from the author in exchange for an honest opinion and review. I received no compensation for my thoughts. Thank you Estevan Vega!