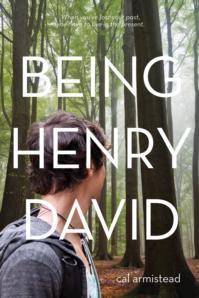 Being Henry David by Cal Armistead
Published by Albert Whitman Teen
Publish Date: March 1, 2013
270 pages
Source: NetGalley
Seventeen-year-old "Hank" has found himself at Penn Station in New York City with no memory of anything –who he is, where he came from, why he's running away. His only possession is a worn copy of Walden, by Henry David Thoreau. And so he becomes Henry David-or "Hank" and takes first to the streets, and then to the only destination he can think of–Walden Pond in Concord, Massachusetts. Cal Armistead's remarkable debut novel is about a teen in search of himself. Hank begins to piece together recollections from his past. The only way Hank can discover his present is to face up to the realities of his grievous memories. He must come to terms with the tragedy of his past, to stop running, and to find his way home. –(summary from Goodreads)

Being Henry David
by Cal Armistead

My Thoughts: If I were to be honest with you all, I would tell you that I was not entirely sure what to expect in picking up this book: I knew that it gave mention of Henry David Thoreau's Walden in the summary (I'm a pretty big fan.), it has a really neat cover, and it is a YA debut for this author. These things were enough to make me want to see what it was all about. I found that Being Henry David was an interesting little book and I never could really predict what was coming up. At all. It was quite the adventure.

***************************************************

Young 'Hank' awakens in a train station in New York with nothing but a book (Walden), ten dollars in his front pocket, and the clothes on his back. He has no idea how he got there, where he is going, or even who he is. When Hank looks at himself in the bathroom mirror, he does not recognize the person staring back. While he has knowledge of things – general objects, the fact that he is currently located in America, certain past events in history – he remembers nothing of his own personal history. After a brief encounter with police officers in the train station, he quickly gives himself the name "Henry David" to avoid suspicion – it is the first thing he can think of because it is the name of the author of the book he holds in his hands.

Hank meets some colorful secondary characters in the beginning of the book – each are relatively fleeting in terms of the story. Soon he finds himself in loads of unexpected trouble and on a bus out of New York city in a hurry. Because Thoreau decided to live in the woods 'simply' – as noted in Walden – Hank decides to go to Walden Pond. Hank speculates that this book – his only material possession – may possibly hold a clue to his identity…and this is how he ends up in Concord, Massachusetts. It is there, near Walden Pond, that the majority of the book is set.
***************************************************

Being Henry David by Cal Armistead is a little difficult to categorize and talk about without giving plot points away. It is filled with references to Walden, complete with some of the best quotes from the book, and there are also references to Thoreau's life scattered throughout the story. As a fan of the book and of great literature in general, I think this is wonderful. I would love to see this book fall into the hands of someone that is not familiar with Walden and I would love to see that person go on to decide to perhaps pick up the literary masterpiece and check it out after being inspired by Hank's story. That would be very cool.

I love the author's writing style in this book. Anytime a story is told with choppy, clipped phrases mixed with regular prose, it always catches my attention because my mind tends to think in that same way. In the case of Being Henry David, Hank is a young man on the run, desperately seeking himself – we see him at his most desperate, his most frantic, his most vulnerable. During these times, his mind would not be likely to think in perfectly formed sentence structure. Reading these short phrases placed throughout the book is just like being inside of Hank's mind, I think. Plus, I just really like it.
I also feel that the multiple settings for this story are interesting and authentic. From watching movies or news on the TV, I know that runaways or missing persons are often "on the run" – it comes as no shock to me that Hank is also always moving. First New York, then Massachusetts, and so on. The best part about this is that each setting has its own tone and pace, and each setting is well-suited for its place in the story.
The only thing that I like to see different in this book is the characterization. It isn't anything bad or negative at all. I liked all of the characters; there are so many secondary characters that come into Hank's life as he travels. The problem is not with any of them in particular – I just wish that some of them had been in the story a little longer. Most of them felt a bit transient to the story, but perhaps that was intentional because of Hank's transient nature.
Being Henry David is a neat book. I enjoyed Hank's story. I loved reading Hank piece the story of his life back together, tiny bit by tiny bit. It was heartbreaking, at times, but I found myself rooting for him. I was hopeful that the reason for his disappearance would not be the worst case scenario. In a way, this book was a bit of a mystery because as a reader, I discovered the pieces of Hank's life puzzle along with him. Of course, this also made it a little more of an emotional, nail-biting journey as well. Ultimately, I was pleased with the way the book ended.
All in all, I liked this one. I recommend Being Henry David for fans of Henry David Thoreau's Walden (yay!), people that enjoy reading books with male leading characters, and people that enjoy coming-of-age stories and survival stories.

**************************************************************
Being Henry David will appeal to fans of:


Henry David Thoreau/Walden
YA Contemporary
Male Leading Characters
Coming-of-Age
Issues: Amnesia

Being Henry David by Cal Armistead
will be available for purchase on March 1, 2013.
*I received a copy of this book from Albert Whitman Teen via NetGalley for review. This in no way affected my opinion.

**************************************************************

Will you be adding
BEING HENRY DAVID to your wish list?