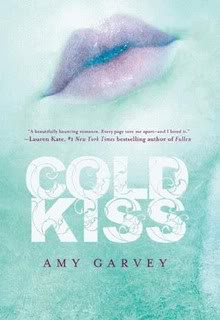 Cold Kiss by Amy Garvey
Publisher: HarperTeen
Publish Date: September 20, 2011
336 Pages
My Source: NetGalley
Cold Kiss by Amy Garvey

When her boyfriend, Danny, is killed in a car accident, Wren can't imagine living without him. Wild with grief, she uses the untamed powers she's inherited to bring him back. But the Danny who returns is just a shell of the boy she once loved.

Wren has spent four months keeping Danny hidden, while her life slowly unravels around her. Then Gabriel DeMarnes transfers to her school and somehow, inexplicably, he can sense her secret. Wren finds herself drawn to Gabriel, who is so much more alive than the ghost of the boy she loved. But Wren can't turn her back on Danny or the choice she made for him—and she realizes she must find a way to make things right, even if it means breaking her own heart. -(summary from Goodreads.com)
My Thoughts
: Wren is completely devastated after the loss of Danny in a car accident. Because Wren is
special
(meaning, she has special powers of some sort), she figures out how to bring Danny back to life. Life with Danny after his death isn't what Wren was expecting, though. So Wren does what any other young, teenage girl would do in this situation–she stashes Danny in a loft in her elderly neighbor's garage where he won't be seen or heard until she figures out what to do with him. Days pass and Wren becomes more stressed about her situation when Gabriel enters the picture. Gabriel is cool, good-looking, and doesn't think she is a freak because she has special powers. At this point, what
was
a mess becomes a colossal mess.
Let me break my thoughts down in list form.
Confusion.

I was first confused when I started reading this book. I did not understand what Wren was and what gave her the special powers. But then I realized that not only did she not understand, but her sister didn't understand either. So my confusion moved more into the way of…

Irritation.

I couldn't stand Wren's mother. I don't know if that is the intention of the author or not, but to me, she was not likable.

(I am not a huge fan of the not-so-great parents in YA literature.)

Mom's failure to share the details of the paranormal-ness of their family meant that I, as a reader, was not privy to it either. So BOO to you, Wren's mother.

Immaturity.

Wren made some poor choices and as a result, had to do some damage control. But instead, she kept putting it off, which made her have to make more choices and do more damage control. It was a cycle, a vicious cycle. Thank goodness for Gabriel's help.

Gabriel.

The crush. I really liked Gabriel, and I liked Wren with Gabriel. The more I read about them together, the more I wanted to see this relationship go somewhere. Gabriel's character was a super-nice guy and extremely likable. But there was that little problem of Danny.

Danny.

I love zombies. Danny is not your typical zombie, and that is okay. But he was creepy, for sure. I understood Wren's conflict after bringing him back from the grave.
Cold Kiss is an easy read that I finished in almost one sitting. It was a little bit predictable, but that is okay. It started out a little bit confusing for me, and some of the confusion stayed through to the end, but my overall impression of the book was a positive one. I would have loved a little bit more from this book: a little bit more explanation, a little more character development. But it is okay, because when it was all said and done, I enjoyed it. Why? Because the entire time I was reading it, it was playing out in my head like a John Hughes* movie! And FOR THAT REASON–despite whiny teenagers, despite poor choices, despite bad parents–I totally enjoyed reading it.
*Some examples of John Hughes movies you may/may not be familiar with: The Breakfast Club, Pretty In Pink, Sixteen Candles…
**A digital copy of the publication was generously provided by the publisher via NetGalley in exchange for my honest thoughts & opinions. I received no compensation for this review. Thank you, HarperTeen!