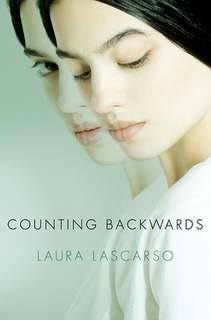 Counting Backwards by Laura Lascarso
Published by Atheneum BYR
Publish Date: August 14, 2012
279 Pages
Source: ARC from publisher

Three weeks ago I tried to run away from home. Now all I want is to go back.

When troubled Taylor Truwell is caught with a stolen car and lands in court for resisting arrest, her father convinces the judge of an alternative to punishment: treatment in a juvenile psychiatric correctional facility. Sunny Meadows is anything but the easy way out, and Taylor has to fight hard just to hold on to her sanity as she battles her parents, her therapist, and vicious fellow patients. But even as Taylor struggles to hold on to her stubborn former self, she finds herself relenting as she lets in two unlikely friends-Margo, a former child star and arsonist, and AJ, a mysterious boy who doesn't speak. In this striking debut, Laura Lascarso weaves together a powerful story of anger and self-destruction, hope and love. –(summary from Goodreads)
Counting Backwards by Laura Lascarso

My Thoughts: I loved the story of Taylor Truwell and her stay at Sunny Meadows. I almost felt like this book was divided into two sections, a before and an after – and they read very differently. I don't know anyone else that has read this one yet so I don't know if I'm alone in this thought or not. I may just be plain silly-crazy. For a story that started out full of anger and resentment, Counting Backwards ended with tons of hope and love, and I actually found myself sniffly at the end, trying hard not to cry. I think I may have gotten a bit attached to the characters.

1. The Characters. Lots of characters in Counting Backwards, although there are a few that are most important:
Taylor Truwell. We meet Taylor as she arrives at Sunny Meadows, where she is to spend some time in rehabilitation after stealing a car and trying to run away from home. In the court hearing, her father asked the judge to send her to Sunny Meadows because he felt she could benefit from the services they provide. Now Taylor is angry. Taylor only ran away from home because she was trying to escape the life her mother made for her, and she is being punished for it? How unfair! ~ Taylor begins her stay an angry girl, almost resistant to anyone who tries to help her. She is silent when she should be talking, she sneaks around, she hides things she should have, etc. Taylor feels like everyone is out to get her. She makes me angry on more than one occasion, but she has growth and change throughout the book. I love a character that has development, you guys. Taylor ends the book differently than she begins and it is lovely. She isn't nearly perfect when the book is over, but she is working on herself and it is how that is so interesting.
Margo Blanchard. Taylor's Peer Advisor. Margo reaches out to Taylor when she arrives at Sunny Meadows. At first, Taylor thinks Margo is a weirdo. Margo is a bit eccentric – dresses weird, acts weird, talks funny – and she seems to have a following of people that do not like her for some reason. Taylor is unsure what to make of her, but cannot deny the displays of kindness that Margo always shows her even when she does not deserve it. Eventually, the two form a tight, real, meaningful friendship. I love Margo and I think she provided a break at times from all of the heaviness surrounding Taylor's initial angst.
Victor & AJ. Victor runs a secret business within Sunny Meadows – people can buy or trade for things like candy, drinks, cigarettes, etc from him. AJ acts as his bodyguard and his friend. Victor and AJ are Margo's friends and eventually this means they become Taylor's friends too. Victor is respected. AJ is also respected – also, AJ does not speak. At all. He hasn't spoken since he came to Sunny Meadows two years ago. These two are interesting and provide some comic relief. They also provide some additional story lines besides the main story of Taylor adjusting to life within Sunny Meadows. I like them both – but I like one more than the other!
2. The Story. Taylor arrives at Sunny Meadows angry and apathetic. She's angry at her father for putting her there. She's angry at the facility for their ridiculous and strict rules. She's angry at herself for running away. She's angry at her mother for making her want to run away. In the first part of the book, I got to know all of the characters and I got to know plenty about Taylor, her choice of friends within the facility, and her plans for her future.
What I'm calling "the second part of the book" almost seems like an entirely different book. Taylor has developed into a not-entirely-different person yet, but a person that is changing with each page or chapter. She's learning not to be so angry, to trust more, and that she can control things within her life to a degree (at her age).
I liked the first part of the book, but I loved the second part of the book. And when I got to the end, I wish it had been just a little bit longer so I'd have just a little bit more.
3. Romance. There is a romance that develops within this story. Go figure! It is slow, slow, so slow. And it is sweet. No triangle involved! I loved it. The romance actually plays a bigger part in the book than I realized it would.
What I thought initially was just an "issue contemp" actually has a really wonderful romance component to it as well. It is so well-placed and it breaks up the heaviness of Taylor's rehabilitation and therapy, and I think you all will like it just as much as I did. I liked the guy in particular very much and the way they fell in love, and all of the things that resulted from it. It really was so very sweet to read this romance develop.
4. Setting. Sunny Meadows is such an interesting place. Since we hear about it through the thoughts and words of Taylor, it is made out to be pretty awful in the beginning of the book. By the end, my thoughts on Sunny Meadows had changed a bit but that is because Taylor had some growth as a person and her thoughts and feelings had changed. I'm not sure that you call it world-building if it is mostly within a building…do you? The setting was fabulous, though, and I really got a sense of where Taylor was living this whole time. I can basically draw a map of the place inside and (almost) outside as well. Plus, as I was reading, even though I was sitting outside in real life, I felt like I was stuck inside for most of the time just like Taylor was. I love that…when an author can make you feel claustrophobic just with the words on the page. I find that talent with words so fascinating and powerful.
When I started Counting Backwards, I was reading along, enjoying it rather nicely and then suddenly – somewhere – the story just really picked up even more for me. To tell you where and at what point would be a bit of a spoiler, and I don't really want to do that, but I read pretty quickly after that, basically devouring the rest of the book.
Counting Backwards has a nice simple language to it, and it tells Taylor's story perfectly. The author has a great flow to her words and I got so lost in the plot at times that I didn't realize how into the story I was. I think that with this debut, Laura Lascarso has written the story of a girl who made a mistake and is sorry for it, and with her "punishment" comes love and acceptance and hope and a new chance at life. I'm thrilled that I read it. I recommend it to people who like the issue books with a swirl of romance tucked away in there and the people who like the romance books with a swirl of issue tucked away in there, because it really is a mix of both.
Counting Backwards will appeal to fans of:
YA Contemporary
Romance: No triangle! Slow, slow burn!
Stories Containing Issues: No spoilers!
Appropriate for all ages of YA readers.

Counting Backwards by Laura Lascarso
is currently available for purchase.
**
I received a review copy from the publisher in exchange for an honest opinion and review. I received no compensation for my thoughts. Thank you Atheneum/Simon & Schuster!

***********************************************************
GIVEAWAY!


I'm giving away
Counting Backwards Bookmark SWAG
courtesy of Atheueum BYR/Simon & Schuster!
(International)