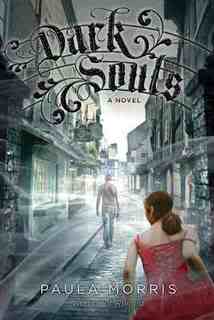 Dark Douls by Paula Morris
Published by Point
Publish Date: August 1, 2011
292 Pages
My Source: ARC/Borrowed
Dark Souls by Paula Morris
Welcome to York, England.
Mist lingers in the streets.
Narrow buildings cast long shadows.
This is the most haunted city in the world. . . .
Miranda Tennant arrives in York with a terrible, tragic secret. She is eager to lose herself amid the quaint cobblestones, hoping she won't run into the countless ghosts who supposedly roam the city. . . .
Then she meets Nick, an intense, dark-eyed boy who knows all of York's hidden places and histories. Miranda wonders if Nick is falling for her, but she is distracted by another boy — one even more handsome and mysterious than Nick. He lives in the house across from Miranda and seems desperate to send her some sort of message. Could this boy be one of York's haunted souls?
Soon, Miranda realizes that something dangerous — and deadly — is being planned. And she may have to face the darkest part of herself in order to unravel the mystery — and find redemption. -(summary from Goodreads.com)
My Thoughts: Dark Souls is a ghost story with a bit of mystery that also has a quite a bit of history thrown in. It is a relatively short book, and quite enjoyable if you enjoy darker-type stories. The story starts after a family has been coping with tragedy and needs a change of scenery. This change of scenery happens to be a family vacation to York, England where Miranda sees ghosts–lots of ghosts–and is enlisted to solve a paranormal mystery or two.


The author did an amazing job of choosing her setting with this book. She described her location well. York, England is a very old place and rich with history, so it was a perfect place for Morris' ghosts to come alive. The language used by the author in her descriptions of the streets, the gates of the city, and the buildings made it easy for me to create a rather gray and almost creepy depiction in my mind. If stories were a color, this one would be gray, which is perfect in this case. I applaud this author for setting this story up in this way. I love it.


I also really liked the characters in this book. Miranda was a great protagonist. Not only is she is trying to heal from what she went through previously, but she also has new issues that she is secretly learning to cope with. Not everyone understands what it is like to be able to see ghosts walking around, and keeping this to herself is wearing Miranda pretty thin. It is easy to see her feelings of loneliness and isolation, and to connect with her as she tries to deal the best way she knows how. Her brother Rob was conflicted about the role he played in the prior tragedy and I felt connected with him, as a reader, while he went through a bit of a healing process while on this vacation. Despite the difficulties Miranda and Rob both were facing when they arrived in York, there was some healing that took place while they were there, and this was so awesome to experience in the story.


There were some fun secondary characters as well, and my favorite of these is Nick. Miranda meets the very mysterious Nick while exploring York on her own, and she has an interesting attraction to him. She finds herself developing a bit of a crush on him, but unfortunately it seems that this is as far as it goes. If Miranda was going to spend so much of her time crushing on Nick and looking for him when she was not with him, I would have loved to see a little more development in the relationship…particularly given that Nick also had feelings for her as well.


Dark Souls was a bit of a departure from what I typically read, but it was fun and I am certainly glad that I read it. I have decided that if I am going to read a mystery, this is the type of mystery that I enjoy. In my opinion, however, the best part of this book–the selling point for me, if you will–is the setting. I recommend this book to readers who love a story with history woven throughout and readers who love an amazing setting. I also recommend this book to people who enjoy ghost story. It was a fun, quick, and easy read.




*I borrowed this book as part of Around The World Book Tours in exchange for my honest thoughts and opinions. I received no compensation for my review.