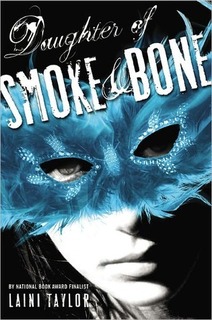 Daughter of Smoke & Bone by Laini Taylor
Published by Hachette Audio
Publish Date: September 27, 2011
Length: 12 hours, 32 minutes
Narrator: Khristine Hvam
Source: I checked this out thru the library's Overdrive system!
Around the world, black handprints are appearing on doorways, scorched there by winged strangers who have crept through a slit in the sky.
In a dark and dusty shop, a devil's supply of human teeth grown dangerously low.
And in the tangled lanes of Prague, a young art student is about to be caught up in a brutal otherwordly war.
Meet Karou. She fills her sketchbooks with monsters that may or may not be real; she's prone to disappearing on mysterious "errands"; she speaks many languages—not all of them human; and her bright blue hair actually grows out of her head that color. Who is she? That is the question that haunts her, and she's about to find out.
When one of the strangers—beautiful, haunted Akiva—fixes his fire-colored eyes on her in an alley in Marrakesh, the result is blood and starlight, secrets unveiled, and a star-crossed love whose roots drink deep of a violent past. But will Karou live to regret learning the truth about herself? –(summary from Goodreads)

Daughter of Smoke & Bone by Laini Taylor
My Thoughts: I've read Daughter of Smoke & Bone before, you guys. I've had a love affair with Laini Taylor's lush language and descriptive writing and gorgeous setting and incredible characters. I hung on every word of the book and when I finished it, I think I hugged it for a long time – all the while wanting to simultaneously smile and cry at the same time. Ah, there were so many emotions!

That's what is so awesome about a book that you love so much, isn't it? I found all of that with this book, right away, within a chapter or two. The setting was the first thing that stole my heart but it was the story that grabbed it. I've recommended this book to no less than a bazillion people, and I'm happy to say that I've had positive feedback from the ones that have actually heeded my advice and read it. Literally, I found nothing wrong with it. (You can read my initial thoughts on Daughter of Smoke & Bone HERE.)

So why did I choose to read this book again via audiobook listen instead of with the print version? Great question!
The first thing you need to know is this
:
I actually LIKE to "re-read" via audio
.
I have a hard time devoting 100% of my attention to anything. I'm just being honest. When I'm lucky enough to be by myself, I'm easily distracted. When I'm not by myself, I don't even attempt to listen as it isn't even worth how much I miss because of how insanely noisy my life is. So really, it isn't always in my best interest to choose a shiny, brand-new book that I'm dying to read as an audiobook for the first time.

(disclaimer: I'm currently listening to The Name of The Wind by Patrick Rothfuss, slowly, for my first read-thru via audio – but I'm following along nearly word-for-word with the book. So this one doesn't count!)

The second thing you need to know is this
:
I LOVE this book so much. Like, so much…
(as if you couldn't tell by my opening paragraphs and initial review)
I recommended this book to a fellow reading pal a while back and she chose to listen to it by audiobook instead of reading the print version. She loved it, going as far as to tell me how great the audio is and that the reader is awesome. Because of her audio recommend back to me, it's been on my radar since then. No time like the present, friends. I recently downloaded it thru my library's Overdrive system and reacquainted myself with Prague…and with Karou and Akiva…and Brimstone and all the rest. *sigh* It felt like coming home. Gah, I love this book so much.

The third thing you need to know is this
.
People get ready, Book #2 is coming.
That's right, everybody: Days of Blood & Starlight is projected to be published in early November 2012 by Little, Brown & Company. I sometimes to like to re-read the previous books before I continue with series books, so like I said earlier – it was just time.

*****************************************************

I don't need to tell you again how much I love the story; I've done that before. You can read my initial review. But I DO need to tell you how much I loved the audiobook. In fact, if you follow me on Twitter, I almost feel sorry that you had to read all of my tweets about it. Because they were plentiful, crazed, and gushy.
As a re-read, I loved Daughter of Smoke & Bone even more than when I read it the first time. I picked up on so many little things that I missed initially. The first time, I devoured the book and missed a ton of foreshadowing. With the audiobook, the reader goes at a pace slower than my brain reads, so I was able to focus on what she was saying and not accidentally skip anything important – and because I'd read it before, if my mind wondered for a few seconds or a minute, it was okay because I knew the story.
OH! the story. And OH! the emotions. You guys, they are not lessened just because you have read the book before! They are only intensified and then some. Because you KNOW what is coming. You KNOW.
Khristine Hvam is a fantastic reader. Her voice is crisp and clear, and the gal can do accents like nobody's business. And when in Prague, there are accents. When dealing with parallel worlds and all sorts of mythologies and beasts, there are accents! This was my first audiobook with this particular reader and I will actually seek her out for future audio.
Daughter of Smoke & Bone by Laini Taylor is published in audio form by Hachette Audio and is 13 hours, 32 minutes long. It is well, well worth your Audible credit, your dollars, or a check-out at your local library.
(If you choose not to go the audiobook route, I still very highly recommend this book in print form! It's delicious!)
**********************************************
Have you read Daughter of Smoke & Bone?
Did you love it as much as I did?
If you haven't read it, is it in your to-read pile?