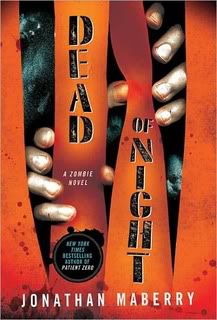 Dead of Night: A Zombie Novel by Jonathan Maberry
Published by St. Martin's Griffin
Publish Date: October 25, 2011
368 Pages
My Source: NetGalley
Dead of Night: A Zombie Novel
by Jonathan Maberry
A prison doctor injects a condemned serial killer with a formula designed to keep his consciousness awake while his body rots in the grave. But all drugs have unforeseen side-effects. Before he could be buried, the killer wakes up. Hungry. Infected. Contagious. This is the way the world ends. Not with a bang…but a bite. -(summary from Goodreads.com)
My Thoughts: This was my first Jonathan Maberry experience and all I can say is WOW! I read this book with no idea what to expect and a love for all things zombie. Really, that was all I needed because Mr. Maberry took care of the rest.


There are five main characters sharing narration:


1. Desdemona Fox (Dez), a sexy-with-an-attitude police officer with a drinking problem and a tons of baggage. Dez previously worked in the military and spent time in Afghanistan in active duty, so she kicks butt and is as brave as they come. She thinks carefully and clearly, and is a wonderful female main character! Dez has problems–real problems--and the blending of her real-life problems with the zombie apocalypse is written masterfully and brilliant. I love this character and find her so incredibly believable. I held my breath for her so many times and she was triumphant in most of these times. Dez is awesome and I think anyone who reads this book will have no choice but to feel the same way about her.
2. JT Hammond, Dez's partner, who she sees as sometimes-a-father-figure-but-sometimes-a-friend. Having lost both of her parents when she was younger, Dez depends on JT both as her co-worker and outside of work. JT has always done small-town police work and has pretty much no experience firing guns on criminals before, let alone shooting zombies in the head. Needless to say, JT freaks out a bit when all hell breaks loose in Stebbins, PA and it is Dez that is able to keep him in check.
3. Billy Trout, the awesome news reporter who is always on the lookout for the next big news story. He is the first to stumble upon THIS goldmine/trainwreck of a story and soon discovers that the government wants to keep the world outside of Stebbins, PA from finding out exactly what is going on. Billy is also Dez's ex-boyfriend, and their relationship ended in a pretty volatile way. His efforts throughout the story include trying to find out the truth and break it to the world and to protect Dez while reminding her/making her realize that she still loves him. He has a tough job ahead of him! Billy is another awesome character and a great complement to Dez – they play off of each other very well, even bickering back-and-forth literally while fighting off zombies.
4. Homer Gibbons, the awful, despicable, vile already-executed serial killer who just happens to be back from the dead and responsible for the disastrous outbreak that will most likely end the world. Homer is written in a very interesting way, meaning he is a little bit different than the other zombies. He seems to be the only zombie that does not have the shuffling gait, the moan, and the hollow stare. (Don't worry, this is addressed in the story.) I was intrigued by his character but also repulsed by him. Brilliantly written!
5. Doc Hartnup, who opens the story…the doctor who is responsible for performing the autopsy on Homer's body and instead becomes Homer's first victim. Doc is well-liked by the community. At first living are deeply saddened when they hear the news that he has been murdered, then they are confused and horrified to realize that Doc has become a zombie. It is Doc's perspective that is the most unique and wonderful – Doc narrates his point-of-view by way of thoughts as a person trapped in his own body, which he can no longer control….so while the zombie walks around, terrorizing the town and infecting people (including his own family), Doc is helpless. I loved being privy to Doc's thoughts and emotions throughout the story, while he is helpless inside of his body — I was emotionally connected to him, I pulled for him, and he pulled at my heartstrings. (This sympathy for a zombie is relatively new to me and I absolutely love it.)


I could sing choruses of great things about this book for days, but I need to make a few points. Another list, if you will:


1. Each of the characters that I mention above–while so, so great–have their issues and make some bad decisions. They also have humanity and goodness in them, including Homer–as terrible as he is–who reveals a few gentle glimpses in conversations with his aunt. The fact that they all have both good and bad characteristics means that they're wonderfully believable. Even the supporting characters-the loads and loads of them-are all believable. Excellent use of characterization by Mr. Maberry.
2. Fans of both a character-driven story AND an action-driven story will be happy with Dead of Night! I really could not pick which type of story this was when I was thinking about it and came to the realization that it is an excellent blend of the two. I cannot tell you how exciting this is to me.
3. This story is one to make people ponder a few things and think about what could possibly happen if a scenario similar to this happened in our real existence. How would the government respond to an outbreak like this? How far would the government go to protect the world from an outbreak such as this one? Are they already hiding anything similar to this from us and the rest of the world? I am certainly not suggesting we get anywhere near being stressed out over this topic, but it can make for some great thought-provoking conversation.
4. There are alternating points-of-view as a story structure, and they are done very well. While it does take a good few of the 100+ short chapters to lay the wide foundation of the story, it is constructed seamlessly and it takes off running from there.


Guys and gals, what we have here is a zombie book like none other. I read this book in one sitting. I laughed, I made "Eww!" faces, I nearly vomited. I held my breath, I whispered "run run run run." I couldn't sit still while I was reading this book. Sometimes I paced and sometimes I was on the edge of my seat. All of these things are the makings of a perfectly executed zombie novel.


For those who have never read a zombie book before, and I'm finding out lately that there are quite a few out there, this one could possibly be compared to a George A. Romero movie or AMC's The Walking Dead. However, I want to stress to you that Mr. Maberry has crafted a work of genius that stands on its own.


This book was well-written and fast-paced with a good dose of humanity. If you've read and loved any of Jonathan Maberry's previous books, you might want to give Dead of Night a try. If you are a fan of thrillers or horror stories, pick this one up. If you're looking for something creepy enough for Halloween, look no further. If you love zombies, then GET ON IT IMMEDIATELY!


Friends, when you are looking for zombie books, you may find others out there, but I don't think you'll find others like this.
*I received a copy of this book in exchange for my honest thoughts and opinions. I received no compensation for my review. Thank you St. Martin's Griffin!