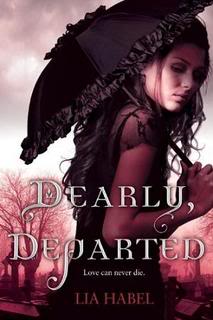 Dearly, Departed by Lia Habel
Published by Random House Publishing Group
Publish Date: October 18, 2011
480 Pages
My Source: Borrowed/NetGalley
Dearly, Departed by Lia Habel
Love conquers all, so they say. But can Cupid's arrow pierce the hearts of the living and the dead—or rather, the undead? Can a proper young Victorian lady find true love in the arms of a dashing zombie?
The year is 2195. The place is New Victoria—a high-tech nation modeled on the manners, mores, and fashions of an antique era. A teenager in high society, Nora Dearly is far more interested in military history and her country's political unrest than in tea parties and debutante balls. But after her beloved parents die, Nora is left at the mercy of her domineering aunt, a social-climbing spendthrift who has squandered the family fortune and now plans to marry her niece off for money. For Nora, no fate could be more horrible—until she's nearly kidnapped by an army of walking corpses.
But fate is just getting started with Nora. Catapulted from her world of drawing-room civility, she's suddenly gunning down ravenous zombies alongside mysterious black-clad commandos and confronting "The Laz," a fatal virus that raises the dead—and hell along with them. Hardly ideal circumstances. Then Nora meets Bram Griswold, a young soldier who is brave, handsome, noble . . . and dead. But as is the case with the rest of his special undead unit, luck and modern science have enabled Bram to hold on to his mind, his manners, and his body parts. And when his bond of trust with Nora turns to tenderness, there's no turning back. Eventually, they know, the disease will win, separating the star-crossed lovers forever. But until then, beating or not, their hearts will have what they desire.
In Dearly, Departed, romance meets walking-dead thriller, spawning a madly imaginative novel of rip-roaring adventure, spine-tingling suspense, and macabre comedy that forever redefines the concept of undying love. -(summary from Goodreads.com)
My Thoughts: I'm a sucker for all things zombie and dystopian/post-apocalyptic, so it seemed an absolutely certainty that I would be reading this book as soon as I could get my hands on it. Not only that, but it appealed to my "loves pretty covers" side in a major way. I was not disappointed; in fact, I was delighted.
Let's talk about what I liked about Dearly, Departed:
1.
Nora Dearly
. Nora is our sweet-n-sassy main female character. She is alive, meaning not-a-zombie, although she finds herself thrust head-first into a world she can barely believe exists. Mourning the death of her father only one year previously, Nora finds that the circumstances surrounding his 'death' aren't what she has been allowed to believe, and she is not happy about that! Nora is an independent teenager with a strong voice
(which I loved)
who is well-mannered and an aristocratic member of New Victorian society — however, she isn't afraid of carrying a gun and fighting with her zombie friends for what is right! I
adore
this contrast.
2.
Bram Griswold
. What a charming zombie! Undoubtedly handsome when he was alive, Bram is now one of the walking dead. He is witty, charming, and an excellent fighter. Bram is part of a group of special forces that work to prevent the spread of the zombie virus. He knows he isn't alive and that Nora is an aristocrat — which is everything against what he believes — but Bram can't help kinda-sorta falling for her. Also, Bram is funny in a very witty way, which earns him extra points as far as I am concerned.
3.
Characters
. I love all of the other characters in this book — the ones you are supposed to like and the ones you aren't. There are a ton of them and they are all well-written.
(The other zombies could totally be people that I know in my real life — well, that is, if they weren't dead.)
4.
Setting
. Wow! for a great setting!
Dearly, Departed
is set in the future after a violent series of natural disasters has obliterated much of the world, causing widespread destruction, death, famine, and war. The United States is no longer in existence, the refugees having migrated south into the Central and South American regions. New Territories were formed and new societies were established; technologies were once again developed and there was peace. As a new government was established in the region, the people decided to revert back to the ways of the Victorian-era in terms of decor, dress, etiquette, and civility. This is where they got the name "New Victoria." Before too long, however, there rose a group that decided to revolt against this aristocracy, and the "Punks" came into existence. — The author blended the future with the past and did it
awesomely
. I
love
it.
5.
Comedy
. Who doesn't love a little bit of humor interjected every now and then? This book doesn't take itself too seriously, and that is one of the best things about it. Among all of the bazillion other obvious great reasons to read it, there are some outright funny lines in there. It's great.
6.
Genre
. I am aware that there are some out there that think that the post-apocalyptic/dystopian genre might be a bit overdone, especially in YA literature.
I am not one of these people.
I love this genre, and if I find out about it, I will read it. In this case, we have a crossover or a mash-up
(if you will)
— a blend of post-apocalyptic, paranormal, steampunk, and some romance. Yes, please. Mash it up and hand it over.
7.
Cover
. Beautiful! In fact, I just included it on a
list
of some of my favorite pretty covers.
I could go on listing a few more things, but in the interest of keeping this a blog post and not a novel, I should probably stop. Basically, what you should take from this little write-up is that I enjoyed this book tremendously, and for several reasons. I thought it was done well, and with humor, and this is sort of a rarity.
One thing that I wish was a little different was the story structure.
Dearly, Departed
is written in alternating points-of-view and while I do not have a problem with this structure, I realize that some do. It is not a problem for me if it flows well. In this case I found myself flipping back a few times to remind myself who was speaking. This NEVER lessened how much I loved the book or the characters. It did not take away from my reading experience at all. However, I did feel it worth mentioning, as it is not only Nora and Bram doing the narrating — there are a few other characters who offer their alternating POV's as well. Were I to change anything, I would probably make it only Nora and Bram narrating
(in order to keep with the story structure, which I like)
but to lessen the confusion of having so many characters telling the story. Does this make sense?
Lia Habel has done well with this book. I am so excited and thrilled to have read it and will not hesitate to read the second installment in this series as soon as I can get my little paws on it. I adore her use of contrast to tell a story set in the future but with the charm of the past. I thought it was brilliantly written with humor and wit. The author's use of dialogue was outstanding. And the story/romance between Nora and Bram was wonderful. It appealed to me on so many different levels and I had a great time reading it.
If you're a fan of zombies and you like YA books, give Dearly, Departed a try! If you like the post-apocalyptic/dystopian genre, this might be one for your to-be-read list! If you like a little bit of zombie romance, you definitely want to read this book. I'm ready and waiting for the next book in the series!
*I received a copy of this book in exchange for my honest thoughts and opinions. I received no compensation for my review. Thank you Random House!