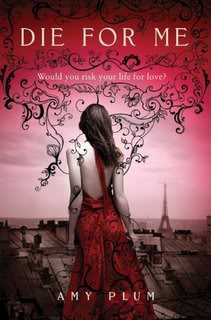 Die For Me by Amy Plum
Publisher: HarperTeen
Publish Date: May 10, 2011
341 Pages
My Source: Library
In the City of Lights, two star-crossed lovers battle a fate that is destined to tear them apart again and again for eternity.
When Kate Mercier's parents die in a tragic car accident, she leaves her life-and memories-behind to live with her grandparents in Paris. For Kate, the only way to survive her pain is escaping into the world of books and Parisian art. Until she meets Vincent.

Mysterious, charming, and devastatingly handsome, Vincent threatens to melt the ice around Kate's guarded heart with just his smile. As she begins to fall in love with Vincent, Kate discovers that he's a revenant–an undead being whose fate forces him to sacrifice himself over and over again to save the lives of others. Vincent and those like him are bound in a centuries-old war against a group of evil revenants who exist only to murder and betray. Kate soon realizes that if she follows her heart, she may never be safe again. -(summary from Goodreads.com)
My Thoughts: When I started this book, the concept of revenants was new to me. I had never heard of them. I'm still not sure if this is something that is original to this book, or if there is a branch of paranormal-ness out there of which I am not aware…
After the tragic loss of her parents, Kate is a brokenhearted teen living in beautiful Paris. She sees Vincent one day at a cafe and is sort of mesmerized by him. Eventually, after seeing him a few times, they begin a relationship and fall quickly and deeply in love. While the relationship is budding, Vincent reveals himself and his world to Kate little by little. Vincent is a revenant; he has an ability to sacrifice his life to save other people over and over. Vincent uses his ability for good, as does the rest of his 'family' but together they battle the Numa, who seek simply to kill and take lives.
I enjoyed this book. It was not too deep and read fairly quickly. The romance between Kate and Vincent was refreshing, as they really appear to love each other and want the best for one another. Kate loves only Vincent, so there was no heartbreaking choices that resulted in some poor boy being sad at the end of the book; no love triangles. I do not typically gravitate toward books that are too heavy on the romance, but this was nice.
I thought there would be more fighting, however. If the revenants are battling the Numa, they should fight them, right? The books does have a brief, confusing action scene in the beginning, and there is a nice action sequence in the end, but the majority of the book dances around the topic of action/fighting scenes. I personally would have liked more of those. Vincent did train with swords and in their in-house gym, after all. I would have liked to see how he fared in battle.
A point worth mentioning (I think) is this cover. The cover pictured above is beautiful. However the red-tinted scene is not in the book anywhere that I remember. There IS a scene where Kate is in a beautiful gown, and is taken by Vincent in a boat on the river through Paris….As I was reading I found myself wondering why that wasn't the dress on the cover?? In my little mind, it would have made more sense. And then I stumbled across this beauty:
I really wish I would have had this copy in my hands as I was reading, because as a reader I am affected by the book cover. This scene is more like the one in the book. The cover at the top of the page is beautiful, but this darker cover is the more appropriate one in my opinion. Anyway…
This book is predictable, but that does not bother me all that much. I do not mind a story being retold over and over if the details are fresh and exciting, and I think the details are where the author sold me. I LOVED the details about Paris…there was time spent discussing French architecture and landscape, and there was even a word or two of French thrown here and there (example: Vincent called Kate mon ange, which I think means "My Angel." Very sweet.) Also, the plot line with the good guys vs. the bad guys and the girl being in danger makes for a story that even I can write. But again, I don't mind that and it is the details that make this story nice.
Overall, I liked this book. My heart never raced and I didn't swoon at any time during the book. But I am excited that this will be a series and I will read the next installment as soon as possible. I think that the author has a fantastic opportunity to add a little more action into the next book, since we know that most of the characters in this book are trained as fighters. I recommend this book to fans of YA paranormal and romance.