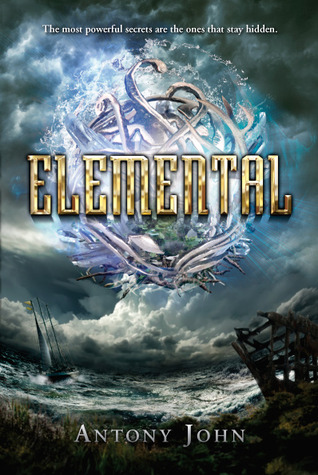 Elemental by Antony John
Series: Elemental #1
Published by Dial Books/Penguin
Publish Date: November 21, 2012
320 pages
Source: ARC from Author – Thank you!
A lost colony is reborn in this heart-pounding fantasy adventure set in the near future . . .

Sixteen-year-old Thomas has always been an outsider. The first child born without the power of an Element—earth, water, wind or fire—he has little to offer his tiny, remote Outer Banks colony. Or so the Guardians would have him believe.
In the wake of an unforeseen storm, desperate pirates kidnap the Guardians, intent on claiming the island as their own. Caught between the plague-ridden mainland and the advancing pirates, Thomas and his friends fight for survival in the battered remains of a mysterious abandoned settlement. But the secrets they unearth will turn Thomas' world upside-down, and bring to light not only a treacherous past but also a future more dangerous than he can possibly imagine. -(summary from Goodreads)



Elemental by Antony John


My Thoughts: I've been sitting on this one forever. I mean, I literally followed this book from the moment I first heard it would be set on the North Carolina Outer Banks until I had a copy to read in my hands. So, so excited I was! When I started reading it, I made myself read it slowly so I could absorb every detail. Since I've finished it, I've re-lived the story several times. Now I have to figure out how to tell you all how I feel about it. Such a tricky thing to do.

The first thing you need to know is this
:
I love pretty much everything that makes up this story.
I love stories about elementals. I love stories about pirates. I love stories about plagues and survival and storms and the ocean. I love dystopians and fantasies. I love when a setting comes to life. I love strong female characters and great male leading characters. I love a mean villain and I love a great twist or two. Antony John took all of these things, threw them together, and out came Elemental. It sounds like a lot of stuff, but it completely works.
Thomas lives with the rest of his colony on a small Outer Banks island, isolated from the rest of the world – especially the plague-wasted mainland. He is the only one without the power of an element and is therefore treated like an outsider. Thomas spends most of his time with his brother Griffin, also an outcast because of an unusual ability and an underdeveloped elemental power. Thomas desperately wishes for more friendship, more companionship. Mostly, he would give anything for an elemental power of his own so he can finally belong.
As a hurricane quickly approaches, the Guardians (the colony elders) insist on evacuating Thomas and the other colonists to the hurricane shelter on a nearby island. Almost as soon as the evacuation occurs, things start happening. THINGS. Exciting things, like the kidnapping of the Guardians, for starters. The excitement never lets up as Thomas and the rest of the gang realize that pirates are responsible for taking the Guardians and they are the only ones that can rescue them.

The second thing you need to know is this
:
It took EVERYTHING IN ME to read this story slowly.
When I said that things started happening, what I really meant is this: things happened and they didn't stop. Once Antony John set his foundation – once he gave us the information we needed to start the story – it really took off. There were fires and kidnappings and people got hurt. People used the power of their elements and it was awesome. There were secrets held and secrets revealed. There were hunts and chases and escapes. Hurricanes and winds and the mighty ocean! The pirates acted like pirates: mean, nasty, and mean. And there were plot twists, which I loved.
I am a fast reader. I can tear through a book that I am enjoying. Because of the setting of this book and the fact that it is a fantasy story with pirates and hurricanes and things that I love, I wanted to take my time with it. I allowed myself to read a few pages at the time and then made myself put the book down. When I do that, I can remember story details so much better, and usually for much longer. Reading a story over a longer period of time can be torturous for me, but in the end it is perfect and awesome because it is like eating dessert slowly and savoring every delicious bite.

The third thing you need to know is this:
I was initially interested in the story because of the SETTING.
But ELEMENTAL stands on its own and is all-around great.
Like I mentioned, I was interested in this story initially because of the setting. I live close to the Outer Banks and not many people write books set in North Carolina, particularly Eastern North Carolina, so I was very interested in seeing what this fantasy story would be like. I read the story and easily pictured the places in my head – the bridges, the islands, the actual waterways. Antony John was absolutely correct when he said
HERE
that "
the area is perfect for a fantasy novel."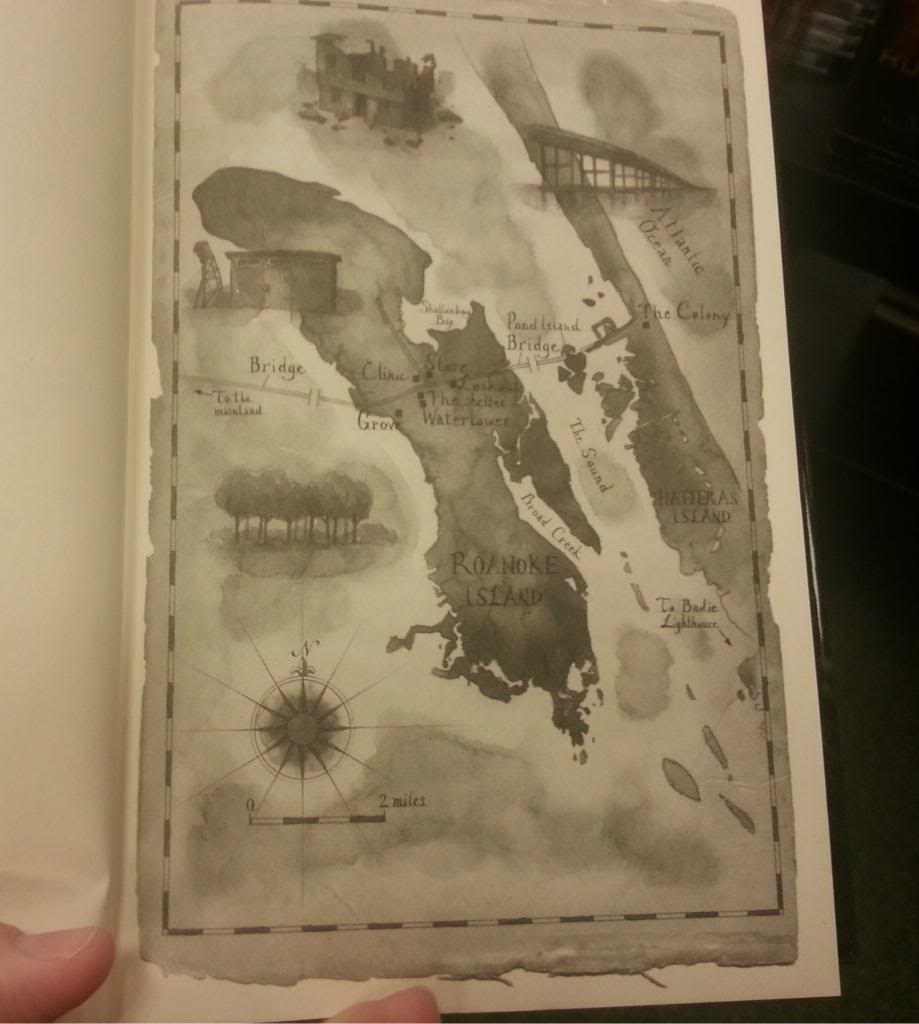 LOOK! A map! In the final copy of Elemental!
I could go on and on about my love for this setting, but I won't do that to you guys. Some of you already know how much I love a setting in a story. The setting factor is huge here, almost like a character. The ocean is churning and raging because of the hurricane. Additionally, the water is one of the elements that can be controlled. The islands are described perfectly with their sand and wind in some parts, and their towns in others (in this case, the towns are abandoned). There are bridges and marsh-like areas. There is a lighthouse that is described perfectly, inside and out. I just loved it, and not because it is practically my backyard. I felt like I got to know the area as something viable and three-dimensional and almost tangible, and that is so cool. I love it when a book gives me a setting like that.

******************************************************

Antony John's Elemental was so much fun for me to read. I'm eagerly awaiting the release of the next book, which is kinda/sorta brutal since Elemental was just released a few weeks ago. I find myself holding my breath when I anticipate something for such a long time, waiting to see how things will turn out – I am so happy that I was not disappointed at all with this book. In fact, I was thrilled.

These characters are great. Thomas is a male leading character with a bit of a problem – the absence of his elemental power – and in the beginning of the book, it sort of has him feeling down in the dumps. As the story progresses, we see Thomas as a character that is courageous and brave, even when he feels like he isn't, and he begins to have some faith in himself. What is this? Some character development? YES, and I love it. His friends Alice and Rose are very interesting to me – they're quite the opposite of one another and but both very likable. Alice is has an underdeveloped element (fire), so she can understand a little bit of Thomas' feelings of being an outsider. She takes it upon herself, though, to be extremely fiercely independent – almost to the point of intimidating those around her. Alice is tough and a hard worker, and wants to be seen as such. Rose, on the other hand, is very protective and delicate and quite lovely. She has the power to manipulate water (and it is so cool what she can do with it). Where Alice seems rough around the edges, Rose seems very gentle and soft and kind with her speech. I am eager to see where the next part of the story takes these two gals and their relationship with Thomas, and I have to wonder if a romance/triangle will develop. (These three would make a perfect triangle if one is in the works.)

Then there is Griffin, Thomas' brother. LOVE this character. Griffin has an element (earth), which is underdeveloped. He also can foresee death, and this makes people want to stay away from him. Because of his outsider status, he and Thomas have become very close as brothers and friends. The two are an awesome team as they work together to rescue the Guardians and figure out all of the secrets and clues that keep popping up in the story. As information is revealed about the island's history, the lost colonies, the powers of the elements, etc., Griffin becomes more and more awesome (and so does Thomas). I can't wait to see what he will bring to the rest of the series. He appeared to be a 'weak' character in the beginning of Elemental in terms of strength, but I think there are some great things in store for Griffin based on his progression throughout this story.

I have mentioned the setting several times. It's amazing. I'm not sure that it is necessarily world-building by definition, but it is definitely an incredible fantasy setting that is based on and inspired by a real place. The imagery is vivid and it is easy to see this story play itself out as a movie inside of your head as you read, which is so desirable for us as readers. In terms of pacing, once the story and characters are laid out, the story picks up and is primarily action-driven, never stopping until the end. I was forcing myself to stop reading at intervals so I could make the story last longer. And I loved the ending: Antony John left us in a great place to begin the next part of this series. If I'm guessing correctly, the next book will take off running and have an exciting story. I really want to know, I truly want to know, the next part of the story. Alas, I'll have to wait!

You guys, I struggle with how to tell people when I find a story that I love so much. Adventure stories take up such a big place in my heart, and Elemental is such an adventure. Pirates and kidnappings and lost colonies! Survival in the harshest of nature. Secrets and lies and betrayal. People finding out things that completely change the course of their lives. I know specific people that would love this book. I want to hear this book in audio format. I want schools, especially in this region, to have this book in their classrooms and libraries. I want the next book in this series now. I want to read it again.

This book was so worth the wait to me. I loved it so much. I still love it so much. Next time I read it, I will love it again. I recommend Elemental to fans of adventure stories and pirates, fans of fantasy and dystopians, people who love books with elemental powers in them, and people who love books with male leading characters.

**************************************************************
Elemental will appeal to fans of:


YA Fantasy/Adventure/Dystopian
FANTASTIC SettingPirates, Argh!
Great Characterization with Development
Survival: Hurricanes
Action-Driven Plot, Great Pacing

Elemental by Antony John
is currently available for purchase.

*I received this book from the author. This in no way affected my thoughts on the story.
************************************************

Is ELEMENTAL on your to-read list?

Can we take a second to appreciate that awesome COVER?
Check out a fantastic blog post HERE
on Capillya's blog that cover girl.

Friends, I love this book.
Can't wait for the next one.