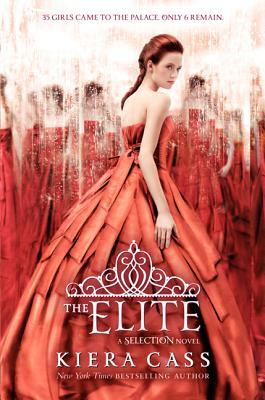 The Elite by Kiera Cass
Series: The Selection #2
Published by HarperTeen
Publish Date: April 23, 2013
336 Pages
Source: ARC Tour


Thirty-five girls came to the palace to compete in the Selection. All but six have been sent home. And only one will get to marry Prince Maxon and be crowned princess of Illea.

America still isn't sure where her heart lies. When she's with Maxon, she's swept up in their new and breathless romance, and can't dream of being with anyone else. But whenever she sees Aspen standing guard around the palace, and is overcome with memories of the life they planned to share. With the group narrowed down to the Elite, the other girls are even more determined to win Maxon over—and time is running out for America to decide.

Just when America is sure she's made her choice, a devastating loss makes her question everything again. And while she's struggling to imagine her future, the violent rebels that are determined to overthrow the monarchy are growing stronger and their plans could destroy her chance at any kind of happy ending. -(from Goodreads)



***********************************************************
There may be minor spoilers for the first book in the series, The Selection.
I try to keep my thoughts
within the range of what is included in the summary.
*********************************************************
The Elite by Kiera Cass


My Thoughts: I loved The Selection so much that I read it and then re-read it again before starting this book.



The first thing you need to know is this
:
Man, it's good to be back in the palace again.
I just love the life in the palace as it is told in this series…with the royal family, the staff buzzing around all the time, all of the dresses and catty behavior of the contestants in the Selection…this is part of what gives the book its fairy-tale feel to me.
When the book begins, the number of remaining girls has dropped from 35 down to 6, and Prince Maxon has grown increasingly anxious about soon having to choose the winner, the one that will become his bride. Maxon definitely likes America – if he knew that she felt the same way, he'd probably end the competition right away and marry her. America has toyed with that idea BUT there is the not-so-small detail of her first-love Aspen working at the palace as a guard. After working so hard to squash or bury her feelings for Aspen, America can't help it when they come flying back to the surface – she has one big mess of conflicted feelings when she thinks of these two guys. Both of them love her – Aspen knows about Maxon, of course, but Maxon has no idea that the guy America has been in love with is actually within the walls of the castle.
With regard to the Selection, as part of their requirements, the ladies are required to attend and even plan all sorts of festivities in order to practice/show proficiency with hosting dignitaries and important persons. Between the stress surrounding planning these events and the weekly televised reports, the claws really come out. There is much to gain by winning, you see, and the competition is fierce. Some of the ladies will stop at nothing.
The second thing you need to know is this
:
WHAT ON EARTH HAPPENED TO ALL OF THE CHARACTERS??
It may just be me – and tell me if it is! – but it seems like America, Aspen, and Prince Maxon spend so much time in this book being…different than they were in The Selection. America has two men who love her, two men that would willingly lay down their lives for her – and yet she acts a little bit bratty much of the time. She acts rashly without giving much thought to how her actions will affect other people, sometimes an entire nation. She says things that she doesn't mean and there are times when she doesn't say things thaat she should.
In truth, Prince Maxon and the King (he's so mean!) are pretty generous to America for allowing her to stay, particularly after she pulls a few stunts that could backfire on them in pretty big ways. America watches herself fall out of high favor with the people of Illea because of some of her antics, and she feels like she is falling out of favor with the Prince himself.
Also, Aspen and Prince Maxon have some different behavior as well. They're both tired of being pulled around by America, and they want her to make a decision on who she loves already. (I can TOTALLY understand where they're coming from.) They both get pretty upset with her on a few occasions – they seem sometimes grumpy and sometimes angry, and occasionally they seem like their normal selves.
All three of these characters gave me a little bit of whiplash now and then.
The third thing you need to know is this:
For what it's worth, I *still* don't know who is best for America.
I suppose it is a good thing I can't choose because – like I said earlier – America still doesn't even have an idea what she wants to do, who she wants to be with. Should she choose a life of love and happiness – a life of living in obscurity and living in peace – even if it means that she and her first-love will be basically poor for the rest of their lives? Or should she choose the life of luxury, in which she will have everything she needs and most of the things that she wants? PLUS if she chooses to be the future Queen she will be able to work to better the living conditions for the citizens that are still hungry, feeling oppressed, and have a general unhappiness with the life they are living. It REALLY is a huge decision.
It feels like most of the readers I know want America to pick Prince Maxon, and I think that sometimes the story leans to making it feel like America should want to be with him. But I can't toss out all of America's feelings for Aspen (and clearly she can't either – poor guy). I haven't given up on Aspen yet, even though it would be easier at this point for America to just go ahead and marry the Prince, become a part of the royal family, and be the future Queen. CONVERSELY, I haven't given up on Prince Maxon yet either, that he should be able to win over America's heart the old-fashioned way, for who he is and not some title that he holds or for the sake of this Selection competition.
******************************************************************
I loved The Elite by Kiera Cass. It was easy for me to jump right back into the world of Illea and the palace. I fell easily right back into the rhythm of the Selection process and life with the royal family. I felt the palpable tension of not knowing what the rebels outside were up to, knowing they could attack at any minute. I felt the stress of the competition, as it is closer to time for Prince Maxon to choose, and I had several other feelings too.
I loved this book because it seemed a bit darker than The Selection. What I mean by that is that it was less fluff and puff/fancy dresses/interviews with the ladies than the previous book – it seemed there was more substance to the story. This book shows the ladies getting down to the business of showing why they would make a good choice for Prince Maxon, how they are able to handle potentially running a country, and what level they might possibly stoop to in order to reach their goals. Alongside the Selection story line is the threat of the rebels from the North and the rebels from the South – two groups with very specific goals in attacking the palace. The entire palace has to carry on their daily activities as normal even with the constant threat of attack, and they are attacked more than once. These scenes were wonderfully stressful and action-packed and just darker to me because we see that the people have something to say too, that they want to be heard, and that they are willing to resort to violence to get their message across.
Sidenote: I'm still having a hard time deciding if this book is a dystopian book. I keep seeing it classified as one, and then I'll see arguments on why it isn't really a dystopian. To be honest, I don't particularly care if it is/isn't, but for the record – I'm not exactly sure that it feels extremely dystopian to me. Rather, it feels like there is a governing body that isn't in tune to the needs of its people, and as a result there is a Caste system that is unfair and a lot of people are suffering.
I mentioned that the characterization feels a little bit different/off in this book and I stand by that. I don't really know what's gotten into America – stress? the idea that she can use her 15 minutes of fame/camera time to make a political/social stand? Perhaps both, but this girl does some things that made my jaw drop. (I KNOW that this is because I'm Southern and even though this book is NOT a contemporary, I maintain that it feels somewhat Southern to me.) She has gotten herself into quite a predicament over the course of the story, and it will be interesting to see how everything plays out in the end of the series.


And Maxon and Aspen? These two poor guys are being strunggg alongggg. I don't mind love triangles when I feel like there is a purpose to them – I understand that America has a huge decision to make and she needs to think things through very well before she makes her decision. These two men live completely different lives, and she can see the good parts in both futures. I think that this is part of what makes it hard for her to choose. It feels like when she is with Maxon, she really loves Maxon and wants to be with him BUT when she is with Aspen, she really loves and wants to be with him. I can also see this triangle becoming dangerously close to a not-so-great love triangle if things are not carefully wrapped up in the final installment. I want America to make her choice before too many people get hurt because in a triangle like this, someone always does.


As the book ends, I feel like America is at a wonky place with both Prince Maxon and Aspen. I feel like she has some big work to do to "fix" some things she messed up a bit while she was acting rashly. Basically, America needs to get it together and step up if she wants to end up winning the competition and Maxon's hand, and also perhaps if she doesn't.
Ultimately, I love the story so much. I realize that in mentioning that the characterization is a bit off and that the love triangle is getting dangerous, I make it sound like the book isn't good, but I really did absolutely LOVE reading it. I love how the tone has shifted since The Selection and become a bit of a darker story (not very dark, just darker than the first book). After reading The Elite, I realize that there is much more to being the future Queen of Illea, and I think that at this point, America realizes that too. She has some big decisions to make, some wrongs to make right, and she needs to start acting differently. I can't wait to see how this series plays out in the end.


I recommend The Elite and The Selection series for fans of fairy-tales and YA dystopian-ish stories with romance. The love interests (both of them) are still swoon-worthy even though they are becoming tired of waiting around for their lady. The competition is fiercer than ever and there is so much to lose by not making it to the end of the competition!




*********************************************************
The Elite will appeal to fans of
:
YA possible-Dystopian with Romance
Fairy Tales
Romance: Love triangle.
Fierce competition
There is rebel activity and political unrest!
will be available for purchase April 23, 2013.
**
I received/borrowed a review copy from the publisher in exchange for an honest opinion and review. I received no compensation for my thoughts. Thank you HarperTeen!
Has anyone read THE SELECTION?
Is THE ELITE on your wish-list?
HOW BEAUTIFUL IS THAT COVER?