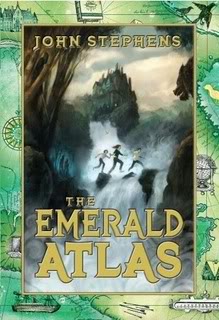 The Emerald Atlas by John Stephens
Publisher: Alfred A. Knopf Books for Young Readers
Publish Date: April 5, 2011
417 Pages
My Source: Library
A snowy winter's night. Three small children are chased from their home by the forces of a merciless darkness. Ten years later, Kate, Michael and Emma are no closer to the truth about what separated their family.
The answer lies with an enchanted atlas.
Brimming with action, humor, and emotion, The Emerald Atlas is the first stage of a journey that will take Kate, Michael, and Emma to strange, dangerous lands and deep within themselves. It is the story of three children who set out to save their family, and end up having to save the world.

-(summary from RandomHouse.com)
My Thoughts: When I saw the cover of this book, I knew right away that I wanted to read it because it was beautiful. It was pretty and green and it suggested an adventure. I was sold! Childrens/middle grade books are always the ones that make me the most excited because they make my heart pound in my chest. I just love the thrill of the adventure.
I woke up one morning before anyone else in my house, so I grabbed this book and started reading. Almost two hours later, I looked up and realized that everyone else was awake, dressed, and hungry while I had devoured the first half of the book. It was painful to me to put the book down long enough to be an adult for a few hours and fulfill the duties of everyday life. When I was able to sit back down, I once again got completely lost in the story. I mean, I was IN THE BOOK. ON THE ADVENTURE. It was incredible.
This book has a little bit of everything "fantasy" in it: dwarves, wizards, wolves, swords, magic, caves, little cabins in the woods, a king…lots of cool things. There were lots of action and adventure scenes in the book, which made it exciting. I can imagine that if I were a child, I would need this book on my shelves to read over and over.
As an adult, however, I did notice that there were a couple of discrepancies in the story…nothing that my children would notice, I'm sure, but I'm neurotic about these kinds of things. Also, I think there were so many twists and turns to the plot, I wonder if it could be confusing to the intended audience? I followed along well, but I did have to re-read a couple of paragraphs a time or two, particularly where it described the backstory of the actual Emerald Atlas. I will concede that this confusion could possibly be contributed to me reading while my three young children were active around me, which I try not to do.
As a reader, I love that I felt a connection to the three primary characters in the story-Kate, Michael, and Emma. While this was primarily Kate's story, Michael and Emma played a very large role in the book and there was quite a bit of interaction between them. It is clear (and very well-written) that these kids desperately want their family back and are missing their parents terribly. They are fierce about protecting one another, which is awesome to experience. They are still young, though, and they have the sibling rivalry, competition, and banter that is very REAL in young kids. (Trust me, I have three of them myself.) The connection I felt with these children as characters is one of the reasons I love this book so much.
Overall, my response to this book is overwhelmingly positive. I adore books written to this target audience, especially ones that are reminiscent (at least to me) of Narnia. I highly, highly recommend The Emerald Atlas to readers of all ages-as long as you adults keep in mind that this is a childrens book! I'm not sure if this is the strongest possible start to a series, but I'm super excited to see where it will go from here and I will read the next book as soon as I can get my hands on a copy.
I do not post book trailers often, but thought I this one was indicative of how exciting this book is.