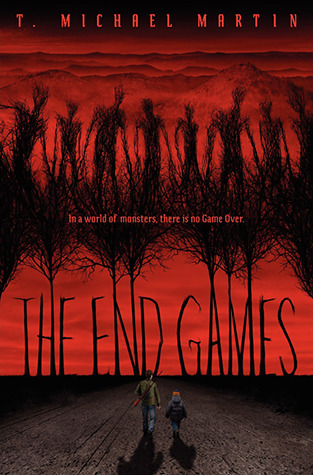 The End Games by T. Michael Martin
Published by Balzer + Bray
Publish Date: May 7, 2013
384 Pages
Source: ARC Tour
Find it on: Goodreads / Amazon / B&N


It happened on Halloween.
The world ended.
And a dangerous Game brought it back to life.

Seventeen-year-old Michael and his five-year-old brother, Patrick, have been battling monsters in The Game for weeks.

In the rural mountains of West Virginia, armed with only their rifle and their love for each other, the brothers follow Instructions from the mysterious Game Master. They spend their days searching for survivors, their nights fighting endless hordes of "Bellows"—creatures that roam the dark, roaring for flesh. And at this Game, Michael and Patrick are very good.

But The Game is changing.

The Bellows are evolving.

The Game Master is leading Michael and Patrick to other survivors—survivors who don't play by the rules.And the brothers will never be the same. -(excerpt from Goodreads)



The End Games by T. Michael Martin


My Thoughts: I was absolutely sold on giving this book a shot after the first glance at that amazing cover. LOOK AT IT. But then when I read the summary an saw that there is a sibling relationship – brothers! – and a West Virginia setting, I was ALL ABOUT reading this book. It looked a little horrifying and I had high hopes.



****************************************************************
The End Games
by T. Michael Martin started out really strong for me. I loved the way I was dropped into the action of survival of these two brothers as they are being pursued by Bellows, which are these loud and crazy zombie-like creatures. Right away, readers know that the stakes are high as the Bellows are closing in on the brothers' campsite but younger brother Patrick is nowhere to be found. Michael is thrust into a survivalist multitasking situation – he has to stay alive while also finding his younger brother (who happens to have slight special needs). This opening sequence had me wide-eyed and frantic with fear for Patrick! I love when a book starts out strong.
As we read, we realize that this is all a game – staying away from the Bellows (aka the zombie-things) is just one of the things that makes reaching The End more difficult. Every day, the brothers wait to hear their next set of instructions from The Game Master – they find out their tasks for the upcoming day and how many points they will earn for each task they accomplish – all the while edging closer and closer to The End.
Now, I have to admit that reading that this entire high-stakes survival situation being just a game was a bit nerve-wrecking for me, which made it quite intense and fun. While I was biting my nails and holding my breath, younger brother Patrick would be giggling with glee when the two would shoot a Bellow or set a few of them on fire in order to make it a little further in the game and earn a few more points. If Patrick ever saw the Bellows as the danger that they actually were, he didn't really show it. I think the main reason for this was because of his older brother, Michael. Patrick was written such that he showed his fear and emotion based on the fear and emotion that Michael allowed himself to show – that was so interesting given the situation these two were in, because Michael spent the entire book completely stressed out but doing his best not to show it in order to not upset his brother. I love how the author included these characteristics into the brother's characters.
I love a great sibling relationship in a book, and I love it even more when it is between brothers. It is flashing-neon-light obvious that Michael loves his brother Patrick with everything that he is, and he is willing to do anything and everything to keep Patrick safe – this means throwing himself between Patrick and the Bellows (more than once) and keeping his own face devoid of his obvious fear. Most of all, Michael has to never stop playing The Game, for Patrick's sake. Patrick loves The Game.
What exactly is The Game? What are the rules?
How do you know if you've reached The End?
And who is The Game Master?
These are great questions! When you read the book, you'll find out.
The End Games could have gone on just like this – two brothers running through West Virginia outrunning Bellows until they reached The End – and it would have been pretty awesome. But that's not really the way it happened because some things were added, a lot of stuff happened, and stuff got pretty crazy.
About one-third-ish into the book, another character popped up and it began to feel as if the entire story began to shift in a different direction. This guy came into the story making me think that things were going to be okay, that help was on the horizon – but I should've known better than to think that way when I was only about one-third through the story! At this point, the brothers are no longer on the run by themselves – they join a small group that are led by someone that is, by all appearances, a good guy. Eventually, though, Michael begins to question whether or not their leader has the best interests of the group at heart and has to make some pretty doggone big decisions.
I'm not kidding when I tell you that my nerves were all over the place with The End Games and once I got to this point, I never knew where the story was headed. The Bellows continued to be the major threat because they were everywhere and their numbers only seemed to increase – but GOOD GRIEF how much can these two brothers take? Where is The End and are they ever going to get there?
****************************************************************



I just loved the setting of this story – West Virginia is one of my favorite regions of the United States, and its difficult landscape was written into the story perfectly. The hills and mountains and woods of this area only served to make the story creepier as the terrain gave more and more places for the Bellows to hide. When the brothers would stop for supplies or any other reason, the Bellows would just come out from everywhere! I think the author did a great job using the setting to his advantage as far as the story is concerned (and it's also cool that he set the story in his home state).


In terms of the writing, it takes just a little while to get used to the way The End Games sounds and feels. This is most likely because of the age of the young male characters – these boys are serious Gamers. Before the world went crazy, they spent a large amount of time playing video games. They are able to use the survival skills from various favorite video games in real life to save themselves or collect food or supplies (I LOVED how this was written into the story). Although I am not very familiar with most of the games mentioned in the book, it wasn't hard to adapt to the lingo and understand what they boys were talking about when they were relating the games to their real-life survival, and I think that the way Martin incorporated his obvious love for games into this story is really fun.

As far as characterization goes, Michael and Patrick are great. Michael is one young person that I wouldn't want to trade places with for anything – he has the weight of the world on his shoulders with his own survival and he is also responsible for his brother's survival as well as his brother's special needs – plus he is harboring some guilt about some past issues in their home. Michael handles everything well – as an appropriate person of this age would, I think, and perhaps maybe even better – but it can often be tough to get into the head of a 17-year old male. I say that just to mention that occasionally I felt a little bit of a disconnect with Michael, but I blame this on the circumstances and the stress he was under more than anything else because overall, he was pretty dang awesome. And 5-year-old Patrick was a great kid – even at his young age, he was forward-thinking, always trying to help his older brother out with their survival and playing The Game and keeping them both moving. I know that I've already said it, but I'm going to repeat here that I just loved the relationship between these two boys because throughout everything, it is obvious that these two are most important to each other, above all else.


More notes on characterization – there are some great secondary characters in this story – you guys know that I love secondaries – and there is, I think, more than one villain (this is potentially a discussable point!). I'll leave readers to figure out the villain(s) on your own, but I will say that the overall characterization is a ton of fun – colorful and at times, humorous. There is also a romance in the book, but it is one that I affectionately call 'romance-lite' because it is subtle and remains in the background while everyone is much more focused on surviving.


Ultimately, The End Games is action-packed, relatively fast-paced, and creepy. I will admit to liking the beginning part of the story much more than I liked the second half, but I still was able to enjoy the story very much and was on edge while I was reading it, which is all in the makings of a good apocalyptic zombie survival story. I recommend The End Games to fans of survival stories, apocalyptic stories, and stories with really excellent sibling relationships. People that enjoy reading books that have some crazy religious groups in them (like me!) might get a kick out of this one. This is also a book that reluctant readers and younger male readers will likely enjoy.



THIS IS ONE OF MY FAVORITE COVERS OUT THERE.
****************************************************************
The End Games will appeal to fans of:

YA Apocalyptic/Horror
Romance: Romance-lite, Slowly-Developing.
Great Setting: West Virginia
Debut Author!
The End Games by T. Michael Martin
will be published on May 7, 2013.
*I borrowed this book from Around the World Tours in exchange for my honest thoughts and op
inions. I received no compensation for my review.
****************************************************************
Is THE END GAMES on your to-read list?
It would make a great Debut Author Challenge read!
****************************************************************
Click HERE for more information. Sign-ups coming soon!