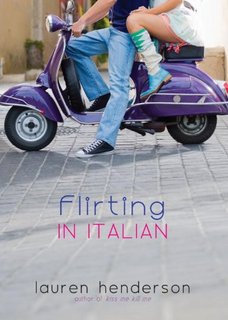 Flirting in Italian by Lauren Henderson
Series: Flirting in Italian #1
Published by Delacorte BYR
Publish Date: June 12, 2012
336 Pages
Source: Borrowed

Four girls. One magical, and possibly dangerous Italian summer. Family mysteries, ancient castles, long hot nights of dancing under the stars . . . and, of course, plenty of gorgeous Italian boys! –(summary from Goodreads)





My Thoughts: Oh boy, Flirting in Italian.

Flirting in Italian is the story of four girls – Violet, Kelly, Kendra, and Paige – that take an immersion-type course together in Italy. The girls live together and spend their time studying Italian art and culture, learning the language, and partying it up with Italian boys.

Violet is the story's main focus, and she is an interesting gal. She is a dead ringer for an Italian girl despite the fact that her parents are Norwegian and Scottish. Violet also has a secret reason for being so interested in this Italian course: she has seen a painting in which the subject, another girl, looks exactly like her. They could be twins – except that the painting is from the 1700's. Violet has a sneaking suspicion that because of her looks vs. the looks of her parents, she could be adopted and she wants to investigate this further.

There are parties, and there are more parties, and there are boys, boys, boys. The friendships between these four girls are tried and tested. There is a conspiracy and a big mystery, and there is a promising romance.

*******************************************************
I'm not exactly sure what I was expecting when I picked up this book, but there were things I really liked and things that left me a little…wanting. First of all, I loved reading about Italy because I am all about setting and this book was set so well. The art scene, the culture, and food – everything – was described perfectly and I could visualize it like a movie. I loved the way it was written, too, because Lauren Henderson wrote it like a perfect summer read. Her language is easy and effortless, and it makes it easy to turn the pages and breeze through the book. But…
I feel like the ending was a little wonky. I'm not sure if it felt like it was a little bit too rushed or clunky or just awkward, but the ending left a little bit to be desired. For me – for me – I just felt like there was a bit build-up, build-up, build-up….and OH! make sure you grab the companion book when it comes out for the next part of the story… I also wish the characters were a bit more developed and that the main character had more self-esteem (which would have been a great place for Violet's own personal development).
I think there is a great market for this book for the readers who love the YA contemporary romance, because the boys are very Italian and swoony. And there are some kisses, and we all love that. But I think I was expecting a little bit more from the mystery part of it, the painting part of it, and the ending. Sure, I'll read the next one when it comes out because I'm invested and I want to know what is next, but I felt more frustrated than anything when I closed this book.
Flirting in Italian will appeal to fans of:
YA Contemporary
Romance
Great Setting: Italy
Italian Culture, Art
Mystery Flirting in Italian by Lauren Henderson
will be available for purchase on June 12, 2012.