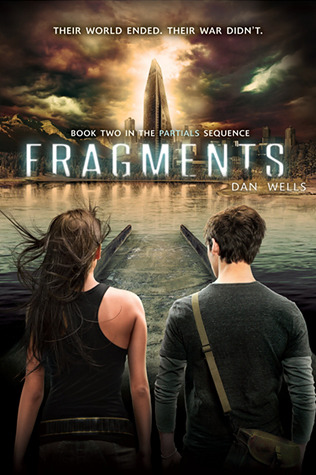 Fragments by Dan Wells
Series: Partials Sequence #2
Published by Balzer + Bray
Publish Date: February 26, 2013
564 Pages
Source: ARC Tour


Kira Walker has found the cure for RM, but the battle for the survival of humans and Partials is just beginning. Kira has left East Meadow in a desperate search for clues to who she is. That the Partials themselves hold the cure for RM in their blood cannot be a coincidence–it must be part of a larger plan, a plan that involves Kira, a plan that could save both races. Her companions are Afa Demoux, an unhinged drifter and former employee of ParaGen, and Samm and Heron, the Partials who betrayed her and saved her life, the only ones who know her secret. But can she trust them?

Meanwhile, back on Long Island, what's left of humanity is gearing up for war with the Partials, and Marcus knows his only hope is to delay them until Kira returns. But Kira's journey will take her deep into the overgrown wasteland of postapocalyptic America, and Kira and Marcus both will discover that their greatest enemy may be one they didn't even know existed. -(summary excerpt from Goodreads)


**************************************************************
*I have tried to keep this as spoiler-free as possible for the series other than
what is included in the summaries! Be warned, though.
This is the second book in a series.*
Fragments by Dan Wells


My Thoughts: When I read Partials last year, I loved it. I love science-fiction/dystopian/apocalyptic books and this one was interesting and engaging and action-packed. It was also long and I think that kept some readers from really falling in love with it.
HERE is a breakdown of the plot of Partials because it really can be a teensy bit confusing. 1) If you're not sure whether or not you want to start the series, I recommend checking it out. 2) If you need a refresher on Partials before starting Fragments, I recommend checking it out. (It's my Partials review.)
The first thing you need to know is this
:
Some things are carried over from the first book AND I LIKED IT.
One of the best things about Fragments: main character Kira Walker remains a strong and very likable heroine. Previously, she worked in the hospital maternity ward as a medic intern, where she watched every infant die within hours after birth from the fatal RM virus. Kira became FED UP with watching babies die and decided to do something about it. She researched, which led her to take some pretty crazy risks to find a cure, and eventually she found one (not a spoiler per the summary above). It was the path the to obtaining that cure that showed exactly how strong Kira was and made me appreciate her so much as a character. She had convictions and she stood by them. She had opinions and wasn't swayed by other people. She took risks even when they were dangerous or potentially costly. (Also, Kira appears to be a non-Caucasian female main character, so extra points for Dan Wells.)
Other things that are carried over: excellent world-building, subtle romance, crazy-good plot twists.
The second thing you need to know is this
:
A few things have changed too.
I'm not sure if it is the most important 'change' between these books, but the first thing that keeps coming to my mind as I think about this is my feelings toward the character Marcus. Marcus is another hospital medic but he is also Kira's boyfriend. Marcus has strong feelings for Kira – strong enough to marry her despite her strong feelings that she isn't ready for marriage – this is a source of contention for the two of them. While I liked that he provided a little bit of comic relief in the first book, I did not like that he didn't support Kira in her actions and decisions, even when he felt like she was right. I had a hard time connecting with him and getting behind him as a character. THIS TIME AROUND, however, not only is Marcus much more of a prominent player, but he is a much better character. He seems to respect Kira much more and he seems to try and understand where she is coming from with regard to her decisions, her feelings, and the motivations behind why she does things. I have gone from not liking him at all to really like him, and I'M SO GLAD. This makes me feel relieved.
Also changed: expansion of the setting, a bigger role for Samm the Partial, and the Partials take on a much bigger role in the book.
The third thing you need to know is this:
I know that quite a few people made comments about the length of Partials, and at just over 450 pages, it was just a little thing compared to this one. Fragments clocks in at around 560+ pages, which is pretty chunky for a YA book. It's a commitment but it is a worthy commitment if you like this genre.
***Honestly, you guys, we really don't need to let the amount of pages keep us from reading books if we are interested. If the size of the book freaks us out a little bit, let's read electronically either by ereader, phone, or on the computer. We can read big books!***
**************************************************************
Fragments by Dan Wells is a really great follow-up to a really great first book. I mean that sincerely. I think I like Fragments better, actually.
I love a great post-apocalyptic landscape, and what we have here is an obliterated Manhattan/Long Island area that readers may remember if they have read
Partials
– PLUS we are introduced to new areas further west in which the landscape has been changed by war, natural disaster, etc. I LOVE LOVE LOVE being able to easily create a visual picture in my head – a movie, if you will – of each scene. That is WHAT I WANT in a book like this. Give me floods, give me broken-down buildings and societies, give me barren wastelands and fields – those are great. But ultimately I want to be able to create a picture from the words. Ladies and gentlemen, I present to you The Partials Sequence books for your world-building pleasure.
At the center of this series is Kira Walker, who is like a dream for readers who love a butt-kicking female character. She is bold, she is strong, she doesn't like to take NO for an answer. Kira gets the job done even when the job is tough. She holds her own against humans and non-humans. I respect her for her physical strength and her mind. Plus she has some secrets dropped on her/us are way cool. I can't wait to see what awaits Kira in the rest of this series.
While Kira is both strong and awesome, she is also a character that has plenty of emotions and vulnerability. I love this about her, her ability to show all of herself – strength and weaknesses, etc. Kira thinks very hard about what she is doing and how it affects everyone, even when the risk to herself is great. She puts other people before her; she weighs the safety and future of the human race against her own. She also weighs the safety and well-being of those that she loves against her own, and I can't help but get behind a character with qualities like this.
Readers will hear more from Marcus this go round, and I believe that this is a good thing. Marcus did not impress me all that much in Partials, but he has more than redeemed himself to me in this second installment. I consider it a treat that we also hear more from Samm in this book, and I loved getting to know more about him. Samm is a Partial (not a spoiler, check the summary above) so he is a little different than Kira – and it is these differences that I loved. Samm stands out among the rest of the characters for several reasons. I loved that his communication was different as well as his ability to hone into the emotions, facial expressions, etc of other humans – these are things that Partials are not created to need or use, so they don't really understand them. Reading about Samm's struggles and efforts in this area was neat and made him seem the slightest bit more human-like. Because of the story and where it takes them, Samm and Kira spend a lot of time around each other in this book, and I loved the relationship between the two of them. It was my favorite part of the story.
(I also loved all of the action-sequences, which were plentiful and filled with tension and awesome.)
Speaking of relationships, the romance portion of the story flows over from Partials but is still so subtle, so much a part of the background. I was always aware of the romance aspect, but because it just wasn't important to me as the story as a whole – it wasn't prominent in my mind the entire time I was reading. I appreciate that The Partials Sequence is being told in this way because the reality of this story so far is that there is really little time for romance.
Besides the length of this book, the only thing that I could possibly consider a negative is the computer-speak. I just don't understand the tech-speak that new-character Afa uses. He is a computer WHIZ. It is essential to his character, though, that he be able to express his computer smarts, so he gets a pass from me. I did find my eyes bugging out at some of the technical words and terms words he was saying. (So did Kira. I'm quite sure of it.)
Fragments excels in world-building, in creating a corrupt government that has some pretty big problems, and fantastic plot twists. The twists come at just the right time/every time and are exciting, moving the story all over the place. I love it when I read something that makes my jaw drop, and this happened several times. I loved the unexpected THINGS (!!!) that popped up and have am excited to see where the story will end up for Kira, Marcus, Samm, and the rest of the population as they struggle to survive both the RM virus and the dreaded Partials.
Truthfully, Fragments is way better than I can articulate and if you are a fan of books in this genre, you might really like it. It is indeed long and could probably be a bit shorter, but it is still worth the investment for a story that is this well-crafted. I understand that I've said the phrase 'I loved…' way too many times in this blog post but I'm not sorry. There is a published novella, Isolation, that I wish I had read before I read this book but unfortunately I did not. I am invested in this series for the long-haul and have tons of respect for Dan Wells for his ability to write an action-driven plot with plenty of characterization that entertains me like this one.
I recommend Fragments (and Partials) for fans of YA science-fiction and dystopian/apocalyptic that has a butt-kicking female leading character. People who love compelling survival stories may also like this.
*************************************************
Fragments will appeal to fans of:


YA Post-Apocalyptic/Dystopian/Science-Fiction
Very Strong Female Protagonist
Survival Stories
Strong Characterization
Excellence in World-Building
Tons of Action Sequences
Romance: Subtle.

Fragments by Dan Wells
is currently available for purchase.
*I received a copy of this book in exchange for my honest thoughts and opinions. I received no compensation for my review. Thank you Balzer + Bray/HarperTeen!
*************************************************
Have you read PARTIALS or FRAGMENTS yet?