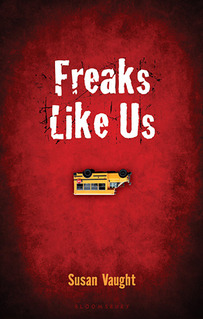 Freaks Like Us by Susan Vaught
Published by Bloomsbury USA Children's
Publish Date: September 4, 2012
240 Pages
Source: Publisher

When Jason Milwaukee's best friend, Sunshine, disappears from the face of the earth, the whole town, including Jason, starts searching for her. But the insistent voices in Jason's head won't let him get to the heart of the mystery—he's schizophrenic, and the voices make it hard to know what is real and what is not. As the chase becomes more panicked, Jason's meds start wearing off, and he is looking more and more guilty. But of what, exactly? –(summary excerpt from Goodreads)

Freaks Like Us by Susan Vaught

My Thoughts: Jason, Drip, and Sunshine are alphabets. They ride the short bus at school and are in a self-contained classroom that is labeled SED. That's Severely Emotionally Disturbed.
Jason is SCZI. That means he is schizophrenic. Drip is ADHD and Sunshine is SM, or selectively mute. Together they have this friendship that is a bit wonky-looking to other people, but it completely works. They are tight – a great support system for each other. Because they are alphabets, nobody takes them seriously or listens to them. They are also a target for bullies.
When Sunshine suddenly goes missing, it throws their trio out of sorts. See, they work well when things go as normal…but with Sunshine missing, Drip is starting to spazz a little and freak out and Jason's voices are speaking to him more than ever. The won't stop. Before too long, Jason is having a harder and harder time telling what is reality and what isn't. He is completely focused on getting his best friend back and will cooperate in any way to help, but he is looking more and more like he might be responsible for her disappearance. But did he cause her to disappear? And where did she go? Is she coming back? Why can't he remember? He is trying so hard to be helpful but all of the stress is making him look more and more suspicious…

**********************************************

This book completely turned my reading world upside down, and I mean that in a good way. I usually don't gravitate towards books that are completely issue-heavy, and I surprised even myself when I wanted to read this one.


When I started reading Freaks Like Us, I was interested in Jason right away.

His voice was different than anything I had ever read before and I wanted to know more about him. I had no idea how compelling it would be, even without considering Sunshine's disappearance.

The story is told in first person, but it is Jason's first person – which means it is a schizophrenic point-of-view. You have to know this going into it because it takes a little bit of adjustment to switching back and forth between Jason and Jason's voices. The author makes this easy for us, of course, with italics – but it is still an initial shock with run-on sentences and stream-of-consciousness here and there. By the time I was finished with the prologue, I was comfortable with Jason and his voices and completely into the story…which is good because it gets started right away and doesn't really let up until it is over.

It is clear that Susan Vaught has written Jason's POV with a skilled knowledge about this type of issue. Even though I mention that there are run-ons and back-and-forth between Jason and his voices, Jason tells his story in a way that flows really well to be coming from him. By that, I mean it sounds complicated but it works perfectly and it so awesome to read. There is a rhythm to the reading, I thought, and I was so enthralled with Jason's thoughts and the voices that I felt like I was almost having his thoughts myself. I felt like I was at the scene of the investigation, like I was being questioned about Sunshine's disappearance. I felt like I was present in all of the scenes.

I guess what I'm trying to say is that I had no idea what to expect with Freaks Like Us, but I think it is wonderful. I completely appreciate reading this POV because it is totally new to me and I actually know people that experience issues like Jason's. Isn't it awesome to have a peak into the world of other people sometimes?

Freaks Like Us is a quick read and a great story. It is very entertaining and insightful. After having read it, I want to go back and seek out more of Susan Vaught's work. I recommend Freaks Like Us to contemporary YA readers that tend to like books with issues and male protagonists.

Freaks Like Us will appeal to fans of:

YA Contemporary with Issues
Male Protagonist with a great POV
Some Mystery
Standalone

Freaks Like Us

by Susan Vaught

is currently available for purchase.

**

I received a review copy from the publisher in exchange for an honest opinion and review. I received no compensation for my thoughts. Thank you Bloomsbury!