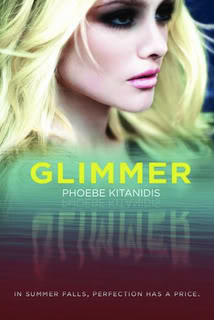 Glimmer by Phoebe Kitanidis

Published by Balzer + Bray
Publish Date: April 17, 2012
352 Pages
Source: Borrowed
What if you forgot your identity and had to rely on other people to tell you who you were?
And what if to discover your true self, you first had to unravel a mystery so big and terrifying you were not sure you'd survive solving it?
When Marshall and Elyse wake up in each other's arms with zero memory of how they got there or who they are, it's the start of a long journey through their separate pasts and shared future.
Terrified by their amnesia, the two make a pact to work together to find the answers that could jog their missing memories. As they piece together clues, they discover they're in the idyllic mountain resort town of Summer Falls, where everyone seems mysteriously happy, but as Marshall and Elyse quickly learn, darkness lurks beneath the town's perfect facade. Not only is the town haunted by sinister ghosts, but none of its living inhabitants retain bad memories of anything—not the death of Marshall's mom, not the hidden shame in Elyse's family, not even the day-to-day anguish of high school.
Lonely in this world of happy zombies, Marsh and Elyse fall into an intense relationship…but the secrets they uncover could be the death of this growing love—and the death of everyone, and everything, they love in Summer Falls. -(summary from Goodreads.com)


Glimmer by Phoebe Kitanidis
My Thoughts: I wanted to read Glimmer because of the pretty cover and the line in the synopsis that says "Lonely in this world of happy zombies…" I love a good zombie story…and the idea of people with amnesia and no bad memories, perpetually happy, like zombies…well, it sounded interesting. So I read it and needless to say, I have thoughts…
1. The Characters. Elyse & Marshall. The book starts out running when these two wake up together but have no recollection of how they got there or what exactly they were doing. They can't even remember their own names, for cryin' out loud. They set out on a massive hunt to figure out who they are, what is going on, and why they suddenly have amnesia. Piece by piece, slowly, things start falling into place and they learn what they need to know…and the story is crazy. I mean that in a fun, creepy, and good way.
These two characters are great. We first learn who Elyse is, and at first she seems pretty average. But when Elyse learns about her 'old' self, she finds a ton of things she doesn't like and sets out to change her life. It takes a little longer to learn who Marshall is, but when we finally start to learn the details surrounding his life, there is a new piece of information around every corner. It felt to me like learning about Marshall was the key to learning about why the city was the way it was (creepy!) and also learning why he and Elyse were even linked to begin with. After all, Elyse was a popular cheerleader-dating-a-football-player and Marshall was a geek. Stereotypically, two people like Marshall and Elyse would have no ties to one another…
There are a few supporting characters that all lend a hand in making the story what it is. However, they are not altogether completely fleshed out, which is totally okay. These characters are there to basically help Elyse and Marshall tell the story, and sometimes filler such as this is needed. In Glimmer, this completely worked for me as Elyse and Marshall are the characters that I was fully vested in anyway.
2. The Setting. Summer Falls. Y'all, this is one creepy little town. Tourists come to Summer Falls because of the its relaxing and euphoric effect on their lives. They term this effect "The Drop" because once they arrive, their feelings of stress and anxiety and their bad memories just drop away. Summer Falls seems to be enchanted or have some sort of spell on it, because it is always warm there and the residents are almost like happy zombies. They don't have bad memories either; they're always happy. This is something that Elyse and Marshall never noticed before they woke up with amnesia because they too were under the same enchantment or spell. Now that they're out, they realize that there is something weird going on in their town.
Aside from the creepiness of the city, the author did a nice job of describing the beauty of the setting well. She made the town a place that people would want to visit, which made it believable. She described the surrounding nature/hiking trails and waterfalls well, and I could almost visualize them as I read about them. Heck, if the place wasn't so strange, I might even want to visit there myself.
3. The Ghosts. There are ghosts in Summer Falls, and they're everywhere. Elyse can see them. They roam around town and touch people, causing them to fall into heatnaps (pass out). When the people wake up from the heatnaps, their bad memories are gone. This happens when people argue or when bad events occur. I don't read that many books that are ghost stories, so this attracted me to Glimmer…but the scenes with the ghosts ended up being a little bit confusing for me.
4.
The Romance
. Yes, there is a budding romance between Elyse and Marshall…how can there not be? They are the only two people in the entire town with the same secret, and they're the only two people that have the ability to retain bad memories. These two characteristics alone draw them closer, and that is exactly the basis for their relationship. Not only that, but Elyse does not like her "old" self…so she breaks up with her boyfriend of two years so she can start a relationship with Marshall. The romance builds slowly and isn't so much awkward as I feel like it might be the result of the stressful situation the two are thrust into. This is fine; it happens in real life. In this book, I found it to be very charming.
5. The Structure. Alternating points-of-view (POV), told by Elyse and Marshall. The alternating narration is seamless and easy to follow. The story flows smoothly with fast pacing. The alternating POV gives excellent insight into what each character was feeling and going through…and in a story like this one, where every situation is high-stress, I really like that as a reader.
Glimmer was an interesting book. It was mysterious and creepy and had a very odd story that worked out well. I know I keep using the word "creepy" but that is the best descriptor I can think of for this book, and I mean that in a totally positive way. It was fun and it kept me on my toes.
The one thing that I didn't really care for in the book was the magic. Normally, I love magic in books and I soak it up because magic is fun, you guys. But I don't care too much for dark magic and in this book it is very dark, like occult-ish. In fact, it is blatantly occult magic. It is part of the author's story, and that is perfectly okay…I'm just saying that to me, I'm a good bit put off by the occult and prefer my magic on the lighter side. I will say that it is not scattered throughout the entire book, it is contained in only part of the book, and this did not cloud my opinion or perception of Glimmer at all. I really liked the story.
If you are looking for an original story that paces well with mysterious characters and a creepy premise, Glimmer is definitely a book for you. I recommend it for all YA audiences and even adult audiences if they are interested. Reading Glimmer has made me very curious about this author's previous book, so I will certainly be checking that out as soon as I get the chance.
Glimmer will appeal to fans of:
Alternating point-of-view
Creepy stories with mysterious characters
Standalone/Non-series books
Slowly developing romance
Books that are heavy on Setting: Summer Falls is an enchanted town
Glimmer by Phoebe Kitanidis
will be released on April 17, 2012.
*I borrowed this book as part of Around The World Book Tours in exchange for my honest thoughts and op
inions. I received no compensation for my review.