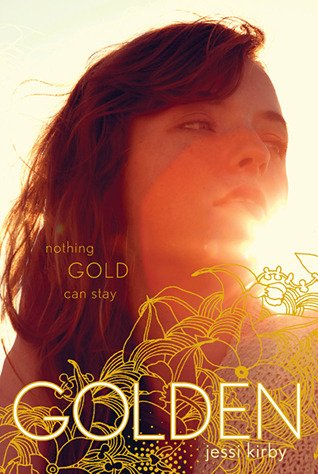 Golden by Jessi Kirby
Published by Simon & Schuster BYR
Publish Date: May 14, 2013
288 Pages
Source: ARC tour
Seventeen-year-old Parker Frost may be a distant relative of Robert Frost, but she has never taken the road less traveled. Valedictorian and quintessential good girl, she's about to graduate high school without ever having kissed her crush or broken the rules. So when fate drops a mystery in her lap—one that might be the key to uncovering the truth behind a town tragedy, she decides to take a chance. -(summary from Goodreads)

Golden by Jessi Kirby

My Thoughts: This is the first time I've read any of Jessi Kirby's work, although I've always read glowing things about her work. Verdict: I loved Golden and I'll definitely be reading the others books when I can get my hands on them.

The first thing you need to know is this
:
Parker is feeling the pressure.
17-year-old Parker is at the top of her graduating class. She's the finalist for the prestigious Cruz-Farnetti Scholarship (which she desperately needs) and her mother is pressuring her like crazy to do things her way. The problem is this: as her remaining high school days tick by, Parker isn't so sure she wants to do things her mother's way. Maybe she wants to make some of her own decisions and decide let Parker decide what Parker wants to do with her life. (Yeah! Way to go, Parker!)
There are other pressures, too. Parker is what we tend to call a 'goody-two-shoes' – she always goes by the rules. She never breaks them. She never pushes the envelope. She never stays out late, never breaks curfew, never skips class, never flirts too heavily, never does anything outside of her perfectly planned-out life. Parker is a little afraid that one little slip-up will send all of her hard work down the drain, and certainly there is some risk to that. Deeper down, though, down in her heart of hearts – what exactly is Parker so afraid of? Is she afraid of getting her heart broken? Or is she afraid of failure?
Parker's best friend, the fun-loving Kat, is always trying to get her to loosen up a little bit. After all, if she doesn't live a little bit now, when will she? Before long, Parker will be gone off to college, all grown up, and she'll have lost her chance to enjoy this precious time in her life. She'll have lost her chance with Trever Collins. And she won't live anywhere close to Kat anymore, because they both know that Kat is not headed down the same path that Parker is…
The clock is ticking if Parker wants to seize the day before she graduates.

The second thing you need to know is this
:
Parker finds something special.
Parker assists Mr. Kinney, one of the best English teachers ever. Mr. Kinney gives all of his seniors a notebook with a special assignment: fill it up with honest answers to a question and hand it back in to him after the assignment is completed. Then, after ten years, Mr. Kinney mails the notebook back to them so they can read their previous answers and see the life they had imagined for themselves ten years earlier. The question is this:

"Tell me, what is it you plan to do with your one wild and precious life?"

One of Parker's jobs as TA is to search for current addresses and mail these notebooks back to their previous owners. During this task, Parker comes across the sealed notebook of Julianna Farnetti, after whom one-half of the above-mentioned scholarship is named. Julianna and her boyfriend disappeared shortly after graduation ten years ago, and they were never found. Parker has a decision to make regarding this notebook – Should she track down Julianna Farnetti's family and give them the notebook with Julianna's private thoughts? Should she give it back to Mr. Kinney? Should she read it? YES! Yes, she decides to read it.
Parker cannot believe the story that unfolds in the pages of Julianna Farnetti's journal.


The third thing you need to know is this:
Parker takes a chance! She does.
Parker Frost decides to take a chance. And one chance leads to another chance. And before long, Parker's life is snowballing with these crazy decisions! Soon, she's involving her best friend Kat
and
Trevor Collins, her maybe/maybe-not crush (Parker, take this chance too! Take. It.). There are last minute decisions and bags packed
haphazardly
and road trips and all sorts of crazy-fun, spur-of-the-moment things. Parker Frost crams a bunch of "taking chances" into a relatively short amount of time, and it is a HUGE risk. And it is good for her.
Right?
*******************************************************
Oh my gosh, this book.
Golden by Jessi Kirby was like the warm, Southern sunshine in the springtime. It was not too much and it was not too little. It was the perfect amount of everything. I was reading this book and I didn't want to move an inch until I was finished with the story. I wanted to soak every bit in. And THAT is exactly how I feel everytime I sit in the Southern sunshine in the springtime.
These characters – Parker, Kat, Trevor, Julianna, and the rest of them – are expertly written. They're developed and fleshy. They leap right off of these pages and into your head and your heart. They're easy to connect with and visualize. Parker Frost is the student that we've either been or we know: she's lived her life always pleasing other people but never herself. Every one of them have all of these great things about them, but they all have these little quirks or issues, which make them so real.
Parker's ongoing struggle with the pressures of balancing high school with life outside of high school struck such a chord with me. Kirby did such a great job painting a picture of her struggle with wavering back-and-forth between staying with her regimented, routined life and living outside the lines a little bit. When the journal came into the picture, it was so much fun to watch Parker privately begin to rebel – she would read the journal for a few minutes here and there when she should be studying or writing essays (because her mother told her to), but no one would know. No one. Her mother was none the wiser because Parker had always studied and followed the rules before. As Parker became more comfortable with making these tiny decisions for herself, her periods of reading rebelling grew longer and longer until she was suddenly making these impulsive life-changing seize-the-day decisions. It was total coming-of-age, and reading it was totally just like being that age again. It was an absolute joy to read. I hope that readers can really tune into this part of the book because I think that was a huge moment for Parker – learning that part of independence privately, and then going public with it.
Oh, and the journal! What a fantastic element to weave into the story. Of course –
of course
– Parker reads the journal. Of course there is information overload because those are Julianna's private thoughts (
Julianna never intended for anyone else to see them!
) and of course Parker doesn't really know if she can just keep this information to herself. See, the journal has a bit of a mystery in its pages. Parker kind of/maybe/sort of is thinking on trying to solve it…
The mystery element that Jessi Kirby weaves into Parker's story line is this wonderfully gentle and yet complex story-within-a-story. I fell so hard for it, and I think I'll just leave it at that. Not knowing anything about it makes it so much better when you unravel each little layer of information. (I love the direction that the journal took the story. LOVE IT so much. Like, hug the book, love it.)
There is a romance element to this book, and while it isn't necessarily subtle, it isn't the driving force of this contemporary story. Parker has to decide if she wants to take a chance on this boy that has been flirting with her for a while. She has to come to terms with the fact that she's had a crush on him, too. There is another romance story line that is – I dare say – swoony and very sweet. The thing about these romances that is so great is that they do not overshadow the other story lines in the book at all. They're there, hovering in the story, but they let Parker and the other parts of the story take the center stage, and I think that is great.
If this blog post is sort of vague, I sincerely apologize. Sometimes I have a hard time finding adequate words to talk about the why of loving a book so much – I can only tell you that I did, and that it is wonderful, and that I don't want to spoil it for you. This is a really great coming-of-age contemporary with a mystery element folded in ever-so-gently, and the romances are gentle as well. That's all I really know to say. To some, just the name Jessi Kirby is enough – they will instantly read. To others, I say read this book because I think you'll really like it.
I recommend Golden by Jessi Kirby to fans of YA contemporaries, fans of mystery, and fans of Jessi Kirby's work.
**************************************************************
Golden will appeal to fans of:


YA Contemporary with Mystery
Romance: No triangle, Slowly developing relationship,
First love (There's also a second romance!)
Fantastic Characterization


Golden by Jessi Kirby
will be available for purchase on May 14, 2013.
*I borrowed this book as part of Around The World Book Tours in exchange for my honest thoughts and opinions. I received no compensation for my review.
************************************************
Is GOLDEN on your wish-list?

Have you read any of Jessi Kirby's other work?
If so, tell me about it!