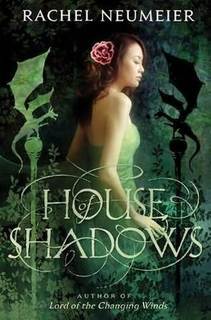 House of Shadows by Rachel Neumeier
Published by Orbit Publishing
Publish Date: July 1, 2012
342 Pages
Source: Publisher/TLC Book Tours

Orphaned, two sisters are left to find their own fortunes.
Sweet and proper, Karah's future seems secure at a glamorous Flower House. She could be pampered for the rest of her life… if she agrees to play their game.
Nemienne, neither sweet nor proper, has fewer choices. Left with no alternative, she accepts a mysterious mage's offer of an apprenticeship. Agreeing means a home and survival, but can Nemienne trust the mage?
With the arrival of a foreign bard into the quiet city, dangerous secrets are unearthed, and both sisters find themselves at the center of a plot that threatens not only to upset their newly found lives, but also to destroy their kingdom. –(summary from Goodreads)
House of Shadows by Rachel Neumeier


My Thoughts: House of Shadows by Rachel Neumeier started out like a fairy-tale for me. I was swept away with the description Karah, Nemienne, the other six sisters, and life with their father. After their beloved father died, I was sad at the sacrifices the sisters had to make to continue their father's business and to keep as much of the family intact as possible. A few chapters in, however, it became clear that this book was about way more than just Karah and Nemienne, as the summary suggested. The plot was actually quite complex – as were the characters – and while I enjoyed the story very much, I found that I really had no idea what to expect based off of this book summary.

1. The Characters. Karah and Nemienne are two of eight sisters left alone after their father's sudden death (their mother had died years earlier). Struggling financially, it was decided that two of the sisters would be sold. Karah was sold to the House of Cloisonne, which was the most desirable Flower House in the city, to become a keiso. Nemienne was sold to an area Mage as an apprentice, as she was not quite beautiful enough for the House of Cloisonne nor did she have any qualities or talents that would make her stand out or desirable as a keiso. What Nemienne did have, however, was a rare look in her eyes, a certain extra sense, that allowed her to perceive things that others could not. Even though these two sisters are the two characters described in the book summary and in detail at the beginning of the book, they are a small part of a much larger story.
Leilis is the first to make Karah feel welcome at the House of Cloisonne. Not a servant and not a keiso, Leilis has a unique job within the house that enables her to roam freely and be respected among both the very public keiso population of the house and the underground, never-seen staff of the house. This is important because Leilis is able to find out tons of information about practically everything this way, and she is able to earn the trust and respect of people on both sides. Leilis is such an interesting character because she has some secrets that she slowly reveals and she is pivotal to several of the large plot points.
Taudde is a foreign bard, a musically-talented sorcerer from the enemy nation of Kalches. He has come to Lirionne to live in secrecy, and has an entirely false identity. He has political reasons for needing his identity to remain a secret although his reasons for living in Lirionne are not political at all. Taudde's identity is leaked before the story begins, and the result of the information breach is the meting place for all of the plot lines of the story. (Oh, it's so good!)
2. The Story. The people of Kalches and Lirionne have been at war for many years but have lived the last fifteen years or so under a peaceful treaty. With the treaty's end-date approaching, there is fear throughout the land that war will erupt again. Having a Kalchesene living within the borders is a bad thing not only because it is banned by the treaty, but it is also a direct threat to Lirionne. For Taudde to continue to stay, his identity must remain secret. When his identity is discovered by some powerful local men, Taudde is forced to play into their hands and do what they want: murder a member of their royal family. At first, Taudde seems happy to oblige this. After some thought and spending a short time around the intended target, Taudde begins to have second thoughts.
Each of the other characters – the ones I've named above and several others – play into this plot line, which is what I considered to be the driving plot of the book. The story is complex, but amazingly the author is able to weave all of the differing story lines together as they branch off of this main plot. The secondary cast is wonderful, as are the four characters I've highlighted above.
The story is told from the perspectives of each of the four characters listed above (unless I've forgotten someone), and each of these characters are involved in their own little part of the plot. This may sound slow and confusing, and there were a few times that I was admittedly confused, but the payoff was well-worth it. The plot points do come together into one larger plot a little over halfway through the book, and from there the pacing picks up and House of Shadows is quite the page-turner.

3. World-Building. The world in House of Shadows is fascinating. The author takes her time setting each scene, each landscape, each building. She gives great attention to detail so that each part of this fantasy world is easily visualized. It is easy to imagine these characters moving about through the streets of Lirionne, wedged snugly between the ocean tides and the mountains that separate the country from Kalches.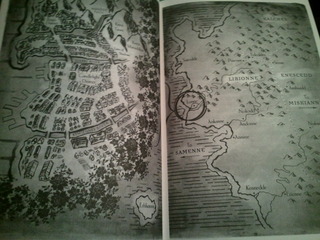 Hey look, you guys – a map!
4. The Flower Houses. Flower Houses are where gentlemen can come to be entertained by women or girls who have become trained in the arts: some of these women excel in playing instruments, some dance very well, etc. These are highly respectable establishments and are very lavish and luxurious. Some of the keiso become flower wives to other men if they choose, and lead a life very similar to what we could consider to be a mistress, as best as I can tell.
When Karah comes to the house, it shakes things up a bit because she has a fresh, innocent beauty and she is very young. Plus, she is very charming and funny. There is some jealousy among the younger girls and some of the older girls take her under their wings and help groom her and train her in the ways of the keiso. She catches the eye of several gentlemen, but there is one in particular that falls for her. There is a courtship that takes place but it is not the main part of the story at all.

4.
Romance
. There is a hint of a romance between a few of the characters…by this, I mean that it is obvious that some relationships are developing. These are never the central themes or driving forces of this story. There are no passionate kisses or anything like that. This book is fantasy, period. There are no swoons in House of Shadows.
***************************************************

House of Shadows was a very enjoyable book. I tend to really love fantasy books and I was not surprised to love the heck out of this story. These characters were wonderful and fun to read, and I thought the world-building was great for a fantasy story. Less importantly to some people, there were dragons in the story, which I love – and the book included a map, which I referenced tons of times.

Initially I wasn't sure where the author was taking me with the different points-of-view – I couldn't figure out how the Flower Houses connected with the political treaty ending soon, and how either of these connected with the foreign sorcerer that was musically inclined being outed from secrecy. This confusion, along with the workings of the Flower Houses and some of the longer, more descriptive scenes, meant that this book took a little bit longer for me to read than other books of this size. Sometimes with fantasy stories, though, it takes a little bit for me to find my bearings and work my way around the world and get used to the way everything is. This was the case with House of Shadows. Once I figured the story out, the pacing really picked up for me. That is, with fantasy stories, you really have to trust your authors to make their stories come together and WOW! you and in this case, House of Shadows did just that.
House of Shadows is a true fantasy story. I love a great fantasy setting, especially when there are lands that are spread out over mountains and the sea (with a map!). I love when a fantasy includes a royal family or two. I love when a fantasy story has great characters – really great characters – especially strong female leading characters that not only make good decisions but show growth over the story, even when they start out strong. I love when a fantasy story takes a few twists and turns and ends up in unexpected places with the plot. And for everything that is pure and lovely, I adore when a fantasy story has dragons in it.

House of Shadows will appeal to fans of:

Fantasy Fantasy YA
Excellent characterization
Great world-building
Very light romance: no love triangle
Very descriptive language

Maps!
Dragons
House of Shadows
by Rachel Neumeier
is currently available for purchase.
**
I received a review copy from the publisher in exchange for an honest opinion and review. I received no compensation for my thoughts. Thank you Hachette Books and TLC Book Tours!
*************************************************************
GIVEAWAY!
One finished paperback copy of
House of Shadows by Rachel Neumeier
Open to everyone!
**You can come back and enter daily.**