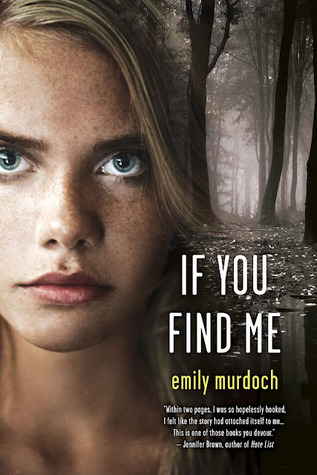 If You Find Me by Emily Murdoch
Published by St. Martin's Griffin
Publish Date: March 26, 2013
256 Pages
Source: Publisher


There are some things you can't leave behind…

A broken-down camper hidden deep in a national forest is the only home fifteen year-old Carey can remember. The trees keep guard over her threadbare existence, with the one bright spot being Carey's younger sister, Jenessa, who depends on Carey for her very survival. All they have is each other, as their mentally ill mother comes and goes with greater frequency. Until that one fateful day their mother disappears for good, and two strangers arrive. Suddenly, the girls are taken from the woods and thrust into a bright and perplexing new world of high school, clothes and boys.

Now, Carey must face the truth of why her mother abducted her ten years ago, while haunted by a past that won't let her go… a dark past that hides many a secret, including the reason Jenessa hasn't spoken a word in over a year. Carey knows she must keep her sister close, and her secrets even closer, or risk watching her new life come crashing down. -(from Goodreads)



If You Find Me by Emily Murdoch


My Thoughts: Sometimes I read a book and it captures me so very much that the only thing I know how to do once I'm finished with it is close my eyes and take a few deep breaths, a few moments of silence for something so brilliant and well-crafted and incredible. This is one of those books.
The first thing you need to know is this
:
Carey and Jenessa have lived in a camper deep in the woods…
FOR YEARS.
Carey is sure they have been brought there by their mother in an effort to keep them safe from their father because that's what her mom has told her. She knows they must stay hidden from everyone so he can't find them. While their mother disappears for days and often months at a time, Carey acts as a mother to Jenessa – raising her from infancy. Now 15-years-old to Jenessa's 6, the two have made a life for themselves deep in the Hundred Acre Wood somewhere in Tennessee. Life is hard, but as long as they have each other, Carey knows they'll be okay.
Carey is somehow able to keep Jenessa fed, either with the dwindling cans of food their mother occasionally brings or by hunting small animals to prepare for them. She's taught her sister things, too – kept up with their educations. She's made sure Jenessa can tell time and do basic arithmetic and even read a few things.
One day some people show up – a man and a woman. The woman claims to have a letter written from her mother in which she turns the girls over to the state because she cannot care for them any longer. The man is their father. After growing up afraid of their father, the girls are reluctant to leave with the lady. They're told that their choices are to either 1) go live with this man and remain together or 2) live in different foster homes, but separately since none of the available foster homes can care for two children at this time. Determined to keep Jenessa close to her, Carey resolves that no matter what awful life awaits them with their father, she can keep her sister safe – after all, she's been doing it for all of these years in that camper deep in the woods.
The second thing you need to know is this
:
Life with their father is NOT what Carey expected it to be.
Carey had no idea her father had a nice farm with a nice, roomy house on it. She had no idea that her father was remarried and had another daughter – a stepdaughter. Melissa, her new stepmother, is loving and kind – making the girls feel welcome from the start. She cooks for them, shows them affection, and gets them the things that they need like clothes and toiletries. She makes their new bedrooms lovely. She makes them feel welcome. Delaney, their new stepsister, is more difficult – she is a bit jealous of Carey from the start and it takes Carey a while to understand why. Delaney takes to Jenessa quite well, of course, because Jenessa is so lovable. And their father, this man that they have always been told not to trust? He doesn't seem at all like the man they've always been afraid of, the man that their mother warned them about. How is it possible that he could be the same man?
Over time, little truths begin to come out. Carey learns some startlings facts: their life in the woods for all of those years isn't exactly what she thought it was. While they were in the woods, there was a whole lot going on out here in the real world, and a lot of it had lots to do with her and Jenessa and her mother. Carey feels lost and confused and isn't sure who to believe.
The third thing you need to know is this:
It's such a big adjustment from the past life to the new life.
Carey also has some pretty big secrets.
When Carey and Jenessa are first brought out of the woods, they have to be taught how to brush their teeth. When they are given breakfast, they have to be educated on what each food is – french toast sticks, bacon, things like that. They eat so much that they make themselves sick over and over. They have to learn to pace themselves with the food. They have to be taught about modern conveniences like televisions and dishwashers. They have never seen a dog before. When they make it to school, Carey is horribly embarrassed not to know what a locker is.
There are also other shocking adjustments – Carey finds herself missing the smell of smoke in her sister's hair and in their old clothes from the campfire that she kept going in the woods. She misses the feel of the trees surrounding her. She misses the leaves and the sounds of the forest in general. She is homesick for that place, even though her new home is more luxurious than she could have ever imagined.
Throughout the book, Carey has some guilt and lingering shame – so heavy – about some thing that happened while she was out in the woods. These are hidden horrors that she wishes more than anything that she could make go away – one thing in particular. As this information is released slowly, over the course of the book, you realize how much more remarkable Carey is as a character – how much more strong and resilient and amazing she is to have made it through what she didn't even realize was an ordeal, and to have come out as well as she did.
*************************************************************
The Truth: If You Find Me by Emily Murdoch deserves a standing ovation.
This is one of the best debut books I've ever read. The story had me in its grips from the beginning and it didn't let me go until I was finished. I have thought about the book and these characters almost nonstop since I finished it, and I find myself wondering what Carey and Jenessa are up to and how they're still adjusting to life now that they're out of the woods.
Carey is a great character, full of depth and emotion and heartbreaking stuff. She's spent her entire life filling in for her mother while her mother was either not present, high, or mentally incapable of taking care of the much-younger Jenessa. Because of all of these struggles and having to "grow up" earlier than normal, Carey has a bond with Jenessa that runs much deeper than what I consider a regular sister-sister bond to be. The two have shared things, seen things, experienced things that most of us have thankfully never had to endure. Carey is stronger for it, but she's also more vulnerable. After being rescued by her father, she isn't sure who she can trust and she feels inferior to pretty much everyone.


Younger sister Jenessa is such a sweet child, so innocent it seems – but there is so much behind her eyes. She's witnessed things that a child that age should never know about and her way of coping with these horrors is by selective mutism. After one particularly horrifying incidence in the woods, Jenessa rarely speaks – in fact, the only person she speaks to at all is Carey, and when she does it is only a very soft whisper.
Jenessa is quickest to adapt once they arrive at their father's new home. She first falls in love with the dog, and forms a deep bond with him. Then she fells head-over-heels for stepmother Melissa, and that feeling is mutual. The whole family adores Jenessa, and Jenessa seems to love being there. Carey has a more difficult time because she finds herself homesick for the woods and her old life sometimes, and she is also feeling tons of guilt about various things from the past. She feels like she is betraying her mother for enjoying her new life, for enjoying this time with her father, for actually allowing herself to trust him. She feels like she's betraying her mother because she doesn't find her father to be the same person that her mother described. Could her mother have been lying to her for all of those years? And if she was lying, were there other things she was lying about too? As Carey struggles with these feelings surrounding her mother and this betrayal she feels, her father and Melissa give her plenty of space and time to grieve, to adjust, to exhale. As these new people show her love, Carey begins to learn several truths that she has never known before.
This story is amazing. It's raw and gripping and emotional and heartbreaking, but for all of that – for all of that heaviness – there is so much HOPE and GOOD and even JOY in these pages. This is the story of two girls that are put into a horrific situation and how they thankfully are rescued, and how they cope with everything in the months afterward. The characters are well-written and developed and believable – they each made my heart and break and swell. The story is emotional and is sure to leave an impression on readers after the last page is turned. By the end of the book, I was fighting back tears.
I recommend If You Find Me by Emily Murdoch to fans of YA Contemporary with Issues and also to fans of survival stories. I'd like to warn readers that there may be triggers associated with abuse and some forms of violence. This story is absolutely incredible – an amazing debut – and I am SO GLAD that I read it. I'll be re-reading this one for sure, and I'll be watching to see what else Emily Murdoch puts out for us to read.
*********************************************************
If You Find Me will appeal to fans of:

YA Contemporary with Issues
Issues: Abuse, Violence
Survival Stories
Strong Family (within the story)
Debut Author!
If You Find Me
by Emily Murdoch
is available for purchase March 26, 2013.
**
I received a review copy from the publisher in exchange for an honest opinion and review. I received no compensation for my thoughts. Thank you St. Martin's Griffin!
*Warning: Readers may experience triggers associated with
abuse and some forms of violence.
*********************************************************
Is IF YOU FIND ME on your wish-list?
*********************************************************
And now for the Giveaway!
St. Martin's Griffin and Emily Murdoch
have generously provided
~
ONE COPY of IF YOU FIND ME
~
Thank you, St. Martin's Griffin!
(US/Canada Only) * (Ends 3/29)
(International Readers, watch for another giveaway
coming in the next few days!)