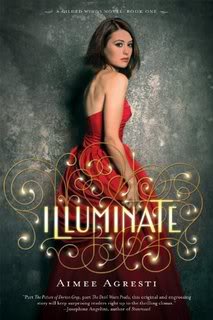 Illuminate (Gilded Wings #1)
by Aimee Agresti

Published by Houghton Mifflin Harcourt
Publish Date: March 6, 2012
534 Pages
My Source: Borrowed
Haven Terra is a brainy, shy high school outcast. But everything begins to change when she turns sixteen. Along with her best friend Dante and their quiet and brilliant classmate Lance, she is awarded a prestigious internship in the big city— Chicago—and is sent to live and work at a swanky and stylish hotel under the watchful eyes of a group of gorgeous and shockingly young-looking strangers: powerful and alluring hotel owner Aurelia Brown; her second-in-command, the dashing Lucian Grove; and their stunning but aloof staff of glamazons called The Outfit.

As Haven begins falling for Lucian, she discovers that these beautiful people are not quite what they seem. With the help of a mysterious book, she uncovers a network of secret passageways from the hotel's jazz-age past that leads her to the heart of the evil agenda of Aurelia and company: they're in the business of buying souls. Will they succeed in wooing Haven to join them in their recruitment efforts, or will she be able to thwart this devilish set's plans to take the souls of her classmates on prom night at the hotel?

Illuminate is an exciting saga of a teen's first taste of independence, her experience in the lap of luxury, and her discovery she may possess strength greater than she ever knew. -(summary from Goodreads.com)


Illuminate by Aimee Agresti


My Thoughts: When I started Illuminate by Aimee Agresti, I had no idea it was an Angel vs. Demons book. But I didn't mind because I LOVE books about free will and Good vs. Evil. However, the more I read, the more thoughts I had. Let's talk about them.


Let's talk a bit about Illuminate:


1. The Characters. There are quite a few, and I can't spotlight them all. I'll just hit the highlights:
Haven. The strong female protagonist. Selected along with two fellow students for an internship at a luxurious Chicago hotel. Ends up interning as the assistant to the owner/president of the hotel and as the hotel's resident photographer and runs the hotel gallery. ~ I had a tough time connecting with Haven because I felt like she kept everyone, including ME, at arm's length. She trusted no one, and revealed nothing of herself to anyone – which is fine – but as a reader, I would've liked to be able to know her a little bit better, to connect with her a little more. I can say that she was somewhat strong and she bravely faced her fears head-on, despite being lonely and clueless about what was going on around her for most of the time. I feel like MOST people will really like her, I just failed to connect.
Dante. Haven's best friend. Dante seems to be the opposite of Haven, so it was odd to me that they were best friends. He's energetic and extroverted with a very colorful personality. Dante's assignment was to be assistant to the head chef. Initially, it seemed that he would be lots of fun to read, but soon it became clear to me that his character wasn't one that I would connect with either. I'm not sure exactly where my disconnect was, but I just couldn't catch onto what he brought to the story.
Lance. Lance is the third student intern. He was assigned to be Lucian's assistant – a big deal as Lucian is second-in-command at the hotel. Lance is extremely quiet and almost comes across as introverted. Initially I didn't think I would like Lance very much but thankfully I found that I was wrong. Lance is the hidden gem in Illuminate, in my opinion. His character is wonderfully written, and revealed to us little-by-little throughout this rather lengthy book. Lance he has secrets that he isn't comfortable with and it doesn't appear he trusts anyone enough to share the burden of his secrets. As Dante becomes more and more unavailable to his counterparts, Lance realizes that if he confides in anyone at all, it'll have to be Haven – and this begins their friendship. The more I learned about Lance, the more I liked him.
Lucian. One of the bad guys but I really liked him. Despite clearly being a bad guy, Haven has a big crush on Lucian. He is sexy and mysterious, well-dressed and successful. He says all the right things and has all the right moves. He has a certain swagger that comes through the pages, and I absolutely loved it. Most of the scenes including Lucian were my favorite. I think that some readers may say that he was a bit mysterious or not very well-developed, but I believe that is part of his "evil" nature or, rather, part of the mythology of the immortal side of him. Bad guy or not, I'd read an entire book about Lucian RIGHT NOW if there were one. LOVED HIM.
2.
Good vs. Evil
. I love a book that includes free will and Good vs. Evil, every time. In this case, however, there are things that I like about it and things that didn't really work for me. Normally I will read these types of books with fist pumps, but in the case of Illuminate, I just kept waiting for that opportunity. The free will is present, and all of the characters were
technically
able to choose for themselves
, but the lengths that the bad guys were willing to go to for soul purchase and recruitment were almost anti-free will (
spiking teenagers' drinks, toxic fumes, poisoning foods
– all to alter the minds and make it easier to sway them to their side). That might be a bit
too picky
for some people, but I take the Good vs. Evil thing very seriously in a plot.
Also, there was a mythology present, but I just needed it to be a bit more developed on the "good" side to feel balanced. I feel like I have a good handle on the "evil" side and how everything works in their hierarchy and process, but I really can't tell you much about the Angel mythology, which makes me a little bit sad. We know that Haven is an Angel – she is even given a name (she is a Soul Illuminator) but we just aren't given enough insight as to what that means, exactly. I really feel that if as much time was spent on the "good" as there was on the evil, the book might have gone from good to awesome in my opinion.
3.
The Setting
. Awesome. The Lexington Hotel was given an ambiance and vibe that buzzed with life, and I could feel that in the writing, leaping off of the pages. The hotel setting – with its imagery and description – were the best thing about this book. The author went to great lengths to explain the hotel in detail, from the colors of the decor to the foods to the music to the nightclub on the inside, and tons more. I almost can tell you the layout of the place or maybe even draw you a map. The Lexington is a hotel I would absolutely want to visit.
4.
The Art
. I loved the way the book had central themes of art. There were both
painting
and
photography
all throughout the pages, and I really enjoyed this…particularly the painting. What is interesting, however, is how the author took well-known paintings and artists and used them as inspiration for the characters to paint their own pieces within the story. These pieces were
extremely dark in nature
– with themes of death and hell and dark skies and such – but still the descriptions were vivid and I enjoyed reading about them and visualizing them. In the case of the photography, the author described distorted images and explained this with her descriptions in a very macabre way. Interesting, fascinating, odd, and very dark.
5.
The Writing
. The author is clearly a very talented writer – and detail-oriented, as is evident with the wonderful descriptions of the setting and art, for example. The attention to detail could have been curtailed somewhat, however, when we consider the length of the book.
The first half of this long book had a slower pacing and was more character-driven and set-up, where the second half of the book had an extremely rapid pace with almost all action scenes. There were several story lines throughout the book that gave way to twists and turns all over the place. Basically, in Illuminate, nothing was as it seemed and everything was always changing.
6.
The Romance
. Haven has a crush on Lucian almost immediately, and who can blame her? (Seriously, I did too.) My heart broke for her when she realized exactly what Lucian was and that she wasn't able to turn her feelings for him off completely, cold turkey. She still felt for him despite his evil nature. What was more heartbreaking was the turn that their little crush/romance took…
While all of this is going on/progressing with Lucian, Haven is hanging out with Lance quite a bit – in her spare time and while working. He is basically the only person in the hotel that isn't soulless (except for Dante, who is never around anymore) and it turns out that Lance is actually kind of fun to be around. As Aurelia (the owner) and Lucian give the duo more and more assignments together, their friendship ignites and takes off – which is really nice, because it is sad to think of both Haven and Lance being lonely all the time. I liked the two of them spending time together, learning more about each other, and becoming close friends. Lance helps Haven deal with Lucian being "a bad guy."
*************************
Everything above being said, there was a heartbreaking moment in the end, for me. And for me, it may have been the big make-it-or-break-it moment for this book, but to talk about it in detail would be to spoil the story. I am aware that this will be a series, so I am open to seeing if this situation is rectified in the next book (I certainly hope so!) but as of right now, I'm dizzy with heartache over this thing that happened.


Aside from the heartbreak, there is a huge surprise too and WOW what a shock it was! And I liked it! I really liked it!


Ultimately,
Illuminate
by Aimee Agresti is a book that holds tons of promise. Tons of readers out there seem to really love it. Unfortunately for me, it somehow missed the
spark!
or
bang!
that makes a book amazing. I DID think it was
wonderfully descriptive in terms of setting
and I
love the art on the inside
. I just had a tough time connecting with a few of the characters and I think that by the time the action got started a little over halfway through the book, the story had already bogged me down a bit. The length didn't really seem to bother some people, though, and I still think that most fans of paranormal YA or paranormal romance would probably love it. I am optimistic that the next installment in this series will address the heartbreak and the huge surprise more in depth…
Illuminate will appeal to fans of:

Angel stories
Good vs. Evil
Paranormal Romance with Mystery
Incredible Setting: A High-Rise Hotel in Chicago
Plot Twists


Illuminate by Aimee Agresti
will be published on March 6, 2012.
*I borrowed this book in exchange for my honest thoughts and opinions. I received no compensation for my review.


Is Illuminate on your Wish List?
Have you already read it?
Thoughts? Comments?
Let's talk about it!