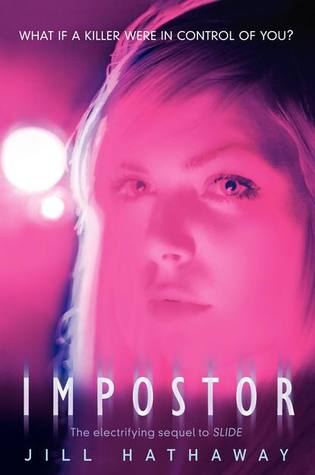 Imposter by Jill Hathaway
Series: Slide #2
Published by Balzer + Bray
Publish Date: March 26, 2013
278 Pages
Source: ARC Tour


What if a killer took control of you?

Vee Bell's gift (or curse) of "sliding"—slipping into the mind of another person and experiencing life, briefly, through his or her eyes—has been somewhat under control since she unwillingly witnessed the horrific deaths of her classmates six months ago.

But just as things are getting back to normal, Vee has a very bizarre experience: she loses consciousness and finds herself in a deserted area, at the edge of a cliff, with the broken body of the boy who took advantage of her on the rocks below.

As Vee finds herself in stranger and stranger situations with no memory of getting there, she begins to suspect that someone she knows has the ability to slide—and that this "slider" is using Vee to exact revenge on his or her enemies. -(from Goodreads)


***********************************************************
There may be very minor spoilers for the first book in the series, Slide.
Proceed with caution!
Imposter by Jill Hathaway


My Thoughts: A few days before reading this book, I read Slide which is the first book in this series. I loved the concept of story, I did. But I just had some big issues with the main character, Vee. I liked Imposter better than I liked Slide, but I once again have some mixed feelings.


Things I liked about Imposter:


1. I love the idea that not only can Vee Slide into the minds of other people, but now someone else seems to be sliding into her mind. This completely creeps Vee out and throws her for a loop. She isn't sure who is sliding into her mind and what she should do about it. Not only that, but this person is causing her to DO THINGS that are bizarre and it is causing some crazy things to happen. In some cases, these things are pretty dangerous. Vee needs to get to the bottom of this and fast.
2. Imposter has a better plotline than Slide. The story is more complex and there seems to be more going on. I loved the mystery of the sliding that I mentioned above, and I also loved the mystery surrounding the "bizarre experience" that is mentioned in the summary above.
3. The sibling relationship that I loved in the first book remains rock-solid.
4. Broken friendships are mended.
5. Rollins is back and his character is given more of a role in this book. I was hoping for that. Also, we are given more of a glimpse into who he is, how he thinks, etc. I maintain that Rollins is my favorite character.
6. The ending was kind of out of left field, and those are sometimes pretty fun, right?


Things that I didn't love about Imposter:


1. I had problems with Vee in Slide. She was secretive at the wrong times, keeping information to herself that would have aided police in a murder investigation. She took it a step further and decided to be a super-sleuth and try to find the murderer instead of letting police handle it themselves. I don't normally find myself annoyed with the behavior of characters, but Vee bothered me with the way she handled things, including the thing I've mentioned here.
In Imposter, SADLY, Vee's behavior did not change all that much. Vee was still secretive with information that needed to be handed over to police. This time, instead of keeping it to herself, she was working with other girls to keep the information secret. This made me…sad.
2. I hate to keep picking on Vee, but in Slide she was involved in an insta-love love triangle that didn't work for me. (So rare! I like triangles and don't mind insta-love!) In Imposter, she finally ends up with a love interest that I actually like BUT BUT BUT now she is jealous. And insecure. And whiny. Why? Because her boyfriend works with a girl that is really pretty. I can't even. This isn't a YA contemporary book about self-esteem, this is a YA paranormal mystery in which the girl has a really cool ability and a great boyfriend and wonderful sister. Vee has absolutely no reason to be jealous, particularly when her boyfriend has given her no reason to be. I'm not sure that I picked up on the reasons for this jealousy to be included into the plotline. If it were lifted out, the story probably still flow.



***********************************************************
You guys, I feel bad for picking on main character Vee Bell so harshly. I rarely have such issues with a character. But I can't understand why it is necessary for Vee to be so very secretive about this ability that she has – she learned in the first book that IT DOESN'T WORK when she keeps it to herself. This time around, it really blew up and bad stuff resulted. True, it made for a more complex and interesting story, but had it not been such a big deal to me in the first book, I think I would have not held her so accountable to her actions in this book.
However I feel about Vee, I can't deny that I still think that Imposter has a fantastic premise and I LOVE that the sliding was changed up a bit with this sequel. In Slide, Vee was the one doing the sliding – she was the one entering the minds of other people – but in this book, it happens to her too. It is really cool to see Vee so vulnerable to this ability. She doesn't understand it very well to begin with, the how's and why's of being able to do it, etc. So when she figures out that someone else can, it just totally freaks her out. THEN when she begins to voice her suspicions as to who it is that is actually sliding into her mind, it becomes really interesting. Of course we don't actually find out who the mystery slider is until the end of the book,. and I have to admit that I was wrong in my guess! I did love the revelation and never would have suspected it. Never.
I'm so happy that Rollins is back as a big player in Imposter because I have liked him since the beginning of the series. He is a cool, cool guy with a cool story, and I'm SO GRATEFUL that the author pumped him up a big because this book wouldn't have been the same without him. I am not thrilled about Vee's jealousy surrounding the people in his life, but I think this has a lot to do with the fact that I am protective of male-female friendships in real-life and in fiction, and also because I wanted Vee to buck up and be a stronger character anyway. Rollins handled Vee's behavior very well and proved that he is the awesome character that I knew he was.
Imposter was a pretty good second book. I think it was about what I expected it to be. It was better than Slide – I mean, I read it pretty quickly and it held my attention. I have really no complaints about it other than about Vee's character. If another book is released in this series, I would really love to see some positive development in Vee. It's never too late!
*********************************************************
Imposter will appeal to fans of
:
YA Mystery/Thriller with Paranormal
Romance: No triangle.
Imposter by Jill Hathaway
will be available for purchase March 26, 2013.
**
I received a review copy from the publisher in exchange for an honest opinion and review. I received no compensation for my thoughts. Thank you Balzer + Bray!
*********************************************************
Has anyone read SLIDE yet?