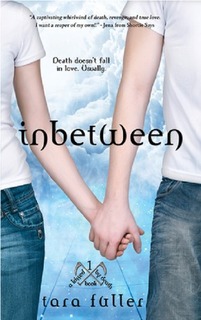 Inbetween by Tara Fuller
Series: Kissed by Death #1
Published by Entangled Teen
Publish Date: August 28, 2012
400 Pages
Source: Publisher

Find It: Goodreads / Amazon


Since the car crash that took her father's life three years ago, Emma's life has been a freaky — and unending — lesson in caution. Surviving "accidents" has taken priority over being a normal seventeen-year-old, so Emma spends her days taking pictures of life instead of living it. Falling in love with a boy was never part of the plan. Falling for a reaper who makes her chest ache and her head spin? Not an option.
It's not easy being dead, especially for a reaper in love with a girl fate has put on his list not once, but twice. Finn's fellow reapers give him hell about spending time with Emma, but Finn couldn't let her die before, and he's not about to let her die now. He will protect the girl he loves from the evil he accidentally unleashed, even if it means sacrificing the only thing he has left…his soul. (Goodreads)





My Thoughts: What a fun book! I want to read it again right now. Right now!
1. The Characters. Oh, I love these characters! Both the main cast and the supporting cast are so great. They are fun, lovable, and developed well. I was so invested in their story.


Emma. Survived the car accident that took the life of her father. Now feels like she is going crazy because she has recurring nightmares. Weird things happen to her and it is way too often that she barely escapes dangerous and deadly situations.
Finn. Reaper that saved Emma's life. Finn is drawn to Emma in a very strong way and even though it is strictly forbidden, he becomes emotionally attached to her. He spends his time – when he isn't reaping (aka collecting souls) – guarding her from another being that is trying to kill her.
Maeve. The Villain.

Maeve is a soul stuck in the Inbetween with a chip on her shoulder. She wants revenge for something that happened a long time ago and she'll do anything to get what she wants.
2. The Story. Finn is assigned to reap Emma's soul after she is involved in a car accident. When he gets to the scene, he feels a connection with her that keeps him from being able to do his job – it turns out that Finn remembers her soul from its past life, before she was Emma. Finn's friends – reapers Anaya and Easton – try to warn him that he is going to get into big trouble by saving/ protecting her. Finn knows that he is breaking big rules, but he can't help himself. At first, Emma doesn't realize that Finn barely leaves her side; she doesn't realize that Finn is the reason that she barely escapes death over and over and over. Eventually, Finn reveals himself to her and their relationship is born.

The story is told in alternating points-of-view (by Finn & Emma), which works so well for this book. It is important to see things from the eyes of both Emma and Finn because they belong to two very different worlds and their lives are so very different. The plot moves at a great pace and the story is a fun YA paranormal romance.
3. The Reapers & The Inbetween. The reapers are alerted to deaths as they occur. In groups of three, they go to the scenes, collecting souls to deliver to the places they will spend their eternities. Anaya, Easton, and Finn typically work together. Anaya collects souls that are bound for heaven, Easton collects souls that are bound for hell, and Finn collects souls that are bound for the Inbetween. The Inbetween is where souls go when they have yet to declare themselves a good fit for either heaven or hell, for lack of a better description – it's just a place in-between. There is further description of the Inbetween in the book, and it is an interesting take on reaping, angels/demons, or heaven/hell.
4. The Romance. It's obvious from the summary that there is a romance, and it is sweet. There is no love triangle and it is a pretty nice slow-burn. Forbidden love stories are sometimes some of the best ones, you guys.
*******************************************************
Inbetween by Tara Fuller is enjoyable from cover-to-cover. I found myself cheering for Finn and Emma even though I knew they aren't supposed to be together. The romance is forbidden and sweet, and I love the great lengths that Finn will go in order to protect Emma. He risks everything for the person he loves.
One of my favorite things about Inbetween is the story of Finn's life before he died. He was raised on a peach farm in the Southern US but left in his late teens to join the military, where he died in WWII. Even though Finn was no longer living, he still was haunted by memories of his life and he still grieved for the family he left behind. In this way, Finn is very much like a 'regular' guy and I love this about his character. Another thing I loved about Inbetween is the way that Emma experiences her life – she grieves for the father she lost in the car accident, which is a very normal thing. She also has some reservations about her mother having an active social/dating life after losing her father, which is also a very normal thing. Emma feels very self-conscious about her nightmares and the odd things that happen to her because of Maeve – as a result, she becomes very introverted. This is also something that I think is very normal. Basically, I love that even though this is a paranormal book, the main characters were created to be as normal as possible. It's a great mix of real and unreal.
The other characters – besides Finn and Emma – are all so important to the story. There are no fluffy characters and because of this, they are all fully realized. They each stand well on their own and tell their own parts of the story, and I love them all. I am excited to see them again in the next book of this series.
Inbetween has great pacing, a fun plot, and fantastic characterization. There is no cliffhanger and the ending is open for the author to continue the story for this group of characters. This is a fun, easy read – honestly, I am already less-than-patient for the next book. I recommend Inbetween to readers that enjoy fun YA paranormal romance stories.
Inbetween will appeal to fans of:

YA Paranormal Romance
Great Characterization
Romance: slowly developing with no love triangle

Stories with: reapers, reincarnation
No cliffhanger
Inbetween
by Tara Fuller
will be available for purchase on August 28, 2012.
**
I received a review copy from the publisher in exchange for an honest opinion and review. I received no compensation for my thoughts. Thank you Entangled Teen!
*******************************************************
The Kissed by Death Series: