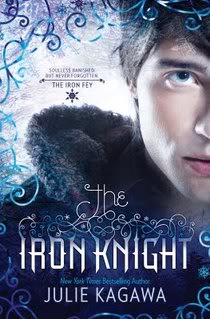 The Iron Knight by Julie Kagawa
Published by HarlequinTEEN
Publish Date: October 25, 2011
386 Pages
My Source: NetGalley
The Iron Knight by Julie Kagawa
My name—my True Name—is Ashallayn'darkmyr Tallyn.
I am the last remaining son of Mab, Queen of the Unseelie Court. And I am dead to her.
My fall began, as many stories do, with a girl… -(summary from Goodreads.com)
My Thoughts: I have enjoyed every word of The Iron Fey series. Julie Kagawa won me over within a few pages of The Iron King and I've been hanging on her words and the world she created from the very beginning. All of her characters are so fantastic and wonderful–the good ones and the not-so-good ones–and I have nothing but love for them all.
In The Iron Knight, Ash has a goal to accomplish. It's the hardest thing he has ever had to do, and failure could mean forfeiting his life. In order to complete this task, he is on a journey with his best friend/biggest enemy, Puck, and a few others to a place that he isn't even sure really exists. The journey is incredible. His travel companions are awesome. His obstacles are enormous. The story is amazing.
I knew when I started The Iron Knight that, unlike the previous three books in this series, it would be told from Ash's point of view. I loved Meghan's POV in the previous three stories, but I was admittedly a bit nervous about hearing Ash speak at length. Ash tends to be a bit different in his demeanor–a little less lighthearted, a little more frustrated and frustrating, and sometimes not as easy to get along with. He can even be a bit dark at times. I wasn't sure how his attitude would come across in the writing without changing the Ash that I was knew and absolutely loved. The author did a wonderful job, however, and proved that I should have just trusted her from the beginning. She took the characteristics of Ash that made him so very Ash and used them as building blocks to highlight his emotions and determination in this last book and make them only bigger and more. Without Ash being who he has been for the previous three books, he wouldn't have seemed quite as fiercely determined to meet his ultimate goal and risk everything. I realize now, after a re-reading, that Ash's drive and determination and ferocity and attitude are what made The Iron Knight so incredible for me.
In the first three books of the series, the author created incredible characters and an amazing world that I completely escaped to while I was reading. I could visualize the Nevernever and each faery creature, and world-building like this is the very reason I love to read. In The Iron Knight, the setting was expanded with an increase in landscape and more faery creatures for me to visualize. It was truly a reader's dream.
The Iron Knight is a great finale to a superb series. I cannot say enough great things about this book and the series as a whole. I am sad to see the story come to an end, but I am happy that I saw it to completion.
I've said it before and I will say it again: I recommend these books to readers everywhere. Readers of fantasy will love this series in particular. If you love excellent world-building, this is the series for you! If you love stories with talking animals and flying machines and beasts that spit fire, look no further. The Iron Fey series is absolutely one of my favorite series of all time. I'm very excited to see what Julie Kagawa imagines and writes for us next.
*I received a copy of this book from the publisher via NetGalley in exchange for my honest thoughts and opinions. I received no compensation for my review. Thank you HarlequinTEEN!