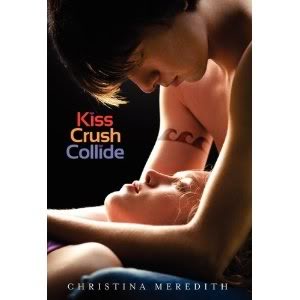 Kiss Crush Collide by Christina Meredith
Published by GreenWillow Books
Publish Date: January 2012
336 Pages
My Source: Borrowed
Kiss Crush Collide by Christina Meredith
Leah has the life most high school girls would kill for—popularity, glowing grades, a rich, athletic boyfriend. So why does she feel like she can't breathe? And why can't she stop thinking about the boy from the country club? The one who isn't her boyfriend, the one that her mother would never, ever approve of, the one that her perfect older sisters would never, ever look at twice. The one who is always looking back at her. Irresistible attraction, smoldering glances, the bad boy and the good girl—Kiss Crush Collide has everything that a steamy forbidden romance should, and then some.
With graceful and honest writing and an electric love story, this is a book about growing into your own skin. For fans of Perfect Chemistry, Sarah Dessen, and John Green. -(summary from Goodreads.com)
My Thoughts: Kiss Crush Collide is a contemporary YA romance that I read in one day and enjoyed quite a bit. It was fun and engaging, but there are a few things I wish were a little bit more developed. In my opinion, there were three main storylines in the book that I'll mention here and talk about a little bit:


1. Leah & Porter. Leah is so lucky – she's beautiful, popular, and rich. She's got a super hot boyfriend (Shane) who is captain of the football team. But Shane doesn't make her eyes sparkle anymore. One night, Leah meets Porter (who works at her parent's country club) and she immediately sees fireworks. They sneak off and have a heavy make-out session, and it's insta-love for Leah. I mean, the girl is smitten with this boy. Leah keeps sneaking around with Porter the crush during the day and seeing Shane the boyfriend at night – and amazingly she is able to keep them both from finding out about each other…until one day when Porter spots Leah getting out of Shane's car. Now Leah knows she has to make a choice…


2. Leah & her family. Leah is so pitiful – she's the youngest of three sisters. Yorke and Freddie are gorgeous and ridiculously smart. They get everything they want, and Leah always gets the leftover hand-me-downs. Leah's life is planned out for her, and it is an exact replica of the lives Yorke and Freddie have chosen. Why can't everyone see that Leah wants to be herself? to make her own choices? Leah's mother is the worst of all. She's always in a bad mood and is taking it out on Leah. Why is she so hard on Leah? And why is she pushing so hard for Leah and Shane to stay together? Can't she see that Leah wants to be with Porter?


3. Leah & Valerie. Leah is so annoyed – she and Valerie used to be best friends, but that was before Leah moved to the bigger house in the better neighborhood, and Valerie became so smart. Now, they've drifted so far apart it is hard to even remember a time when they were ever close. Valerie studies all the time and wants to be valedictorian, but Leah's mother will settle for nothing less than Leah taking the top honor. Leah spends her days as a lifeguard wondering why on earth Valerie spends her summer days poolside doing required summer reading and wearing ridiculously unfashionable swimwear and accessories. But…when Leah needs a friend…wonder who is there?


Kiss Crush Collide is exactly what the summary says it is: "an electric love story." The idea of the story is a good one, and I found myself drawn to and connected to the characters. However, while I think the focus of the story is supposed to be the romance between Leah and Porter (which is sweet and forbidden, and I love it)…I think the focus of the story actually is mainly the relationships between Leah and her family members…


…which is not all bad. I think the story between Leah and her sisters is wonderful and very true-to-life. And I feel the same way about the relationship between Leah and her mother. I just feel that if the story is supposed to be about Leah and Porter, I'd love a little bit more about the two of them. For example, I'd love to know more about Porter – maybe more of his back story or an alternating point-of-view.


I liked Valerie. Poor gal! She took a licking and kept on ticking. Leah was mean to her so many times throughout the story, but Valerie never really gave up on Leah. There are several places in the story where Valerie really comes through for Leah – showing Leah a particular kindness – when she didn't really have to. Not only that, but I admire Valerie's sense of style – which sounds pretty quirky by description throughout the story – and the fact that she is an avid reader. Bookish people in books are usually among my favorite characters.


I have seen some of the early reviews of Kiss Crush Collide and they are very mixed, but I don't particularly agree. I think that this is a good book. I am wondering if this book is hurting in the reviews because of the comparison to Perfect Chemistry?…


I recommend Kiss Crush Collide to fans of contemporary YA books and to fans of YA romance. If you're looking for a quick, fun book to read, consider picking this one up – I was easily able to read this in one day. I'd definitely recommend this book for older YA readers, as there are a few parts in there that are a bit more mature. But that is probably pretty evident by looking at that cover, no? It's pretty saucy. 🙂


*I borrowed this book as part of Around The World Book Tours in exchange for my honest thoughts and opinions. I received no compensation for my review.