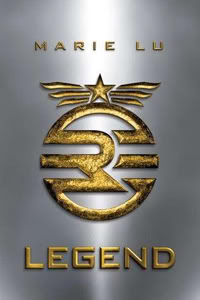 Legend by Marie Lu
Published by Putnam Juvenile
Publish Date: November 29, 2011
336 Pages
My Source: Borrowed
Legend by Marie Lu
What was once the western United States is now home to the Republic, a nation perpetually at war with its neighbors. Born into an elite family in one of the Republic's wealthiest districts, fifteen-year-old June is a prodigy being groomed for success in the Republic's highest military circles. Born into the slums, fifteen-year-old Day is the country's most wanted criminal. But his motives may not be as malicious as they seem.
From very different worlds, June and Day have no reason to cross paths – until the day June's brother, Metias, is murdered and Day becomes the prime suspect. Caught in the ultimate game of cat and mouse, Day is in a race for his family's survival, while June seeks to avenge Metias's death. But in a shocking turn of events, the two uncover the truth of what has really brought them together, and the sinister lengths their country will go to keep its secrets.
Full of nonstop action, suspense, and romance, this novel is sure to move readers as much as it thrills. -(summary from Goodreads.com)
My Thoughts:
Legend is an upcoming young adult dystopian novel that is set in a futuristic California. Compared to other dystopian stories, the government in Legend is doing some really awful things

(in my opinion)

and the story stands out in that way. Marie Lu created a sombering and believable world with really great characters, and this is a book that I can stand behind.
Let's talk about Legend in terms of the protagonists, because they are awesome.
1. Day. Day is a great and lovable protagonist – one that I was drawn to and sympathized with from the start. He is the nation's top criminal, but is ever-elusive. The government can't seem to catch him. In fact, they don't even know what he looks like…they only have fingerprints. Day is intensely loyal and loving to his family and friends. Because of his rob-from-the-rich-to-give-to-the-poor tendencies, Day has become a reluctant hero to the outlying masses. He even steals medication from hospitals in the city to give to the poor infected in the slums. Day became a criminal when he mysteriously failed the Trials and ran away, which was odd because he really thought he was smarter than that…
2. June. June is one smart cookie! She is young and athletic and grew up in a world opposite from Day. June is the only one in the Republic to earn a perfect score on her Trials. Because of her serious smarts, June started University before she was even a teenager, at the tender age of twelve. Because of her age, June gets herself into trouble frequently by being mischievous and pulling tons of pranks. June's story turns serious when her brother, Metias, is murdered. Metias holds a high position in the government. (Metias raised June after the mysterious death of her parents, who also worked for the government.) When Metias is killed, June is promoted to help find his killer. Her skills are second to none, so she seems the best choice to locate Day, as he is the top suspect for the murder. When June finds Day, she realizes that the government may be mistaken…this guy can't be a criminal, can he? He seems so genuine and so caring…Soon sparks fly and there are feelings. The more June learns about Day and the Republic, the more she begins to question her loyalties.
After Day and June find each other, the story is quite fast-paced and very exciting. I found myself turning the pages faster and faster to find out what would happen, particularly to Day. There are some scenes that are really intense and almost hard to stomach — not in an entirely gruesome way, but in a "shocking/I-thought-the-government-was-FOR-the-people" kind of way. In this book, we get to see what it looks like when the government lies to their people, and it is very uncomfortable. BUT that is what makes this book so spectacular.


These characters are wonderful, well-developed, and so much fun to read. There are also some supporting characters that are truly great (in particular, a friend/sidekick of Day's named Tess). The villains are wonderfully horrible — I mean, I just loathed them, and with good reason. There is also a budding romance, but don't roll your eyes! It is sweet and it adds to the story, but it never overpowers and leaves plenty of room for development in later installments. Also, the story is told in alternating points-of-view, which I think only serve to add to this story rather than detract from it. The POV's complement each other very well and are seamless in structure. Ultimately, I cannot foresee any confusion from these alternating POV's, even for readers who tend not to favor this type of storytelling.


I would like to also mention — for those of us who love the look of a book — that the borrowed ARC that I was reading used gold print inside of the book. Little touches like that really set a book apart, in my opinion. I have not seen a finished copy at this time, but the finished copies will be just as stunning, I'm sure. Certainly worth checking out, at any rate.


I recommend Legend for any fans of YA dystopian.


*I borrowed this book as part of Around The World Book Tours in exchange for my honest thoughts and opinions. I received no compensation for my review.