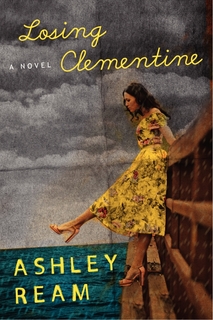 Losing Clementine by Ashley Ream
Published by HarperCollins
Publish Date: March 6, 2012
320 Pages
Source: HarperCollins/TLC Book Tours
World renowned artist and sharp-tongued wit Clementine Pritchard has decided that she's done. After flushing away a medicine cabinet full of prescriptions, she gives herself thirty days to tie up loose ends—finish one last painting, make nice with her ex-husband and find a home for her cat. Clementine plans to spend the month she has left in a swirl of artworld parties, manic work sessions, and outrageous acts—but what she doesn't expect is to uncover secrets surrounding the tragedy that befell her mother and sister. In an ending no one sees coming, will we lose Clementine or will we find her?
-(summary from author's website)
Losing Clementine by Ashley Ream


My Thoughts: I knew going into this book that Clementine was contemplating suicide – even going as far as planning it out meticulously. I found myself very caught up in the countdown of days, 30 to be exact…and as her ending approached, I was very curious as to whether Clementine would stick to or plan or not.


Let's talk about Losing Clementine for a moment:


1. The Characters:
Clementine: A manic-depressive yet vibrant and wildly talented artist. Clementine has decided that she is tired of living under the weight of all of her daily medicines, so she stopped them all, and she feels GREAT! Well, she feels great most of the time – until she has "black days." During these days she literally doesn't move for blocks of hours at a time, even going without eating or getting up to use the bathroom. Clementine has gone to great lengths to make sure that her death will go off without a hitch, inconveniencing everyone as little as possible. Losing Clementine is a telling of how she uses her last thirty days to tie up loose ends in her own way. ~ I loved Clementine as a character – how developed she was despite making a few stupid and rash decisions, decisions that I can't understand because my mental health is not in the same shape hers is. She even made me laugh quite a few times.
Secondary Cast: There's a great secondary cast to support Clementine and help build her story, including ex-husband Richard (who I really liked), her assistant Jenny (I still haven't decided it I really like her or not.), and her father Jerry Pritchard (who I didn't like at all). There are others as well. None are as developed as Clementine, of course, because this is her story, but they each added depth and supported Clementine's character (without even really knowing her secret), and I appreciated that as a reader.
2. The Story. Losing Clementine is an adult contemporary fiction novel that tackles a really tough subject, I think, but in a unique way. We know from the beginning that Clementine is through with living life and is ready to end it – and we know that we are going to read about her final thirty days, so hopefully we're prepared for that. The way the author chose to write this particular story was interesting – a bleak and dark subject matter written with some humor and bright color. It's strange, really, that I almost found myself rooting for Clementine to accomplish her goal of ending her life rather than seeking out help – which is totally opposite of how I would be in real life. This really showcases the talent of this particular author – that she was able to fully immerse me in the life and mind of Clementine so well that I was living life in her messed-up and odd little world, and cheering for her in a weird sort of way. After having finished the book, it sort of feels a little weird to admit that to everyone, but I mean it as completely complimentary to the author.
3. The Structure. I loved the way Losing Clementine is set up, as a final countdown. Each chapter represents one day in the countdown towards Clementine's last day, starting with the first chapter labeled as "30 Days." As a reader, the closer and closer I got to her final day – despite being a bit apprehensive just in case she went through with her plans (because I had grown attached to her) – I read faster and had to know if she was really gonna do what she intended.
4. The Cover. I was drawn to a beautiful cover yet again, everyone. This cover art is eye-catching, with the mixture of yellow and gray and teal blue, and I feel like the picture represents the story well. Great job.
5. The Ending Does Clementine go through with her plans? Or not? After becoming attached to her character and becoming invested in her story, was I happy with her choice? Well, I had to read the ending twice to make sure I had it right the first time…I'll leave you all with that…


I really liked Losing Clementine and would recommend it to other adult fiction-loving readers. I might even recommend it to older young adult readers who tend to love books with issues. I would tend to caution readers who have had to deal with suicide issues in their life or in their family because there are certainly instances in the book that might trigger some painful memories for them.


Despite the dark underlying subject matter, I think the author was able to write this book so that it was much more lighthearted, bright, and humorous than I initially thought it to be. I enjoyed reading it quite a bit and often found myself laughing or smiling at Clementine and some of the crazy things she did. On the other hand, there were also a few times that I did nearly tear up when she would have manic episodes or "black days" and I would have to experience those times along with her…


Ultimately, Losing Clementine is an emotional read and a very interesting book. I found Clementine to be a very quirky, real, and complicated character – much like a real-life person who carries issues very similar to hers. Even so, I loved her and was able to quickly connect with her through her humor and her antics, and I feel that other readers will be able to connect with her as well. I would recommend this book for older YA and adult audiences due to content.
Losing Clementine will appeal to fans of:
Adult Contemporary Fiction
Stories with Issues/Mental Illness
Character-Driven Stories
Stories with Art: Painting
Losing Clementine by Ashley Ream
is currently available for purchase.
**I received a review copy from the publisher in exchange for an honest opinion and review. I received no compensation for my thoughts. Thank you HarperCollins and TLC Book Tours!
***FYI: Book Club Girl will be
interviewing Ashley Ream on April 10 at pm EST HERE!***