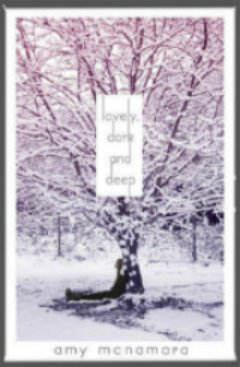 Lovely, Dark and Deep by Amy McNamara
Published by Simon & Schuster Children's Publishing
Publish Date: October 16, 2012
352 Pages
Source: Publisher

Since the night of the crash, Wren Wells has been running away. Though she lived through the accident that killed her boyfriend Patrick, the girl she used to be didn't survive. Instead of heading off to college as planned, Wren retreats to her father's studio in the far-north woods of Maine. Somewhere she can be alone.
Then she meets Cal Owen. Dealing with his own troubles, Cal's hiding out too. When the chemistry between them threatens to pull Wren from her hard-won isolation, Wren has to choose: risk opening her broken heart to the world again, or join the ghosts who haunt her. –(summary excerpt from Goodreads)

Lovely, Dark and Deep by Amy McNamara

My Thoughts: I wasn't sure what to expect when I grabbed Lovely, Dark and Deep out of my pile and decided to read it. The press release told me that Debut Author Amy McNamara is a writer with a special interest/degree in poetry, so I expected some nice language. What I got: some really, really nice language and a story that I loved.

I fell in love with this book within the first few pages.
I am a sucker for someone who writes beautifully.
*******************************************************

From the summary, we learn that Wren Wells has suffered a major loss: her boyfriend Patrick. The two were involved in a car accident – he died, she survived. As a result, Wren walked away from everything and pretty much never looked back. She hasn't yet had closure with Patrick's death, with his family, with what happened. She hasn't had closure with the details of the accident, which haven't been made public. Wren has moved from her big-city life with her mom way up to Maine to live in her father's secluded home. With her father working odd hours as an artist – and traveling frequently – it is super easy for Wren to lose herself in her grief. Become silent. Let the silence drown her and bury her. For Wren, losing herself this way – running away from everyone – is the only way she can cope with things. Oddly enough, it isn't actually coping. Basically, Wren is a hot mess and everyone knows it but her.
Then Cal Owen accidentally enters the picture. This annoys Wren in massive ways. How dare Cal come up into her life and threaten her solitary ways, her grieving process, the way she buries herself in silence?! How dare he actually take an interest in her? Call her on the phone? Come by and see her? Make her feel things? After all, Wren doesn't deserve to feel things after what she's done to Patrick, right?
Wren wrestles back and forth with her grief and guilt over Patrick's death and the new and confusing feelings she has for this guy, Cal. When she finds out that he has a struggle, a secret, an issue of his own – things change a little bit and Wren begins to have not only feelings but an odd interest in him. Out of this interest and these feelings grows the chemistry that is spoken of in the summary. And it is intense and lovely.

*******************************************************

There is so much I could say about
Lovely, Dark and Deep
. Right away, the language and writing style stood out to me.
Amy McNamara uses not only full sentences to make her points, but phrases too, which I love for this particular character.
Wren Wells is a young girl that has spent a part of her grieving process sort-of selectively mute, choosing to remain quiet and not talk. Wren's words are sometimes choppy at best, and her thought processes are choppy much of the time. Despite choppy thoughts, the language in this book is easy and flows so well. Since I speak and write much the same way, I
very much
enjoyed this change in pace from most of the rest of the YA market.


Wren Wells is a tricky character but I find that I fell for her and wanted her to overcome her tragedy in the biggest way. Grief is such a personal thing, and everyone is different in how they handle it. Wren's grief is thick and obvious and reading it is like trying to get through quicksand at times – at times, it was so sad. But…that is what I loved about this book: the author's ability to make me feel what Wren was feeling. When she was down, I knew it. When she was confused, I knew it. When she was feeling hopeful, I was feeling hopeful too and I was cheering for her. In the beginning of the book, Wren was nearly hopeless and in what seems to be some of the deepest stages of mourning. But over the course of the book, Wren has some character growth and progression. By the end – while not fully recovered – Wren's progress is remarkable, and this is positive and hopeful and left me wondering about her even after I closed the book.


Cal Owen is a different young man, and his story is so very interesting. The summary states that he is dealing with his own problems, and these are revealed to us a little at the time. By the time I realized the full extent of his issues, I had fallen for Cal as a character and was invested in his chunk of the story as much as I was in Wren's. Cal approached things and handled things so differently than Wren, which sometimes caused some tension, but it made the story so life-like and real. Real people are just that way, you guys!


I love the way Wren and Cal complemented each other and were written with that great chemistry. These were two characters that kept me, the reader, at arm's length at times when they were acting individually, but eventually there was hope to be found in the way they resolved their stories. I enjoyed them so much together because there was so much hope there, when they were together. I only wished this book was a little longer so I could know a little more from this resolution, particularly from Cal's story.
I assume the secondary characters were placed to move Wren and Cal along in their story and they did this well. They added to the story, but only some of them really stand out to me. There are some changes that have to be made by the people that surround Wren so that Wren can come out of her deep grieving cycle or depression, and it takes like Cal and one or two others to help her along with this. Ultimately, this book is one that could absolutely be true to the lives of each of us – these could be people we know.
I think it is profoundly written without unnecessary dialogue, with an ease of language, with descriptive phrases.
I absolutely loved this book and had a hard time putting it down to do things I needed to do in my life, like eat. And drive. Simply stated, I want more books written this beautifully on my shelves.
I recommend
Lovely, Dark and Deep
to fans of YA contemporary with romance and beautiful, poetic language. Additionally, people who have had a hard time grieving the loss of someone may find some comfort in this book, even though I do not think this is an extremely heavy-issues book. It is just purely lovely and a wonderful debut.

Lovely, Dark and Deep will appeal to fans of:

Beautiful, Poetic Language
Romance: Slowly developing, No triangle
Great Setting – Wooded, Secluded Maine
YA Contemporary with Issues: Grief

Lovely, Dark and Deep by Amy McNamara
is currently available for purchase.

**
I received a review copy from the publisher in exchange for an honest opinion and review. I received no compensation for my thoughts. Thank you Simon & Schuster Children's Publishing!

************************************************************
Is Lovely, Dark and Deep on your TBR?
What are some of your favorite
"beautiful language" books?
I LOVE BOOKS LIKE THESE.