Today is my stop on the




Brightest Kind of Darkness


Official Blog Tour!
I read and LOVED Brightest Kind of Darkness by P.T. Michelle back in March of this year. I loved the story of Nara and her special ability. I loved the characterization and the interesting and new mythology given to paranormal fans by P.T. Michelle. I loved Ethan. I loved the romance between Nara and Ethan – the slow progression of the relationship from friends to more than friends was perfection to me.
(You can read my thoughts on
Brightest Kind of Darkness
HERE
.)
**************************************************************
Today, I want to share some of my thoughts on Lucid, which is the next installment in the Brightest Kind of Darkness series.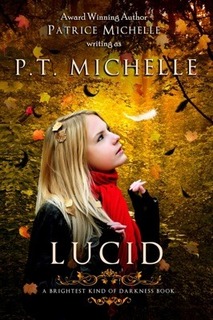 Lucid by P.T. Michelle
Series: Brightest Kind of Darkness #2


Publish Date: July 9, 2012




Source: Review copy from Author!

Thank you!



Once Nara combines her prophetic ability with Ethan's power to outsmart Fate at his own deadly cat-and-mouse game, she's more determined than ever to help Ethan learn the meaning behind the raven sword tattoo that suddenly appeared on his back after their confrontation with Fate.





During her quest to uncover the tattoo's secrets, Nara enlists the help of some new friends and discovers her own surprising connection to Ethan.

While Nara digs deeper into the mystery, her desire for answers leads her down a dangerous path full of powerful and ruthless enemies. Swept into an age-old battle, Nara quickly learns that keeping one's enemies close can be a necessary evil, making an intangible enemy she can control far more preferable to the human enemies she can't. -(summary from Goodreads)

Lucid by P.T. Michelle
My Thoughts: GOOD GRACIOUS, P.T. MICHELLE! YOU'VE DONE IT AGAIN. WELL PLAYED. I can't sing my praises for these books enough.

In Brightest Kind of Darkness, we met Nara Collins and were introduced to her super-neat abilities to see the events of her tomorrows through her dreams. She was fierce, flawed, and awesome and I really liked her. We were also introduced to Ethan Harris , who was the typical YA loner: the dark and mysterious guy that kept to himself and didn't have many friends. It turns out that Ethan had some abilities too, and when paired with Nara the two made an awesome pair. They initially formed a reluctant friendship that progressed slowly into a great romantic relationship, and I loved them as a couple as Brightest Kind of Darkness draws to a close. The book ended with me hanging on the words of the author and grasping for more until the story was finished.
I felt like I was ON HOLD until Lucid came out and was OVERJOYED when it finally did!!!

Lucid dives deeper into the world of Nara and her abilities to see the future. Right away, we find out that Ethan isn't present because he is on an extended trip visiting his parents – not to worry, though, the two are still very much a romantic couple. It was not surprising to me when new characters were introduced – namely Drystan – who tends to become a triangle-like focus for Nara in Ethan's absence.
I like newcomer Drystan. He is interesting and he has special abilities of his own, so it seems natural for him to gravitate towards Nara. Not surprisingly, he is written very well and is likable as a character. I liked his addition to this series and although I'm one of the big-time fans of Ethan, I can see Drystan's strong points.
As far as Ethan goes, I'm not sure I really know what is going on with him. I don't think we're supposed to know yet which is excruciating but also OH SO GOOD. He seems to be a little different than before we left, but I love how dark he is. I'll admit that I like really Nara and her background, but I'm more fascinated by Ethan's story and mythology. So I'm ONCE AGAIN hanging on to find out what happens next.
**************************************************************

Just as in Brightest Kind of Darkness, P.T. Michelle has WOW'd me with another edge-of-my-seat book that I devoured. I fully expected this. I find myself in the same position as before: absolutely having a fit, breathless even, to get my hands on the next book and find out what is up with Ethan (and Nara and the rest of them. But mostly Ethan – I won't lie.).

P.T. Michelle has written a series that is different than other stuff that is out there – the mythology is different, and the story is new. The characters are developed well, and there is plenty of action. This is a series that you will want to read. I told you guys before that you needed to trust me on this one, and I'm saying it again. Lucid is just as great as Brightest Kind of Darkness – it is an excellent extension of the story. You better believe I will have my hands on a copy of the next book as soon as I can.

I recommend this series to fans of paranormal romance and guys with tattoos.

Lucid will appeal to fans of:

Paranormal Romance
Great Characters
Swoonworthy Romance: Love Triangle?
Plenty of Action!

Tattoos
(of course)
Lucid by P.T. Michelle
is currently available for purchase.
**I received a review copy from the author in exchange for an honest opinion and review. I received no compensation for my thoughts. Thank you SO MUCH P.T. Michelle!
**************************************************************
GIVEAWAY!

10 ebooks of
BKoD/Lucid (INTL)
1 SIGNED paperback of Brightest Kind of Darkness (US ONLY)
*This giveaway was premade, but not by me!
Good Luck!