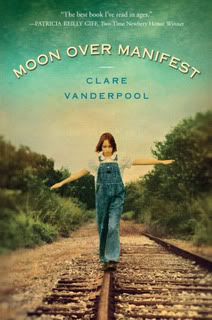 My Thoughts: 12-year-old Abilene Tucker has spent her entire life traveling with her father, Gideon, as he worked on the railroad. But suddenly he has sent her to Manifest, Kansas to live with Pastor Shady Howard, and she does not understand why. Abilene is a little heartbroken and misses Gideon terribly, but she clings to the day at the end of the summer when he will come and get her and take her back home with him.
When I read books that are this well-written, I have a hard time knowing what to say to people. All I really know how to do is recommend the book. But somehow I don't really feel like that is enough. Clare Vanderpool has written her first novel in Moon Over Manifest, and somehow she managed to snag the 2011 Newberry Award for excellence in children's literature. So, right away that tells us that there is something special about this story.
Each of these characters are so unique, so special, and so real that I feel like I now know them. Ms. Vanderpool has not only made them believable to me, but she has made me so emotionally attached to them because of their stories. Quite a few of the townspeople from Manifest, Kansas are immigrants to the United States from other places, and through the reading of this book I was able to gain perspective of what it must have been like for those people to uproot, risk everything, and come here to America to live during the early 1900's. Through her words, I visualized the hardships, the emotions, and the prejudices that they went through. And I totally fell in love with them all…the nice ones and the mean ones.
I have read stories with multiple narrators in the past and I have found myself a bit confused at times. Considering that this story starts out in 1936 and finds its way to 1918, and then switches back and forth, there is the potential for confusion. Not in this case, however. Not only did Ms. Vanderpool make the transition between narrator and time smooth and easy to manage, but the publishers did as well as they made different fonts for the different settings of the story. In addition to the different settings in time, the narration changes between several different characters and a newspaper article.
There are several important things to be taken away from my thoughts on this book:
Abilene Tucker may be a twelve-year-old little girl, but she is one tough cookie. She is going through a lot at this point in her life. She has lots of questions, and she intends on finding the answers. I love, though, the patience in her persistence. I think I could stand to learn a few things from this child, and that is one of the reasons I am so glad that I read this book. (Abilene could possibly show up on my 'favorite book character' lists in the future.)
Please, please, please don't count out a book because it is labeled as a children's book. This book is an absolute gem. It is written for middle school-aged readers, but there is plenty of substance in there for us big people. I have read reviews from people way older than me that loved the way Ms. Vanderpool helped them to reminisce about these times, and I have read reviews from people closer to my age that are thankful that young people are reading enjoyable books with plenty of historical content inside of them.
I believe that this book has the potential to end up on required reading lists in public school settings, if it is not already. My children are a bit too young still for me to be 'in the know' about the required reading in schools these days, so I can't speak on a basis of absolute knowledge. In my opinion, however, this would be a great selection for classroom enhancement or discussion.
Would I recommend this book? Absolutely. To everyone. I spent my Mother's Day reading it in peace, thanks to my husband and children. It was glorious. It is a splendid book and I think Ms. Vanderpool did an excellent job with her first novel.