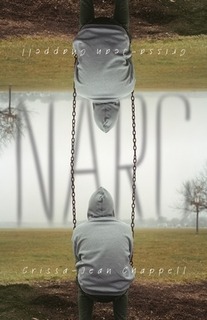 Narc by Crissa-Jean Chappell
Published by Flux Books
Publish Date: August 8, 2012
288 Pages
Source: NetGalley/Flux


"You're going to hate me forever when you learn my secret."

Seventeen-year-old stoner Aaron Foster was offered a choice: go to jail or turn undercover narc to find the dealer who's funneling drugs into Miami's Palm Hammock High School. But Aaron has never been good at getting close to people. He's human wallpaper, a stoner wastecase who's obsessed with video games and street magic.

With a cop from Narcotics breathing down his neck, Aaron gets himself invited to parties where the deals go down. To get close to the school's biggest players, Aaron lies to everyone–most of all, the cute but troubled Morgan Baskin. With the Everglades party on Halloween night–and a planned drug bust there–just days away, Aaron realizes that he's falling hard for Morgan . . . and trying to protect her could cost him everything. –(summary from Goodreads)

Narc by Crissa-Jean Chappell


My Thoughts: I've had my eye on this book since I first saw it. Not only is the cover so interesting, but I was captivated by the line in the description:
"You're going to hate me forever when you learn my secret."
Narc started strong, getting straight to the point of the story, and that very line stayed present in my head the entire time I was reading. (I have learned since reading Narc that I could talk on this book for a very long time because I liked it so much. It's always hardest to write about the books I like the most, but I'll try!)

1. Aaron Foster. Aaron is our male leading character and he is incredible. To start the story, Aaron is pulled over in his truck for running through a red light. While being questioned and searched by the policeman that stopped him, his much younger sister Haylie is found to be in possession of some drugs. The cop gives Aaron some tough options, leaving Aaron with the dreaded choice task of becoming an informant at his high school, dubbed "The Pharmacy." Aaron is fingerprinted and photographed, given a file, and given an assignment: gather information to help the police catch the guy supplying the drugs to the students at Palm Hammock High School. To do this, he'll have to get out there and mingle with the crowd – meaning everyone – and see if he can figure out who is running the drugs into the school.

Aaron has a development, a shift, a change from the beginning of the book to the end of the book. I always love this with characters, when they are able to make changes. Aaron is no exception. He starts the book almost-cowardly, like an invisible person, riding around on his skateboard and learning magic tricks by himself for fun. By the end of the story he has made some friends, found some confidence, and become more of a leader within his family. He made what I consider a remarkable change, but it took something tremendous to get him there.

2. The Secondary Characters. The other characters in Narc – both the good guys and the bad guys – are all so great, so excellent. Aaron starts hanging around a couple of the more popular girls, Skully and Morgan. The more he hangs around them, the more information he learns. And…it's quite possible that Skully and Morgan could be in on the supplying. He learns what he can from them, careful not to give them away, all the while knowing that protecting them could get him in even more trouble than he is already in.

There's Finch – he might be a dealer, he might not be a dealer – I was back and forth for most of the book on whether I liked him or despised him as a person because he is so real and almost cool at times – as a character, I loved him. There's little sister Haylie, the train-wreck waiting to happen. I could almost see the wheels turning in her head, just wanting to be rebellious and yet acting so innocent like girls her age often do – wanting and needing attention. There is Aaron's mother who works so hard as an adult nursing school student, trying to provide a better life for her children since their father has been killed not too long ago. These characters are so excellently written, so developed, it was almost like watching them in a movie instead of reading them. I feel like I know what they look like, how they walk, what their voices sound like. I love every single one of them.

3. The Story. Aaron is supposed to be getting closer to these students at school in hopes of finding the supplier. The police tell Aaron that he should not worry with hanging out with the rejects, but he should hang out with the cooler kids because they are the ones who would have the connections with the shot caller. The interesting thing about this – and this is not a spoiler – is that Aaron has spent his life blending in, being a wallflower, not being part of the in-crowd. Suddenly he's thrust into the world of parties and beautiful people…he struggles to not only cope with that, but report his findings to the cops and keep everything secret – not only secret from all of the students, but he doesn't want his mother and sister finding out what he is doing. He wants to protect his mother from this because she has enough to deal with and he doesn't want any drug dealers hurting his family to get back at him.

4. The Setting. Miami, parts of Florida. This isn't the Miami that the rest of us see on television, friends. This side of Florida is raw and gritty. It's graffiti and inner city and small neighborhoods. It's also on the water and big, rich houses and parties in the swampy Everglades. The setting is so real in this book – it's visual, it's audible, and you may even be able to smell it. Such a great job. Love this setting.

5. The Writing. I love the writing style the author has used because it isn't too much or too little, but just the write amount. What I mean is that she tells her story, she uses the right words, and it isn't too fluffy. There is no filler or unnecessary talk. The story is told through Aaron's emails, his dialogue, and his thoughts and we all know that young males aren't known for being stereotypically expressive in an exaggerated way. Because of this, I think, every word is strong and pertinent and needed, and it just felt like it was right. The language is perfect and makes for a believable narrator in Aaron.

6. The Romance. Aah, the romance. Aaron finds himself in a bit of a jam because he lets himself get too close to one of the girls he is supposed to be watching. On one hand, he is feeding information to the cops. On the other hand, he is spending time with this girl and falling for her in the process. It is gut-wrenching to read how Aaron struggles with this because he really and truly struggles with what to do: tell or don't tell? Telling on Morgan could mean losing her but not telling means that he could get in trouble, go to jail, or even put his family in danger. This is a lot for someone Aaron's age to cope with on top of falling in love. His feelings for this girl are strong and very present. And they make for an incredible part of this story.

7. The Cover. I love it. It represents the story and Aaron so well.

***************************************
Narc is a story for those of you who love 1) male leading characters and 2) "issue contemps" with a little bit of a romance thrown in. This story is one that I read and then I thought on for a few days, taking it all in. I couldn't stop thinking about Aaron Foster. I still can't. There were times when I read through and it was easy reading, and then there were times when I was really nervous for Aaron and the situations he was getting himself into.
There are a ton of emotions in this story – each character has them. Every character is perfectly written, perfect in their part – whether good or bad. The story is scarily realistic and the setting is realistic as well. This entire book read like a movie in my head, and I LOVE LOVE LOVE when books do that.
Narc is ultimately the story of a boy that got into a little bit of trouble while trying to protect his younger sister, and then he spent the rest of the story trying to protect the rest of the people he loved. He made some friends, he made some mistakes, and his decision in the end set the course for the rest of his life. Along the way, he changed as a person for the better.
Narc is one of my favorite contemporary books from this month-long event and I'm thrilled to have gotten the chance to read it.

Narc will appeal to fans of:
YA Contemporary
Male Leading Character
Stories Containing Issues: Drug Trade,
Family Issues
Romance: No triangle, slow-burn
Narc by Crissa-Jean Chappell
will be available for purchase on August 8, 2012.
**I received a review copy from the publisher in exchange for an honest opinion and review. I received no compensation for my thoughts. Thank you NetGalley and Flux Books!


**********************************************
What do you think, guys?
Will Narc make it to your wish list?
I absolutely loved it!
**********************************************
Look for my
Interview with Author Crissa-Jean Chappell
&
Signed Narc Swag Pack Giveaway
in the following blog post!