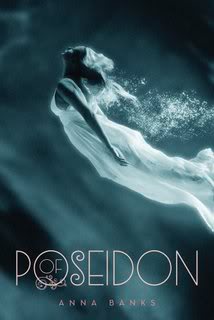 Of Poseidon by Anna Banks

Published by Feiwel & Friends
Publish Date: May 22, 2012
324 Pages
My Source: Borrowed
Emma and her friend Chloe are spending vacation in Florida. When Emma (literally) runs into a hot guy named Galen on the beach, little does she know he's a prince of the Syrena. Galen and Emma both feel something strange – is it attraction? – and Galen suspects that Emma might well be the girl he's heard of – a human who can communicate with fish. What follows is a deadly scene with a shark in which Galen witnesses Emma's gifts. He must know more about her, and follows her back to New Jersey, and high school, to find out for sure if she's the key to saving his kingdom. Soon, Emma can't deny her feelings for him, but can't explain them, either – and both she and Galen must learn more about where she comes from and what her powers are before they can trust one another and their feelings. –(summary from Goodreads.com)


Of Poseidon by Anna Banks


My Thoughts: Okay, guys, so I read Of Poseidon in the blink of an eye…it was a quick, fun read in a short amount of time. It seems like lately a few books about mermaids have found their way to me and they're all so much fun. Of course, this means, too, that I have thoughts – as always. And, as always, I want to share them with you all.


Let's talk about Of Poseidon, shall we?
1.
The Characters
. There are a bunch of them, and they all have…things about them. To save us all some time, I'm gonna talk briefly about only a couple of them.
Emma. Pretty, very blonde, violet-eyed Emma. Raised by a single, overbearing mother (her father died previously), Emma is vacationing in Florida when she literally runs into Galen while walking onto the beach with BFF Chloe. Emma feels this weird connection to him – she can barely speak coherently – but neither can he, and he immediately notices her eyes. What's the deal with Emma's eyes? Galen's eyes are the same color as hers and she's never seen that before ever. What on earth? Emma is instantly intrigued and cannot stop thinking about that boy…
Chloe. Pretty, outgoing, vivacious Chloe. Chloe drags Emma out into the water and as they are both sitting on top of a surfboard, Chloe is attacked by a shark. Chloe dies – right away in the first pages of the story! Emma tries hard to save her, even diving into impossible depths of the ocean and fighting off the shark barehanded to try and free Chloe from its jaws. Eventually, Emma defeats the shark but it is too late to save Chloe. But WOW, Galen was underwater and witnessed the entire event because…
Galen. Galen is Syrena, meaning he is a merman – of the Triton clan. Galen disguised himself underwater and watched Emma fight off the shark, and this helped to confirm some suspicions he had about her to begin with. Galen suspects that Emma may be Syrena as well – how else could she have the same colored eyes as the Syrena? In order to investigate further, Galen buys a house and moves to New Jersey – where Emma lives – and enrolls in her high school to be close to her and learn about her. Not being familiar with the ways of humans, specifically human girls, this sort of spooks Emma a bit in the beginning, but eventually they find some common ground to begin a friendship and he begins to gather the information he needs to determine if she is Syrena. Of course, he also falls in love with her, which complicates things a little…
The other characters present are all fun, flawed, and add plenty to the story. They're ones to watch for, for sure. But the main players are the ones I've listed above.
2.
The Mythology
. I love mermaid mythology because every time I read it, each author puts their own spin on it and that is so much fun. In this case, this author creates a few differences from the other mermaid mythology that I've personally read before, namely 1) that there are men in the Syrena (mermaid) clans and 2) the Syrena can actually live on earth among humans and pass themselves off as humans. This was new and fresh to me, and without these differences, Of Poseidon wouldn't have the same story.
In terms of classical Mythology, I loved the incorporation of Triton and Poseidon. However, when I picked the book up, I really thought there would be more of these two myths in the story. What I found was that there was much more of a lending of their names than an inclusion of their mythology in this story. Still, a lover of Triton and Poseidon such as myself can appreciate the nod to these two Greek sea gods.
3.
The Genre
. Fantasy, dealing with mermaids. Romance, of course, between Galen and Emma, and it is really cute. (There is also some other romance in the story!) I suppose I could say that there is a bit of paranormal involved as well since the Syrena could do stuff. And of course, there is the hint of Greek mythology.
4.
The Story
. Written in alternating points-of-view, which I typically love, as you all know. In this case, I loved it especially for these reasons:
Emma was unaware of her status within the Syrena clan. For a while Galen was also unaware of Emma's status, but Emma was unaware for much longer. So the two perspectives were: one talking about Emma as a Syrena and one talking about Emma as a girl who was confused and with a crush. FUN.
Galen had a great deal of inner turmoil regarding his crush on/love for Emma with regard to the laws of the house of Triton and their marriage/mating laws (not gonna elaborate on this, no spoilers here). But his POV offered his thoughts about his feelings, where he wasn't really able to verbalize them to Emma because she was 1) unaware of the laws and 2) still not entirely aware of the importance of her being Syrena. Very interesting to me.
Multiple POVs are awesome when done well, and they worked in Of Poseidon. I loved both points of view, but I think I appreciated Galen's more because it was more mature and well-thought out, in my opinion.
Also, the author used simplistic writing that was fun and witty, which made Of Poseidon a quick, easy, breezy read. These types of books are fun and necessary for me after I've come off of reading something heavy or when I'm looking for something to keep me entertained. This fit the bill perfectly by those standards. The plot isn't too complex although there is more than one plot line going on.
5.
The Romance
. What a fun romance, albeit stressful! It starts out quite different because while Galen and Emma are instantly drawn to one another but cannot explain exactly why, I didn't equate this to insta-love. They didn't love one another right away – they just felt this urge to figure out what their connection was. It was only after spending time together that they became friends, and their friendship turned into a crush that turned into love. So it was slow-progressing, which was nice. I think I'll call it "insta-curiosity" with no love triangle.
I liked the sweetness of this romance; Galen was very torn between his loyalty to the Syrena traditions and his real, true love for this girl. I love the way Galen pursued Emma. Emma, of course, was oblivious to this for the much of the story, but reading Galen's POV gave us insight to his thoughts and struggles with this, and I have to admit that I was rooting for the guy to come up with something, anything that would allow him to be true to his heritage AND have the love of his life. The way it works out is just, well, WOW…
6.
The Ending
. You guys, I don't particularly like cliffhangers. I've never been a huge fan of them, even though some of the best books ever have had them. Anna Banks, why do you do this to us? Hmmm? This is a cliffhanger in its purest form. I do not dislike this book because of the ending, but I wish I didn't have to wait so long to exhale again. The story was built up and built up and built up and then BAM! it's over just like that.
Overall, Of Poseidon was a highly entertaining and engaging read. I read it quickly as the pacing was quick and the pages just wouldn't stop turning! I liked the Syrena and the mythology incorporated by the author. And I would wholeheartedly recommend Of Poseidon to readers of all ages, particularly those who love books about mermaids or the sea.
I want to mention that this plot is not the most complex plot out there in this genre; this isn't the most complex "mermaid story" that I've read lately. It required nothing from me except to turn the pages. If you are looking to be entertained and swoon a little bit, Of Poseidon is just the book for you.
Of Poseidon will appeal to fans of:

Mermaids
Fantasy with some Paranormal
Romance: No love triangle, no insta-love
(rather, "insta-curiosity")
Multiple POV
Cliffhanger Ending
Of Poseidon by Anna Banks
will be published on May 22, 2012.
*I borrowed this book from Around the World Tours in exchange for my honest thoughts and opinions. I received no compensation for my review.