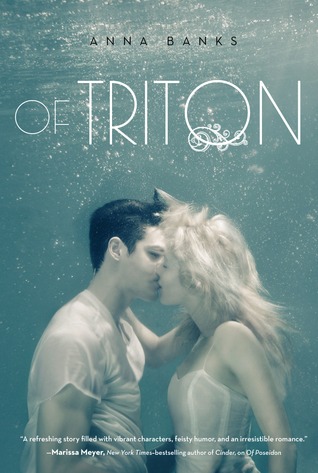 Of Triton by Anna Banks
Series: Of Poseidon #2
Published by Feiwel & Friends
Publish Date: May 28, 2013
256 Pages
Source: ARC Tour


In this sequel to OF POSEIDON, Emma has just learned that her mother is a long-lost Poseidon princess, and now struggles with an identity crisis: As a Half-Breed, she's a freak in the human world and an abomination in the Syrena realm below. Syrena law states that all Half- Breeds should be put to death.

As if that's not bad enough, her mother's reappearance among the Syrena turns the two kingdoms—Poseidon and Triton—against one another. Which leaves Emma with a decision to make: Should she comply with Galen's request to keep herself safe and just hope for the best? Or should she risk it all and reveal herself—and her Gift—to save a people she's never known? -(from Goodreads)



Of Triton by Anna Banks


My Thoughts: After one of the biggest cliffhanger endings ever when Of Poseidon ended, I was anxious to pick up Of Triton and see how things would move along.



STOP HERE if you haven't read OF POSEIDON
unless you care nothing about spoilers.
There are spoilers in this blog post.
You've been warned!
**************************************************
This is one of the rare occasions that I did not re-read the first book in the series before diving back in, so I was worried that I might have forgotten some of the main points from when I read Of Poseidon last year. I remembered most of the story, but not the little details. I was happy to find that Of Triton picks up where the first book left off and is quick to recap and get you back into the swing of things. This is a good thing because the events in the book start happening pretty quickly and the book moves at a fairly swift pace until the end.
Of Triton begins pretty soon after the cliffhanger ending in the last book. While some time has lapsed, it isn't much, and the author fills in the gaps for us. Galen and Toraf have gone to find Galen's older brother Grom, the Triton King. See, Grom was supposed to marry the Poseidon Princess, Nalia – this never happened because Nalia was feared dead after a crazy turn of events many years ago. Since she has just recently been "found" on land, Grom needs to see for himself that she is still alive and then some serious issues need to be worked out:
When Nalia disappeared and Grom had no one to mate with, he ended up with marrying someone else.

Syrena Law dictates that the firstborn of every third generation from each kingdom needs to marry one another. Since Grom is married already, it will fall to Galen to marry Nalia (through some small-print in the laws).

Galen doesn't want to marry Nalia; he loves Emma.

Grom wants to marry Nalia since he is finally reunited with her.
So as you can see, there are quite a few things that need to be worked out between these kingdoms to ensure they are following law and tradition. The problem is this: Not everyone is happy about the reunion of Grom and Nalia. There is someone that has motivations for preventing the unsealing of Grom's current marriage. There is a pretty big, pretty exciting showdown and things get pretty heated between members of the two kingdoms.
Of Triton is significantly shorter than Of Poseidon – maybe this is because less time was needed for laying the foundation of Syrena mythology and world-building? We found out the background information that we needed for this book in the first book, which is also when we became familiarized with the world. Since these things still exist and the book didn't really move far outside of the world as we know it, there are significantly fewer pages. The pages that do exist, however, are filled with action and stuff.
Of course, I loved that Emma and Galen still are working together and still very much in love. They work together for a common goal and I find this refreshing. Rayna and Toraf are still together and bringing their own brand of humor and fun to the story, never letting it fall flat or become dull. We also have the privilege of getting to know Nalia more, and while I wasn't sure what to make of her in the beginning of the book, by the end I have to admit that I enjoyed her character.
Oh! There are some fun things revealed about some of the characters – not gonna spoil things for those that haven't read it yet, but just be on the watch for some big reveals with our main characters. Fun stuff.
Overall, this is a pretty good second book for this series. I'm not sure that I enjoyed it as much as I enjoyed Of Poseidon, but I think that has a lot to do with how much I enjoyed the layering and building of the mythology and the world. The plot moves quickly and the pages do keep turning, and I think that readers that enjoyed the beginning of this series will find that they enjoy Of Triton as well. Of course, I'm anxious to see what Anna Banks cooks up for us in the next part of the series BUT thankfully the wait will be much more manageable this time around as this ending wrapped up in a much neater way than the previous book.
I recommend Of Triton to readers that enjoy mermaid mythology and lighthearted story-telling with a little bit of humor.
**************************************************
Of Triton will appeal to fans of:

Mermaids
Fantasy/Paranormal
Romance: Already established. No love triangles.
Of Triton by Anna Banks
will be published on May 28, 2013.
*I borrowed this book from Around the World Tours in exchange for my honest thoughts and op
inions. I received no compensation for my review.
**************************************************